The National Hot Rod Association has had to go into fuel conservation mode during the recent economic downturn, but the California-based drag racing series seems to have come through the recession in better shape than many of its motorsports brethren.

In a year that has seen NASCAR race attendance drop more than 15 percent, NHRA attendance is expected to hold even.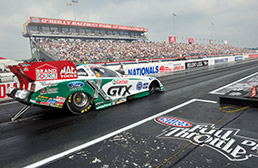 Stands and the newer suites on the dragstrip were built in 2008. (Photo courtesy NHRA O'Reilly Raceway Park)
Those who have a stake in the NHRA's local event, the Mac Tools U.S. Nationals at O'Reilly Raceway Park, expect more than 110,000 people to turn out at the Clermont track the first six days of September. That's close to last year's estimated attendance.

Tickets for this year's event range from $10 to $61, which is less than half the price of many NASCAR or Indy Racing League races.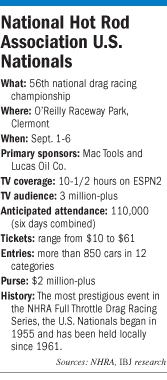 "We're still filling the seats," said racer and team owner John Force, who has team facilities in Brownsburg and Yorba Linda, Calif. "We have a loyal audience that's been with us a long time, and that has helped us through the most recent downturn. You're going to see huge crowds in Indianapolis for the finals."

Officials for NHRA, which owns the local track, don't release attendance figures.

They said general admission attendance has held strong even as corporate sales declined a bit the last two years. But corporate and group sales are starting to rebound, said Gary Darcy, NHRA senior vice president of sales and marketing.

The series' television deal is one of its strengths. As the Indy Racing League has struggled to find a television audience with Versus cable channel, NHRA is in the 10th year of a deal with ESPN that runs through 2016. Eleven hours of the Indianapolis event will be broadcast on ESPN2.

Based on the audience in previous years, more than 5 million people are expected to tune in this year over the six-day run. For the series as a whole, viewership is up this year about 5 percent, according to New York-based Nielsen Media Research.

NHRA's status as a niche sport has made it more recession-proof, said Larry DeGaris, director of academic sports marketing programs at the University of Indianapolis.

"Their product is solid, and they have a very solid, set fan base," said DeGaris, who has conducted several motorsports marketing studies. "They've never been caught up in going for big, mainstream audiences."

DeGaris said NHRA has become known among sports properties as a "steady-as-she-goes" enterprise.

Sponsors think the price is right.

"It's still a huge event and is seen as a good value by sponsors," said Zak Brown, president of locally based Just Marketing International, which represents NHRA sponsor UPS, among others, in motorsports.

Brown said the opportunity to be a primary sponsor on an NHRA team for $2 million to $4 million is certainly enticing to a number of his clients. Title sponsorship for an IRL team costs $4 million to $6 million, while a NASCAR title sponsorship starts at $15 million.

Force said he's kept sponsors by agreeing to drop prices before contracts expire. He said other NHRA teams are beginning to do likewise.

"We took a good, hard look at our operation," Force said. "We cut a lot out. I cut a half a million out of payroll alone. It got out of hand. It was time to listen to the sponsors, and see what they needed. By agreeing to lower their costs before their contracts expired, they're now agreeing to extend their contracts with us."

The last three years haven't been without challenges for NHRA and its teams. Star driver Don Purdhomme folded his operation when his primary sponsor, U.S. Smokeless Tobacco, pulled out following the 2009 season. Kenny Bernstein lost his longtime primary sponsor, Budweiser, after last year. And Force said sponsor revenue declines meant he had to idle one of his four cars.

"Any time the biggest names in the sport are being affected, it's a concern," Brown said.

But NHRA's Darcy pointed out there have been gains, too, with Tire Kingdom, Copart and Ford increasing their presence in the series.

"I expect an announcement soon for some new sponsors in 2011," Darcy said. "We do offer a tremendous value from the raw cost-of-entry standpoint and return on investment that we think is really going to help us come through this."

Brown said another strong point is the corporate hospitality area at races and product demonstration areas near pit lane at almost every NHRA race.

"Our aggressive [promotion of sponsors] means it's not just gearheads coming out to the races anymore," Force said. "We're getting a lot of wives coming out to see the product demonstrations, anything from car parts and accessories and video simulators to washers and dryers. It's become an unbelievable showroom for our sponsors."

The economy hasn't kept NHRA officials from plowing money back into O'Reilly Raceway Park, which has hosted the Nationals since 1961.

Last year, a new permanent grandstand was constructed on the east side of the facility's drag strip. There's also a new front office, which includes a ticketing office, conference rooms and a museum area. Those improvements carried a healthy six-figure price tag, NHRA officials said.

"That's an important facility in Indianapolis, and it hosts one of our very most important events," Darcy said. "We feel it's essential to keep it updated and fan-friendly."•