For much of its history, Marian University educated nuns and lay people who went on to do social work or teach—not the kind of alumni who earn year-end bonuses to share with their alma mater.

Teaching is still big at Marian, but so is the kind of fundraising that's typically associated with the likes of Butler University and DePauw University. Marian pulled in a whopping $54.2 million in pledges for the fiscal year ended June 30, largely related to its effort to launch Indiana's first college of osteopathic medicine.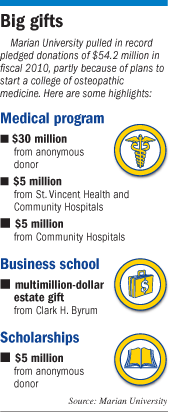 The year before, the Catholic institution raised $14.4 million, an in-house record. That total would also rank with the top 10 fundraising results for Indiana colleges responding to an annual survey by the Council for Aid to Education.

"The way they've been raising money in the past several years makes me think they've identified a number of alums who are capable of making some nice gifts," said Ted Grossnickle, senior managing consultant at Johnson Grossnickle & Associates, a Greenwood consulting firm that has worked with a number of private colleges.

Marian, which has about 2,250 students, isn't ignoring the alumni pool. But its recent string of multimillion-dollar gifts comes from a much wider network. A former board trustee, who remained anonymous, kicked it off in June 2009 with a $6 million pledge in recognition of Marian's decision last year to replace "college" with "university."

That was followed last September by an anonymous donor who pledged $5 million as a matching fund for scholarships.

Local real estate investor Clark H. Byrum put his name on Marian's business school with a multimillion-dollar gift, which will be paid upon his death. Marian hasn't stated the exact value of the gift, but it requires at least $10 million for naming rights.

Marian announced its plan to build a medical school in January after landing a $30 million pledge from yet another anonymous donor.

At the time, that was the largest gift of 2010 to any Indiana university. Since then, it's been surpassed by the late Juanita Waugh's bequest of farmland valued at $40 million to St. Joseph's College in Rensselaer.

None of the major donors are Marian alumni, but the school's recent initiatives resonate with them in one way or another, President Dan Elsener said.
Fundraising has increased under Marian President Dan Elsener.
"If they feel like there's a big need and you're going to respond to it in an effective way, they will respond to you," he said.

Elsener, 56, was trained as an educator but has worked in fundraising for more than a decade. He came here 19 years ago to work for the Archdiocese of Indianapolis, growing enrollment in its schools. He then moved to the church development office and later became executive director of the Christel DeHaan Family Foundation.

Marian appointed him president in August 2001. Giving soon surged. Annual fundraising grew from $2.4 million in the 2002 fiscal year to $6.8 million the following year.

"Elsener knows how to clip everybody for money," quipped Byrum, 75. "He's a master."

Big ideas, big gifts

In October 2007, Marian launched a $68.2 million capital campaign with the idea of building, as Elsener said, "a great Catholic university."

The Sisters of St. Francis founded the institution in the southeastern Indiana town of Oldenburg in 1851, but later moved it to Indianapolis so they could train lay women in teaching. Marian College opened in the former Allison mansion on Cold Spring Road in 1937.

Enrollment was suffering when Elsener arrived, but has since roughly doubled to this year's 2,250.

Another of Elsener's pitches revolves around Marian's diverse student body.

"Marian reaches out and makes sure all dimensions of society get educated," he said. "People care about that. It doesn't matter if they live here in the community."

But the biggest selling point by far is Marian's bid to start a college of osteopathic medicine, which would help fill a shortage of primary-care physicians in Indiana.

Doctors of osteopathy, or DOs, learn the same basics as medical doctors, but undergo extra training on the muscular and skeletal systems. They also tend to practice in primary care.

Largely because of the medical school, which was announced in January, Marian had raised nearly $130 million by July 31. That's nearly twice the target for the original campaign, which was scheduled to conclude in October 2012.

"It's a big part of what's helping push us forward," Marian spokeswoman Andrea Fagan said.

Marian officials hope to capitalize on that momentum. Fagan said the medical school, estimated in January to have startup costs of $75 million, will be one of three initiatives covered by a new capital campaign target.

Grossnickle said colleges that are successful in fundraising distinguish themselves through "a big idea."

"The largest gifts are ones in which you have a big idea that is going to make large change possible," he said.

Master fisherman

At the archdiocese, Elsener said, he met a lot of parents who were passionate about Catholic education and well-placed businesspeople like Jerry Semler, chairman emeritus at OneAmerica insurance company, and Byrum, president of The Key Corp.

Byrum sits on the archdiocese finance council, and joined Marian's board of trustees after Elsener became president in 2001.

"I didn't realize how much help they needed. He didn't tell me that," joked Byrum, who is as feisty as Elsener is soft-spoken.

Byrum is a graduate of Indiana University, but Marian was his choice for leaving a lasting impression on the world. His gift to the business school supports training in business ethics.

"I'm fairly philosophical," Byrum said. "There's not enough being taught anymore about morality in business and doing the right thing."

Because so many of Marian's recent donors have remained anonymous, it's hard to say exactly how Elsener reached them. He described the $30 million donor as "a scientist and nice guy," who agreed that Indiana could use a second medical school.

"I'm a little bit unconventional," Elsener said. "I hardly ever ask for a specific amount."

Instead, he says, "'Why don't you prayerfully reflect what you're called to do?' Then a lot of times they'll beg the question—'How much do you need from me to make this happen?'"

Although Elsener knew the medical school supporter would do something "magnanimous," he was so surprised by the amount that he asked his assistant to confirm his reading of the letter.

Elsener also has his eye on the alumni, who he said are giving at surprising levels.

Many of the graduating classes are coming together to create endowed scholarships.

"The only regret I have sometimes is, I underestimate what we're doing," he said. "It's hard to keep up with the goodness of people."

Nationwide, private liberal arts colleges have higher alumni support than public institutions. That has slipped during the recession, however, from 23.9 percent providing support in 2008 to 22.2 percent in 2009, according to the Council for Aid to Education survey. The average gift also fell, from $1,203 to $1,030.

Marian says its average alumni gift is $1,098. Its share of alumni who give fell from 23 percent in 2007 to less than 20 percent in 2010.

Marian attributes the decline to its recent growth, noting that the youngest alumni are least likely to give. Graduating classes have grown from 250 students 10 years ago to a record 456 in May.

The statistic Elsener watches is the number of new donors, which has been growing 7 percent to 10 percent a year.

"Within those numbers, you're going to find some people who have an enormous amount of resources who can do an enormous amount of good," he said.•