Historic photographs will be displayed as one element of the ongoing makeover of Gainbridge Fieldhouse, but a collection of 22 commissioned artworks is intended to provide fresh context to the story of basketball in Indiana, the Pacers, the WNBA's Fever and the arena itself.
The Indy Arts Council, working in conjunction with Pacers Sports & Entertainment and the Capital Improvement Board, will place 10 murals on the main and balcony concourses of Gainbridge Fieldhouse, 125 S. Pennsylvania St., and 10 framed artworks in the corridor of the KeyBank suites level. One mural was painted in January at the building's Pacers Team Store, and plans for the 22nd artwork will be revealed at next month's CIB meeting.
Julia Muney Moore, Indy Arts Council's director of public art, said the "Fieldhouse of the Future" project likely ranks as "the most narrative" assignment of her career.
Paintings and mixed-media pieces will spotlight landmark events and topics ranging from the high school state champions of Crispus Attucks in the 1950s to the 1977 telethon that helped to keep the Pacers in Indianapolis. One painting will be devoted to the Fever's WNBA championship in 2012, and another will commemorate the Pacers' and Fever's  inductees to the Naismith Memorial Basketball Hall of Fame. Non-basketball imagery will focus on Gainbridge Fieldhouse as the site of concerts and "Disney on Ice" performances since the building opened in 1999.
"We wanted to make sure this project told a story," said Rick Fuson, CEO of Pacers Sports & Entertainment.
Moore said interpretations by the artists can make a significant impression on visitors to the arena.
"It's getting the public to think, 'Oh, I never really thought about it that way.' Or, 'This is a part of the story I don't know.' Or, 'This is important to me, but I never really understood how it could be important to someone else,'" she said. "This is really what art is about, and that's what I'm really looking forward to."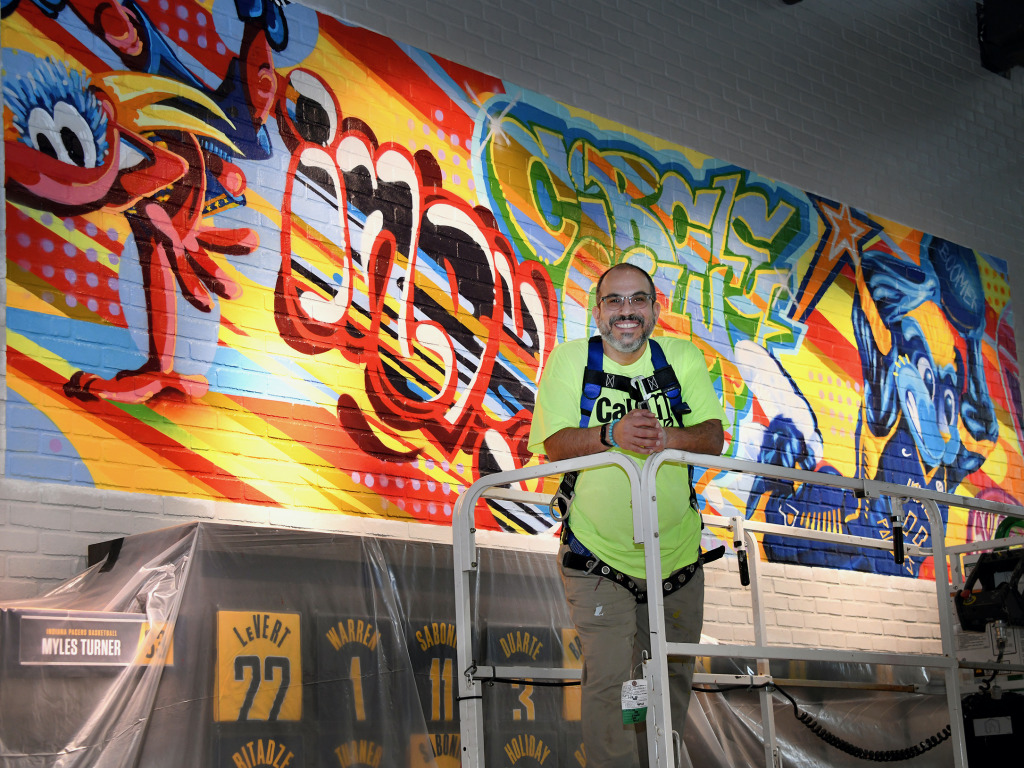 An all-star roster of Indiana artists, including Derrick Carter, James Wille Faust, Pamela Bliss and Kyle Ragsdale, was hired to create "Fieldhouse of the Future" artwork.
The first of the commissioned pieces—a colorful, graffiti-themed mural by Hammond-based artist Ish Muhammad—was painted last month on a wall of the renovated Pacers Team Store. It includes depictions of Pacers mascot Boomer and Fever mascot Freddy Fever.
Upcoming installations feature artists from Indianapolis and six other Indiana cities:
KeyBank suites level
Derrick Carter, Indianapolis
India Cruse-Griffin, Richmond
James Wille Faust, Indianapolis
Matthew Filer, Indianapolis
Mike Graves, Indianapolis
Becky Hochhalter, Terre Haute
Kyng Rhodes, Indianapolis
Beth Clary Schwier, Indianapolis
Christopher Silva, South Bend
Israel Solomon, Avon
Main concourse
Tasha Beckwith, Indianapolis
Pamela Bliss, Indianapolis
Jingo De La Rosa, Indianapolis
William Denton Ray, Indianapolis
Artur Silva, Mishawaka
Nekoda Witsken, Fortville
Balcony concourse
JD Bills, Indianapolis
Dan Handskillz, Indianapolis
Erik Lundorf, Indianapolis
Kyle Ragsdale, Indianapolis
The CIB, which owns the arena, approved $246,900 in funding for 21 artworks, or an average of $11,757 per piece.
Moore said the Indy Arts Council lobbied to guarantee artists were paid a fair rate.
"I think that's why the CIB wanted us involved," she said. "We have that perspective and we can align everyone's expectations to what actually can be done with the budget."
Fuson and Moore said additional art is being discussed for the plaza being built north of the arena, which will be home to a public basketball court for most of the year and an ice-skating rink during winter.
All "Fieldhouse of the Future" renovations, including construction inside and outside Gainbridge Fieldhouse, are on schedule to be completed in time for the building to host the NBA All-Star Game on Feb. 18, 2024.
Correction: An earlier version of this story incorrectly described the artists' compensation for murals at the fieldhouse. That has been removed from the story. See all of our corrections here.
Please enable JavaScript to view this content.