Yes, my primary mission in Washington, D.C., was to deliver my incoming-freshman daughter into the arms of academia.
Very quickly, though, with said freshman meeting new friends, Dad became a hindrance rather than a help.
And so, comfortable with what I had learned from the first half of parental orientation, I quietly dismissed myself in order to take advantage of the offerings in one of the great arts cities in the country. When deciding between yet another lecture on campus safety or the chance to visit the Smithsonian or some of D.C.'s outstanding theater companies, can you blame me for making an early exit from campus?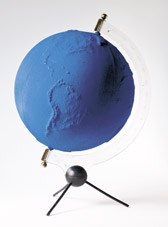 Color schemes: "Globe terrestre blue (RP 5)" is among the bold pieces on display at the Hirshhorn Museum. (Photo courtesy Yves Klein Archives)
First stop, the Hirshhorn Museum and Sculpture Garden, whose ring-like gallery spaces are home to an outstanding permanent collection that includes work from Alexander Calder, Willem de Kooning, Henri Matisse, Henry Moore, Man Ray and many others. Visiting anytime is a pleasure, but I was lucky enough to be in town while "Yves Klein: With the Void, Full Powers" is still showing (it closes Sept. 12).
Unfamiliar with Klein? He's the French artist who, in a career that lasted only seven years, turned the art world on its head by "signing" and selling pieces of the sky, using human bodies as "living brushes," and even emptying a gallery and calling it art.
Make what you will of such conceptual leaps. What lasts are Klein's audacious, minimalist experiments. In 1956, he developed his own color, International Klein Blue, and began creating a series of works that were more about pigment than content. With saturated sponges—which were later incorporated into the works themselves—Klein explored art on purely esthetic terms. And his genius is smartly presented by the Hirshhorn—where the curved space gives the show a kinetic energy that somehow accents the shimmering stillness of much of the work. The strongest of the pieces feel elemental—as if Klein looked so hard at simplicity that he has created something rich and new.
The title, by the way, comes from Albert Camus' comments about Klein. I'm with Albert. There's power here.
__________
Color also was a vital element in the Shakespeare Theatre Company's production of "Twelfth Night" (which ran through Sept. 5).
As love struck each of the core characters, rose petals fell from the rafters like snow in "A Christmas Carol," eventually covering the stage in gloriously bold crimson. A remounting of the theater's 1998 hit mainstage production, the comedy was being offered as the theater's 20th annual "Free for all" production, an outdoor tradition that recently moved indoors, causing much debate on the part of D.C. Shakespeare Theatre loyalists.
Inside or out, "Twelfth Night" proved gloriously funny. It features a trio of crude but lovable troublemakers, a delightful Olivia in Sarah Agnew (hilariously melting from ice princess to smitten youth), and a world-class performance by Floyd King as aging clown Feste, the soul of the piece.
The production, crisply but never hurriedly staged by company Associate Director Alan Paul, flew in the face of those who think shorter Shakespeare is better Shakespeare. It's much more fun to bask in a show like this than to be ushered through it. Almost as pleasurable was what was going on next to me: Over the course of 2-1/2 hours, the reluctant teen theatergoer I was seated next to was transformed into what I'm guessing will become a life-long Shakespeare fan.
__________
The musical "Chess" has a checkered history.
From its beginnings as a concept album and hit London production, through its flopped—and much-altered—Broadway version and revised tour edition, the musical by the "Mamma Mia" folks, Bjorn Luvaeus and Benny Andersson (abetted by lyricist Tim Rice) has continued to juggle its pop songs and Cold War story in an effort to find a way to make the whole thing congeal.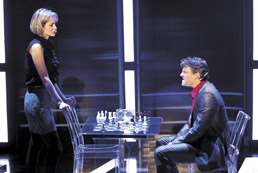 Political pawns: The Cold War reheats in "Chess" at Arlington's Signature Theatre. (Photo Courtesy Scott Suchman)
Alexandria, Va.'s Tony-Award-winning Signature Theatre has taken another go at it (through Oct. 3), maintaining the primary elements—Russian vs. U.S. chess tourney meets romantic triangle—and strong songs ("One Night in Bangkok" being the most familiar to non-theater junkies) while tightening the focus on the core characters.
The result is far from flawless, but still a blast of a theatrical evening, thanks to the streamlined book, a willingness to forgo unnecessarily elaborate scenery, and the winning work from the male leads Euan Morton (recently of Broadway's "Sondheim on Sondheim") and Jeremy Kushnier (so memorable in Chicago's "Jersey Boys").
As the pivotal character, Florence, Jill Pace is in great voice and looks gorgeous. But the combination of actress, director and costumer conspire to turn Florence into a glamour gal, a characterization that works against the material. One of the few things that worked in the New York production was Judy Kuhn's earthy, girl-next-door performance. Here, Florence doesn't seem worthy of the attention. And her preponderance of songs doesn't reveal additional layers.
Still, one of the signs of a great theater town is that there's room for major productions of problematic shows. A production of a still-working-out-the-kinks musical such as "Chess"—one in which most of the audience didn't know what was going to happen next—can be exhilarating in the hands of a company as smart as Signature.
__________
Oh, and as for my collegiate daughter, I'm just hoping she finds the time to take advantage of all the Washington area has to offer.
An endless parade of interesting shows at the Smithsonian museums, Marsha Mason coming to the Shakespeare Theatre for "All's Well that Ends Well," and a new comedy by Ken "Lend Me a Tenor" Ludwig in the wings at Signature are just the beginning. Frankly, I'm jealous. And, for more than one reason, I'm looking forward to picking my daughter up for winter break.•
__________
This column appears weekly. Send information on upcoming arts and entertainment events to lharry@ibj.com. Twitter: @IBJarts.
Please enable JavaScript to view this content.