If the father of alternating current, Nikola Tesla, were still around, he might well give Jason Oliver a high-five.

Oliver, of Arcadia, has developed a novel way to generate alternating current from solar panels. It's notable because photovoltaic panels produce direct current, which has to be converted to AC before running a household appliance or sent into the power grid.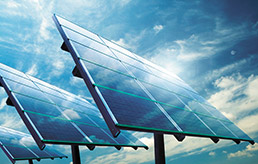 Rectangular solar panels might be history if Arcadia inventor Jason Oliver's round, "spinning disc" panels fly.
Conversion adds cost to solar power and results in energy loss.

Oliver's patent-pending AC solar process is simple. He arrayed solar cells in a circular pattern. Above them is a spinning disc with slots that alternatively allow light to shine on the panels to produce an AC waveform.

Oliver is a candidate in General Electric's Ecoimagination Challenge, which funds promising technologies. Public voting on ideas runs until Sept. 30 (http://challenge.ecoimagination.com).

"Just imagine the power if everyone had an AC solar generator on their home or business. The power savings during peak daylight hours would be enormous," said Oliver, a master mechanic with a background as an electrician. He's also a disciple of Tesla, who died in the 1940s.

Tesla, a former apprentice to Thomas Edison, proved AC to be superior over Edison's DC format for power grids, in what may be Edison's biggest failure.

More on Oliver's device: www.acsolargenerator.com.