Welcome back to IBJ's video feature "Inside Dish: The Business of Running Restaurants."

For this edition of "Dish," we're taking our second of two summer side trips into sectors of the food-and-beverage industry related to restaurants. Our subject is Sun King Brewing Co., an Indianapolis-based production brewery that began sowing and distributing its suds in July 2009.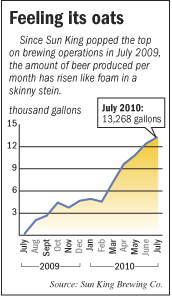 While the product hems to craft-brewing principles, Sun King is not a brewpub. Founded by former brewmasters of downtown's Rock Bottom Restaurant & Brewery and Ram Restaurant & Brewery, Sun King solely makes beer for sale to bars, restaurants and liquor stores in central Indiana, as well as directly to individual brew fans who fill up jugs called "growlers" at the brewery's in-house tasting room.

"Having run breweries for other people for a number of years, we knew making beer was what we wanted to do, but we really no longer wanted to make beer for someone else," said co-owner Clay Robinson, who outlined the plan for Sun King with co-founder Dave Colt, 44, when they worked together at Ram Restaurant & Brewery in the mid-2000s.

Robinson, 35, left Ram in summer 2008 and concocted a conservative five-year business plan for Sun King. Friend and entrepreneur Andy Fagg agreed to round up investors, who supplied the $500,000 necessary to get the brewery off the ground.

Sun King started slowly, producing about 425 barrels of beer (13,175 gallons) through its first five months. Generated primarily through word of mouth and social media platforms like Twitter and Facebook, demand pushed production by July of this year to 428 barrels per month. (For a detailed description of the brewing process and a typical day for Colt as brewmaster, check out this sneak peek of a companion story in Monday's print edition of IBJ.)

Robinson's business plan forecasted selling about 5,000 barrels annually by the brewery's fifth year; after just 13 months, it is producing at a rate of 6,000 barrels per year.

"We're kind of at a point where we're designing new goals and figuring out what we want to be when we grow up," Robinson said.

Robinson declined to provide revenue and income figures, but said that the brewery began operating in the black by October 2009. As part of Sun King's growth strategy, all profits are plowed back into the company for new brewing equipment to add capacity, hire new employees, and improve Sun King's 18,500-square-foot facility on downtown's east side. Six more tanks—three for fermenting and three so-called "bright tanks" for storing and serving beer—are expected by the end of the year, boosting maximum capacity from about 7,000 barrels per year to as much as 12,000 barrels annually.

In the video at top, Robinson describes conceiving Sun King's business plan, finding investors and starting operations. He also holds forth on the brewery's surprising sales growth.


Concept:

A full-scale production brewery utilizing craft-brew principles and making a variety of beers for sale at central Indiana bars, restaurants and liquor stores.

Owners:

Clay Robinson, Dave Colt, Omar Robinson, Andy Fagg and Steve Koers. (Fagg, who recruited investors for the lion's share of start-up capital, is the majority shareholder and representative of that investment group, which has an equal stake in the company with Colt and Clay and Omar Robinson. Koers is a minority partner.)

Start-up costs:

$500,000, including approximately $150,000 to purchase a used brewing system from a failed brewery in Portland, Maine.

Customers:

About 200 bars, restaurants and liquor stores in Indianapolis, Muncie and Lafayette.

Goals:

To install six tanks (at roughly $20,000 each) by the end of the year to increase maximum production capacity from about 7,000 barrels annually to about 10,000 barrels per year (i.e., 310,000 gallons); to enter the Bloomington market in spring 2011.

Good to know:

A portion of the brewery is open to the public for selected hours on Thursday, Friday and Saturday afternoons and evenings for filling Sun King's signature "growlers" (64-ounce jugs for purchase and unlimited reuse), sampling beers and buying brewery merchandise.