Strong interest from industrial customers at a trade show that starts Sept. 13 could speed Hurco Cos. toward recovery.

The Indianapolis-based maker of computerized metal-cutting tools piled up record profits in fiscal years 2005 through 2008, but now is trying to leave behind a second year of losses.

Hurco, traded on the NASDAQ, saw earnings reach $22.5 million in the fiscal year that ended in October 2008, but the global recession dropped it into the red. Net losses were $2.3 million for the fiscal year ended Oct. 31, 2009, and $4.6 million for the nine months ended July 31.

Hurco saw sales revenue plummet 59 percent last fiscal year, to $91 million, but the company and its peers are seeing sales improve. Even so, machine-tool industry researcher Pat McGibbon said it will take larger order volumes for the bigger players to return to profitability. Those orders may come at the International Manufacturing Technology Show in Chicago.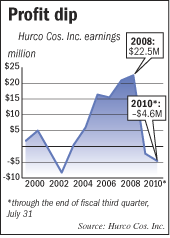 "I'm hoping the numbers of orders will help our larger guys get back on track," said McGibbon, research director of the Association of Manufacturing Technology in McLean, Va.

Hurco CEO Michael Doar declined to comment on the company's earnings. Marketing Manager Rick Ritter noted that Doar was prepping for the trade show, which happens every two years.

"There's kind of pent-up demand, or not, that will show at the trade event," said Joe Jablonowski, editor of industry newsletter Metalworking Insiders' Report.

The trade show is such an industry driver that ordering typically slows in the months before it. This year, trade groups are reporting that U.S. demand for machine tools continued to grow, thanks to increased foreign investment and a doubling of orders in the aerospace and construction equipment industries.

June orders totaled $241 million, up 36 percent from May and up 71 percent from the prior year, according to U.S. Manufacturing Technology Consumption report, a joint project of the Association of Manufacturing Technology and American Machine Tool Distributors' Association.

Hurco, which sells most of its product outside the United States, reported that sales and service fees for the fiscal third quarter, which ended July 31, totaled $26 million, up 39 percent from the year-ago period.

Demand for equipment such as mills, brake presses and lathes typically serves as a leading indicator of economic recovery because manufacturers order those items before they expand or modernize production, Jablonowski said. That doesn't apply to Hurco, however, because its products are geared toward small and medium-size shops and require less lead time, he said.

Another roadblock for Hurco—and many machine-tool makers—is their customers' inability to get loans to buy equipment, Jablonowski said.

Hurco, founded in 1968, pioneered user-friendly computerized controls that allow less-skilled workers to create programs directly from designs and immediately begin machining parts. The company does most of its design and engineering at its headquarters in northwest Indianapolis. Manufacturing is in Taiwan and China. Current employment figures weren't available, but the company reported ending fiscal 2009 with 388 employees.

Hurco pushed into global markets after the last downturn, and the strategy paid off. The growth came from Europe, where manufacturers requiring a great degree of accuracy snapped up Hurco's more expensive, higher-profit machines. Hurco's most expensive models cost $180,000 to $350,000, depending on the machine type.

Foreign customers still account for the majority of revenue, 73 percent of the $71.2 million reported for the first nine months of fiscal 2010. But now the emphasis is on Asia Pacific, "where we sell more of our entry-level, lower-priced VM series machines," the company said in its quarterly report.

Hurco shares peaked at $58.68 in 2008, before sliding when the company's performance waned. They now fetch around $17.•