Mark Palombaro, a former senior vice president of development at Simon Property Group Inc., will pay the company $766,000, settling a lawsuit that accused him of steering construction contracts in return for kickbacks.
According to a recent stipulation filed in U.S. District Court of Western Pennsylvania, Palombaro agreed to the payment for breach of fiduciary duty and aiding a breach of fiduciary duty. All other claims against Palombaro and his company, ABBY Inc., were dismissed with prejudice.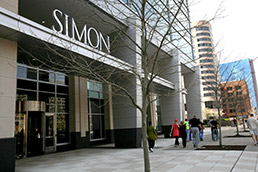 A former executive at Simon Property Group will pay the company $766,000. (IBJ File Photo)
Simon sued Palombaro of Carmel in November 2008, saying he gave work to a Pennsylvania construction firm that then overcharged the company by millions of dollars. Palombaro, who had recently left the company, joined Simon in 1996, when it acquired DeBartolo Realty, according to the lawsuit.
Simon reached settlements with other parties in the case, including R.E. Crawford Construction of Pennsylvania, in April.
Please enable JavaScript to view this content.