Dr. Sherman McMurray stands in an operating room at Methodist Hospital watching a surgeon place a tiny screw into the spine of a patient who was in an auto accident.
But he's not looking at the patient at all. His back is turned and he's staring at a video screen on the wall. The screen uses technology called StealthStation to show McMurray, as well as the surgeon and his team, whether the screw is on target, whether it's going in at the proper angle, and whether it's screwed in at the right depth.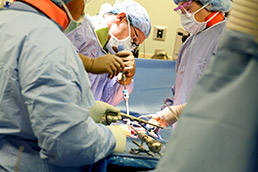 Dr. James Callahan, with help from his assistant Bink Hole, right, inserts screws in a patient's spine at Methodist Hospital. (IBJ Photo/ Perry Reichanadter)
"That's the money shot right there. That's why we spent $2 million," McMurray, medical director of Methodist's operating rooms, says as the screw turns into place. "It's like GPS for the body."
The new StealthStation technology, which provides views from three dimensions by interacting with an O-shaped X-ray machine that produces 360 degrees of images, is part of a $27 million renovation of eight neurosurgery suites at Methodist's sprawling complex at 16th Street and Capitol Avenue.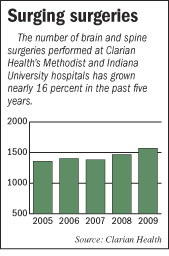 The new surgery suites are the centerpiece of a massive expansion at Methodist that its owner, Clarian Health, expects will create nearly 1,200 jobs over the next decade. That project will create neurosciences and administration hubs adjacent to Methodist, build a new bed tower to accommodate more patients and, Clarian leaders hope, allow Methodist to vault itself into the top 10 places in the nation for neurosurgery.
Clarian is currently ranked No. 40 in the country for neurosurgery, according to U.S. News & World Report magazine.
The ambitious expansion could cost as much as $700 million. But if it allows Methodist to become a go-to place for neurosurgeries, it could prove to be a lucrative investment because neurosurgeries produce some of the highest profit margins in a hospital.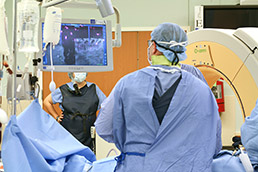 After the O-Arm takes a picture of the spine, the image is placed on the screen so Dr. Jim Callahan (foreground) can better see the area to place the scews in the spine. (IBJ Photo/ Perry Reichanadter)
Clarian would be up against the best hospitals in the country at neurosurgery, such as Johns Hopkins in Baltimore; Mayo Clinic in Rochester, Minn.; Massachusetts General in Boston; and the Cleveland Clinic.
"Clearly, there are a few significant players that are trying to do the same things. But it's not like there's a Wal-Mart out there" hogging the market, Mark Blessing, a health care accountant at BKD LLP in Fort Wayne, said of neurosurgery cases. "I would say it's an open field."
Clarian charges more than $70,000, on average, for neurosurgeries performed either at Methodist or its Indiana University hospitals, according to data from the federal Medicare program.
Last year, Clarian's downtown hospitals performed 1,570 neurosurgeries. Once the surgery suite renovations are finished in December, all those cases will happen at Methodist.
Clarian has grown its neurosurgery volumes 16 percent over the past five years. And once the main group of Indianapolis neurosurgeons—Goodman Campbell Brain and Spine—moves its offices into the neuroscience building in 2013, Clarian hopes it keeps that number growing.
Goodman Campbell's 28 surgeons also do brain and spine procedures at Community East and North hospitals, St. Francis Hospital in Beech Grove, St. Vincent Indianapolis Hospital and Wishard Memorial Hospital, as well as some outside the city. But Clarian has the largest volume of surgeries among Indiana hospitals.
"We don't want to just maintain our market share, but increase it," McMurray said as he showed off some of the new gadgets Methodist is installing in its surgery suites. The new toys are meant to attract the best doctors, who in turn will bring more patients to Methodist's operating rooms.
The new suites include live streaming video of all surgeries, which can be used for educational purposes and even to let surgeons stay in their offices until the patient is truly ready to be cut. Methodist also has added a Myriad machine, made by Indianapolis-based NICO, to do minimally invasive removal of hard-to-reach brain and spine tumors. And it has a Zeiss microscope to allow surgeons to see if they have truly cut off all bleeding during sensitive brain surgeries.
In order to fit these new machines, Methodist neurosurgery suites are much larger—about 700 square feet, instead of the 450 square feet before. During the spine surgery McMurray observed, 15 people crowded into the room to watch Dr. Jim Callahan insert the screws into the patient's spine.
Callahan said having the Stealth images able to interact with the 360 degrees of X-rays has taken a couple of hours off such a procedure. It took him just 15 minutes to position the screws in the back of the auto accident victim.
"This system has clearly revolutionized what we do and made the efficiency much better," he said over his shoulder as he inserted the screw.
But Clarian will need much more than whiz-bang technology to become a top 10 destination for neurosurgery, acknowledged Dr. John Kohne, Methodist's chief operating officer.
It will require Clarian's surgeons to establish good relationships with doctors in other states, who are not in the habit of referring patients to Clarian. Right now, just 5.5 percent of Clarian's neurosurgery patients come from outside Indiana.
Even more important, Kohne said, Clarian needs to be one of the names in patients' minds when their doctors tell them they need complex spine surgery. That's the kind of brand recognition only a few hospital systems in the country—such as Mayo and Cleveland clinics—have achieved.
"The other problem with this is to have a reputation that draws the patient's interest," he said, since the person receiving the care often will make the decision on where to go for treatment.
Kohne said that if Clarian just focuses on doing great work on more and more difficult cases, its reputation will grow.
"It's no question that it's a challenge," he said. "But challenges like that make great things and make great clinicians. The only way you get pre-eminent is to compete with the organizations that are the best."
Blessing, the health care accountant, agreed.
"If you have really high quality care, and you can demonstrate it," he said, "that will attract people from all over."•
Please enable JavaScript to view this content.