It's late August and co-owner Dave Colt is already fielding requests for Sun King Brewing Co.'s Oktoberfest seasonal beer, which needs another two weeks in the fermenting tanks before filling kegs throughout central Indiana.
Colt
Since its first tapping about 13 months ago, Indianapolis-based Sun King has generated a noticeable buzz—pun intended—in the craft beer community. It's available in kegs and cans in more than 200 locations, and Colt and his partners plan to invest $400,000 over the next six months to double production capacity.
"I've been really impressed with those guys," says Lockerbie Pub owner James Waanders, who buys four Sun King kegs each week and soon will have a tap devoted solely to its seasonal selections. "And I don't think I'm the only one."
Assured by the brewmaster himself that the malty German lager will be available soon, Waanders leaves Colt to his work in the College Avenue production facility.
The 44-year-old throws down a couple of Long's Bakery doughnut holes before making his way from the front office to his cathedral: a 18,500-square-foot one-time warehouse that now holds the tools of his trade.
There's a malt mill for cracking open roasted grain, a "mash tun" tank for combining the malt with hot water, a kettle for boiling and adding hops, and a heat exchanger that cools the substance before it enters one of the 13 fermentation tanks, where the hoppy sugar water coalesces with yeast to create the preferred libation. This fall, the brewery will add six more fermentation tanks, which hold anywhere from seven barrels—the equivalent of 14 kegs—to 60.
Getting the mixture from the malt mill to the heat exchanger can be done in a day's time, but once it enters the fermentation tank, the process dramatically slows. Depending on the batch's alcohol content, it will ferment anywhere from two weeks to six months.
Understanding the flavors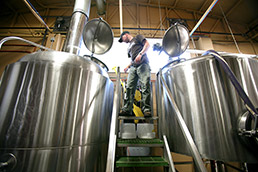 Adrian Ball, of the Sun King brew crew, cleans lines, essential for the correct fusion of flavors in its signature craft beers. (IBJ Photo/ Perry Reichanadter)
On this Friday morning, Colt works on what will become 15 barrels of Osiris Pale Ale, the 195th batch of beer Sun King has produced.
Colt, a 14-year brewer, climbs a set of metal stairs to the top of the mash tun, where the grain is introduced to hot water and compressed, eventually producing sugar water called "wort," free of large grain particles and syrupy proteins that might have formed.
Crouched atop the stainless steel tank, Colt inserts a water hose 3 inches in diameter into the top of the mash tun, which eventually will reach about 160 degrees Fahrenheit. The grain is delivered through an auger and starts to soak.
When tanks are being filled or drained, the craftsman turns his attention to other duties—scrubbing and prepping vacant tanks, for example—and occasionally monitors what's going on inside active vessels. Still, getting to that point is anything but easy.
"I liken it to a mad scientist meeting a chef," Colt explains. "There are calculations that lead to the right combination, but knowing and understanding the flavors and ingredients is crucial."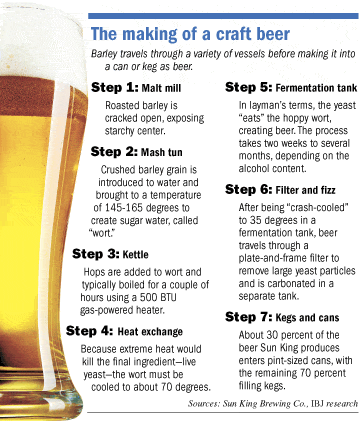 The inaugural batch of Sun King was crafted in July 2009. The brewery has since churned out 40 styles, invented using distinct blends of the 30 grain and over 100 hop varieties it has in stock.
This day's 15-barrel batch of Osiris uses 1,000 pounds of barley, 300 gallons of water, 10 pounds of hops, and five gallons of yeast. The blend combines three kinds of hops and "is not meant for the timid," the Sun King website suggests.
The ratio of ingredients is relatively fixed, Colt says. Sun King's recipes are written down and brew sheets are kept for the Alcohol and Trade Commission's excise police and for state records.
Not so formulaic—the environment inside Sun King.
"Play that funky music white boy," Wild Cherry howls through a set of speakers. "Play that funky music right."
"A funky beat comes on," Colt explains, strumming his air guitar. "Bootsy puts on a fat bass, I mean, what are you going to do?"
Wait. Who's Bootsy? Colt staggers away, bursting out a solo. Ugh, never mind.
Finding 'peanut butter and jelly'
This isn't Colt's first tour, metaphorically speaking. The South Bend native served eight years as head brewer at the Ram downtown, brewing 650 batches of beer there. Sun King co-owner Clay Robinson worked as his assistant brewer starting in 2005, and the two began to entertain thoughts of opening their own brewery.
Although the brewery would not disclose revenue figures, Sun King's apparent early success mirrors that of the burgeoning craft beer industry. While total beer sales in the United States dropped an estimated 3 percent in 2009, craft beer sales climbed 10 percent to $7 billion, according to the Colorado-based Brewers Association.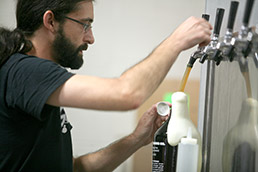 Jaroslaw Petruniw fills a 64-ounce growler with Chinookie I.P.A. (IBJ Photo/ Perry Reichanadter)
Sun King is one of more than 30 breweries and brew pubs in the Brewers of Indiana Guild, and at least three more Indianapolis microbreweries are in the planning stages. For the time being, though, Sun King is the only full-scale production brewery in the Circle City.
It's hungry work, and Colt makes his way to an office adjacent to the brewery, where employees have cut up Landjäger sausage from Claus' German Sausage and Meats market for lunch.
Again, it's down the hatch and back to the grind for Colt.
He usually works more than 60 hours each week, and figures this day will require a standard 12 hours, mostly involving the beer-making process.
The mash tun has done its thing, and Colt now equips the hose lines necessary to transfer the sugar water to the heating kettle, where hops are added.
The process commences and he waits, periodically checking the composition by dipping a yard-long ladle inside the kettle, being heated by a gas-powered burner. The content typically boils one to two hours and sometimes as long as four.
In the meantime, he strolls over to the grain inventory—bags upon bags each weighing about 2,500 pounds. Colt samples a few small handfuls, including a caramelized rye that tastes like Raisin Bran and a black patent malt with an ashy aroma and little residual sweetness.
He washes out a sampling glass and begins filling it with a new variety called Crab Apple Wit, a brew infused with crab apples that has been fermenting for three weeks that's set to be distributed the following Friday.
Unusual ingredients have become signature components in several Sun King varieties. Indian honey, shagbark hickory syrup and bark from a tulip tree—the Indiana state tree—are among the oddballs with which Sun King brewers have experimented.
"There are some combos that just don't work, and then there are those that fit together really well," Colt explains. "You try to find that peanut butter and jelly."
He checks the kettle again. The now-boiling, hop-induced substance will pass through a heat exchange—reducing its temperature to 70 degrees—before mixing with yeast inside a fermenting tank. Yeast is a living organism, Colt explains, and will die if the hoppy wort is not cooled. If the ingredients get along, beer will be made.
Of the people, for the people
As afternoon sunlight enters through the building's windows, Colt provides samples of six selected brews to patrons who have made their way to the tasting room that opened at 1 p.m. He mingles, talking beer with visitors as only a hop head can.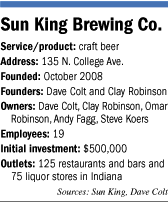 Despite not having a defined marketing budget, the brewery has been aggressive in getting its name out—and winning over fans.
Along with tasting room hours on Thursday, Friday and Saturday, Sun King hosts tapping events at local establishments.
"They get out for tapping parties, so you have a personal connection," says Waanders, the Lockerbie owner. "It's like that Sam Adams commercial, but real."
Sun King also sells its product at Victory Field, and recently signed on with the Lawn at White River State Park concert series.
Robinson has spearheaded projects aimed at capitalizing on social media, Colt says. Photos and updates are posted "religiously" to the brewery's Facebook page, which has 5,422 fans, and its Twitter account, which has 1,810 followers.
Personally, Colt likes what brewing demands of him.
"It's creativity, it's math, it's the physicality of the job," Colt says. "That's satisfying."•
Please enable JavaScript to view this content.