Three separate colleges will hold classes in Hancock County—if a business-led education alliance can finance the space.

The Hancock Community Education Alliance has lined up a vacant retail building on State Road 9 and would like to furnish a computer lab so Ball State, Purdue and Vincennes universities could start offering classes next spring. The group even has identified a local nursing and rehabilitation center that would send its aides for training in supervision by Vincennes University.

"We've brought all the players to the table. We have unity. We don't have as much momentum as we had at one time," said Harold Gibson, a member of HCEA's board and land development coordinator at Greenwalt Development in Greenfield.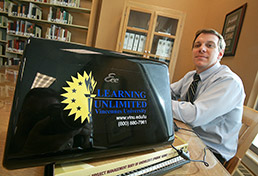 Mike Pittman is a coach for Vincennes University's Learning Unlimited program at Hancock County Public Library. (IBJ Photo/ Perry Reichanadter)
The alliance, an independent not-for-profit, formed about two years ago to address what local leaders perceive as a dearth of post-secondary offerings east of Indianapolis. The group's initial plan—to put up a multimillion-dollar building in Progress Park on Interstate 70—incensed taxpayers, and two elected officials resigned from the board.

Yet the HCEA's efforts are about as close as Hancock County has come to replicating other counties' success. One of the group's models is the Hendricks College Network, a joint effort of that county and Purdue's extension service that encourages local residents to pursue higher education, while inviting various colleges to meet local businesses' training needs.

"We always classify ourselves as the guidance office for grown-ups," said Cathy Bastin, executive director of the Hendricks College Network.

The Hancock County group would play a similar role, Executive Director Bob Molnar said. "We would like to be the clearinghouse."

Initially, HCEA would focus on job-training needs identified by local businesses and the WorkOne unemployment office. Non-traditional students would provide the critical mass the so-called "learning center" needs to stay afloat in its first three to five years, Gibson said.

Gateway to higher education

Then, HCEA's leaders hope, the center will become a gateway to post-secondary education for local high school students. About half the county's graduating seniors end up staying in Hancock County, either because they don't try to pursue college, or they don't finish, said Molnar, a retired schools administrator. He was formerly superintendent of the Southwestern Consolidated School District in Shelby County and the Indiana Soldiers' and Sailors' Children's Home in Knightstown.

"We're concerned about the 50 percent that stay here," Molnar said.

Hancock County lags the faster-growing suburbs in its residents' education attainment. About a quarter, 25.6 percent, of all Hancock residents age 25 and older had a bachelor's degree or better in 2008, according to a U.S. Census estimate. Nearly 91 percent had a high school degree or better.

In Hendricks County, 31.2 percent of adult residents had at least a bachelor's degree, and 93.5 percent had at least graduated from high school.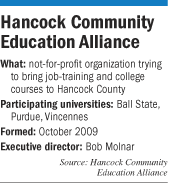 Hancock County isn't devoid of opportunities. Ivy Tech offers a smattering of introductory classes at Greenfield Central High School. Vincennes is using the Hancock County Public Library in Greenfield as a hub for Learning Unlimited, a grant-funded program aimed at encouraging people to pursue degrees online. Participants have free use of mini-laptop computers and access to an in-person coach, who keeps hours in the library's genealogy room.

Vincennes also offers two traditional classes in math and English, though their enrollments are two and one, respectively.

Unlike the Hendricks College Network, HCEA insists on providing a central location for colleges to hold classes.

"Somehow, we have to have a facility," Gibson said. "Students and non-traditional students tell us they're not going to go back to the [high] schools."

Controversial project

The push for a building has been a source of controversy.

The group's initial plan revolved around a new building that would have been financed by Greenwalt, which has an option to purchase land next to the Elanco headquarters in Progress Park.

A budget developed by HCEA shows $558,750 in expenses in 2011 with a large chunk of those funds, $308,100, going to capital reserves.

"At some point, we would like to have a facility of our own," Molnar said.

Some locals have accused the Greenwalt firm of steering the education alliance to benefit its own bottom line. Gibson said he and principal owner Lynn Greenwalt are involved out of a general interest in the county's economic development.

"We don't have to build it. We don't have to own it," he said of the learning center. "The learning center isn't the only reason we got the ground."

Meanwhile, state Rep. Bob Cherry and Sen. Beverly Gard resigned in August from the 30-member board. Hancock County Public Library Director Dianne Osborne also resigned, she said out of disagreement with the group's general direction.

"HCEA is composed of some really wonderful people," she said. "They have some of the same goals we do. It's just, how do we get there? And who's going to pay for it?"

The HCEA's operations would be funded mainly by contributions from local government. Its requests, however modest, come at an unfortunate time.

For Hancock County to make its $150,000 annual contribution, it would have to keep the rate of its economic development income tax, or EDIT, at 2 percent. The tax, which mainly supports the library, is scheduled to roll back to 1 percent on Oct. 1.

The education alliance originally sought $450,000 in EDIT money from the county council. That touched off a storm of criticism this past summer, and the group scaled down its ambitions.

Now the group is looking to lease space, 3,000 square feet owned by Greenwalt. The city of Greenfield committed $180,000 a year in EDIT money, but the education alliance still needs $150,000 a year from the county. That seemed like a possibility until state revenue projections earlier this month showed the county's 2011 revenue, including income and property tax, dropping $1.5 million, or roughly 10 percent.

"After our budget hearings, we're going to have to rethink everything," said Bill Bolander, a county councilman and HCEA board member. "The education alliance is not dead. It's just something we're going to have to think about."•