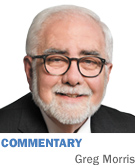 The Hispanic-Latino community is routinely thrown under the bus in the national debate on immigration reform. The lack of resolve to show leadership and come up with solutions in Washington fosters divisive confrontations like those exhibited in Arizona.
I'm not criticizing how those people feel. They have real problems that need solutions. But many times, when the debate rises to the acerbic tone currently pervasive in the media, everyone in a particular community gets cast in the same negative light. That's undeserved. We cannot allow this failure of our government to tear apart the benefits of diversity that helped make this country great.
Make no mistake, diversity has arrived and is here to stay.
The 2010 Census Bureau population estimates are due out at the end of this year. As of the 2009 estimates, the state of Indiana had a Hispanic/Latino population of 351,000, which represents 5.5 percent of the total population. The Hispanic/Latino population in the Indianapolis-Carmel metro area, which represents Marion County and nine others, is approximately 90,000 and that represents 5.2 percent of the population in the region.
In Marion County and the nation as a whole, the percentages are even bigger. The county's Hispanic-Latino population is just over 69,000, or 7.8 percent of the county's total. Nationally, the Hispanic-Latino population projection is somewhere north of 48 million and represents about 16 percent of the nation's total population. These numbers are sure to grow.
You might not be aware that, to address the growing presence, the Greater Indianapolis Chamber of Commerce merged with the Hispanic Chamber of Commerce in 2005, creating the Hispanic Business Council. Gustavo Escalante is the Hispanic Business Council manager. Tom O'Neil, president of Fishers-based Office Works, is the HBC chairman. Dr. Alfonso Alanis, CEO of Indianapolis-based Anaclim, is HBC's vice chairman. The entire 2010 Hispanic Business Council roster is a who's who of successful Indianapolis-area businesspeople.
I've personally been involved with one of HBC's initiatives, and I am pleased to report that experience has been extremely rewarding. The Hispanic Business Council's Mentor-Protégé Program is designed to develop and grow three to five Hispanic-owned businesses each year for a three-year period. IBJ Media has been a mentor to La Voz de Indiana bilingual newspaper since mid-2008. I value the relationships I've built working with Liliana Hamnik-Parodi and José Gonzalez-Parodi of La Voz de Indiana the past two years.
In addition to being quality individuals, Liliana and José are competent entrepreneurs. Liliana Hamnik was born and raised in Medellin, Colombia, and immigrated to the United States in 1998. She became a U.S. citizen and founded the newspaper in 1999. Other entrepreneurial pursuits followed. Today, La Voz de Indiana is Indiana's leading bilingual newspaper, with 20,000 copies distributed in about 500 statewide locations. I recommend you pick up a copy and check it out.
Charlie Garcia is an influential HBC member and former chairman of that organization. He's had a long, successful business career here and is president of Garcia Construction Group. Charlie recently told me the Indy Chamber/HBC Mentor-Protégé program has been so successful here that it is being duplicated in other cities across the country. Charlie knows what it takes to grow a business. He started his company in 1989 with a pickup truck and a $5,000 loan and operated his business out of his family room. Today, Garcia Construction is listed as the sixth-largest Indianapolis-area minority-owned business in the 2010 IBJ Book of Lists, with 112 full-time employees.
Are you getting the picture yet? You should be embracing the local Hispanic-Latino community and figuring out how to do business with these folks. And, as luck would have it, the perfect opportunity to do so happens in just a few weeks. Conexión, hosted by the Hispanic Business Council, is the premier event in central Indiana for connecting with Hispanic professionals. The event is Oct. 7, from 5:30-8 p.m. at the Mavris Arts & Event Center, 121 S. East St. Business professionals—both Hispanic and those wanting to do business with the Hispanic community—attend. The cost is only $15 at the door. Conexión is fun and educational, and you'll be welcomed with open arms.
Hasta la próxima, saludos cordiales. (Until next time, best regards.)•
__________
Morris is publisher of IBJ. His column appears every other week. To comment on this column, send e-mail to gmorris@ibj.com.
Please enable JavaScript to view this content.