What is it about the "Titanic" that continues to attract us—through books, films, a stage musical and, in the case of the touring show at the Indiana State Museum, an exhibition of artifacts?
Is it the arrogance of power that seems inherent in the story—that Tower of Babel sense that, when we reach too far, too soon, a Biblical punishment awaits?
Or is it a cry of yearning for a time when there seemed to be chivalry even in the face of doom? Is there a part of us that hungers for a "women and children first" nobility?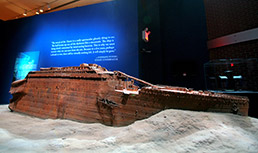 A replica of the sunken ocean liner helps anchor visitors in the Titanic experience. (IBJ Photo/ Perry Reichanadter)
Perhaps it's simpler than that. Maybe it's just the metaphoric message that death inevitably finds a way. Or, to the converse, that even the worst disasters can be survivable.
Maybe it's the easy-to-grasp class distinction between the coal-shovelers below and the first-class passengers above (paying the equivalent of about $57,000 each for a ticket). Or the sense that, in a fair battle between nature and man, nature wins.
"Titanic: The Artifact Exhibition" doesn't pretend to answer the question of why the Titanic matters. It's more focused on the what, highlighting items brought up from the wreckage since 1987.
A journey through the exhibition begins with text almost as arrogant as the ship's builders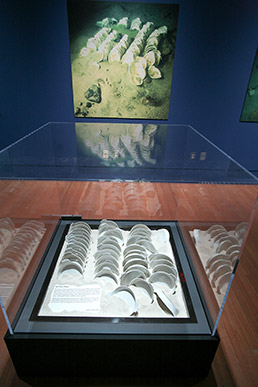 The actual Titanic dishes are juxtaposed with a photo of their discovery. (IBJ Photo/ Perry Reichanadter)
themselves. "The story of Titanic has been told and retold," says the writing on the wall, "Never more poignantly and passionately than by the artifacts represented in this exhibition." So much for allowing the pieces to speak for themselves.
That's not to say the items don't have powerful echoes, largely because of their ordinariness. A gear is a gear. A thermometer is a thermometer. A pair of binoculars is a pair of binoculars. But while 1,517 flesh-and-blood people perished that night—and while the last survivor passed in 2009—these otherwise everyday things are still with us, a bit worse for wear for their journey to the bottom of the ocean and back. And their message is unclear.
Maybe that's the key to the appeal. These items don't easily carry morals or meaning. And a Hollywood blockbuster and a Broadway musical, while compelling (I prefer the awkward-but-moving latter to the ultimately insulting former), don't come close to satisfying our hunger for closure.
Despite the Titanic, we know, as human beings, that we will continue to strive to make things bigger, stronger and more luxurious. That we will try to go faster. That we will ignore warnings.
That we will take chances to reach our goals. It's what sinks unsinkable ships. It's what gets us to the moon. And it's what makes us human.
"Titanic: The Artifact Exhibition" runs through Jan. 16.
__________
There seems to be a story behind just about every piece of artwork in this year's "Quest for the West" at the Eiteljorg Museum of American Indians and Western Art and, once again, the invitational sale show is well worth visiting before the purchased work finds its way into private collection.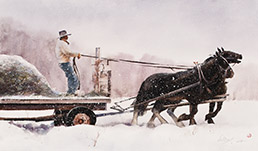 At the Eiteljorg's "Quest for the West," William Matthews' "Percherons in Profile" typifies the artist's interest in the working life of cowboys. (IBJ Photo/ Perry Reichanadter)
Among the pieces I coveted but couldn't afford this year were two by William Matthews, a native New Yorker now living in Denver who has created album covers for the likes of Vince Gill, BeauSoleil and Randy Travis. Both his "Percherons in Profile," featuring a pair of hard-at-work horses in a snowstorm, and "Out Rigger," with a cattle drive amidst the same weather conditions, speak with dignity of the relationship of man, animal and the great outdoors.
 
Cyrus Afsary takes a closer view in his "The Native" portrait that goes beyond the stereotypical nobility to capture both determination and sadness in a Native American's eyes. Terry Issac's eagle-and-canyon "Golden Majesty" is a bit much, but he nails the silly grace of an otter (at least, I believe it's an otter) in his "Chasing Rainbows." And William Scott Jennings' "Desert Gold" left me hungering for another look at Western skies.
But those are a small sampling of the work, which offers a snapshot of Western art now in demand among buyers. (If you are looking for signs of economic optimism, the Eiteljorg folks tell me sales were up significantly this year over last.) The exhibit runs through Oct. 10.•
__________
This column appears weekly. Send information on upcoming arts and entertainment events to [email protected]. Twitter: IBJArts and follow Lou Harry's A&E blog at www.ibj.com/arts.
Please enable JavaScript to view this content.