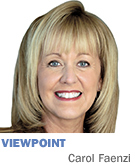 It seems we have tossed out having manners in the workplace, whether we find ourselves in meetings, attending a lecture, making a call on a customer, or interviewing a potential employee.
I am appalled at the number of businesspeople who have their heads down, texting and checking their messages or the latest stock quotes while supposedly being engaged in any of the above situations.
My good friend G has been out on the interviewing circuit for a new job. He tells me of one interview that stood out, but was not unusual.
The interviewer was the general manager and G's potential boss. During the two hours they met, the man checked his BlackBerry every minute or so and became disconnected from the conversation. G had to frequently guide the poor man back to the conversation. A two-hour meeting could have been conducted in one by switching the device off.
We really cannot do more than one thing at a time. But we continue to try to listen, read and text at the same time. The results are poor.
Let's go to Italy.
I was engaged as a marketing consultant for a company that distributes a lighting line from Italy. The designer, "Aldo," lives and works in the Veneto region. I traveled there, along with my U.S.-based clients, for a two-day meeting with Aldo and his team.
The scene: We are all seated around a conference table in Aldo's upstairs studio: Aldo; his wife, Patrizia; his consultant, Enzo; and manager, Francesca. This happens after many hugs and greetings with the rest of the staff.
The atmosphere is casual, but professional, warm, efficient and orderly—yet there is laughter and courtesy. The morning passes quickly. We go to lunch at a local restaurant in the country. It is the season for radicchio and so there are many dishes with this red and bitter leaf.
We talk, doing our best with English and Italian flying back and forth. Patrizia explains in detail how she will make fugazza, the special cake of the region, for the upcoming Easter holiday.
Two hours pass and we return to work. As we get into the car, I say to my clients, "Interesting how we didn't once talk about business." We go back to the conference room and work until about 7. A similar series of events occurs the next day.
We spent about 14 hours together in that beautiful conference room and only once did anyone check or use their phones—when Enzo received an important call from his wife.
We had a full list of items to get through, not all of them easy to negotiate, but we accomplished everything. Everyone listened. No one was interrupted. Everyone was engaged because no one was trying to stay connected.
It was refreshing. It was civilized and elegant and, yes, efficient.
A couple of more stories from right here in the United States:
My good friend C is a senior vice president of a private Midwestern bank. He tells me it is a solid rule in his company that no one brings their phones or BlackBerrys into meetings—period.
Another business friend works for a publicly held international company in New York City. The CEO holds a worldwide conference call with key managers once a quarter. His rule: If anyone's cell phone goes off during the call, that person has to buy lunch for everyone in his or her respective office.
If you just can't help yourself, leave the phone in the car. Leave it at your desk. Turn it off, not just on vibrate. Listen to the speaker who has spent hours rehearsing his talk. Have the courtesy to make consistent eye contact with your interviewee, customer or co-worker.
Go have lunch and just do that—eat lunch for one hour. I promise you will not miss anything.•
__________
Faenzi is an author, public speaker and business consultant. She may be reached at cfaenzi@aol.com.
Please enable JavaScript to view this content.