Think of video surveillance technology and what comes to mind? Maybe a corporate security officer with a Stacy Keach mustache, squinting behind a blurry TV monitor.

Or, as they do it at Exacq Technologies, an employee whips out his iPhone to reveal thumbnail videos from cameras watching its Fishers headquarters. He taps one box to pull up a full-screen image from a camera atop the roof. Tapping again, he pans and zooms in on the parking lot. Talk about the ultimate app.

"It gives even a small-business owner the ability to manage their business without being on-site," said Exacq President David Underwood, who co-founded the maker of video management system software and servers.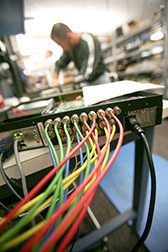 Kevin Skidmore assembles the computer hardware that will be used to run camera surveillance systems. (IBJ Photo/ Perry Reichanadter)
Among its customers is no less than Apple Computer, which uses Exacq's video surveillance system at its California campus and in some of its retail stores. Underwood said it didn't hurt that Exacq's open platform offers a non-Microsoft solution. Microsoft's rival liked that.

Clever adaptation of new technology has helped propel Exacq Technologies' dizzying 1,624-percent growth rate in the last three years.

Sales of nearly $10 million last year—up 54 percent from 2008—could be topped by a projected $17 million for 2010.

"The economy has been flat," Underwood said. "We've grown in spite of it."

Last month, Exacq was ranked 173rd on the 2010 Inc. 500 list of fastest-growing companies.

Also notable is that, unlike many technology firms in the region, the 45-employee company not only writes software but also designs and assembles the computer servers that run it.

Exacq put its first products on the market about five years ago, at a fortuitous time. Internet-protocol-based surveillance systems, which can be integrated with a company's overall computer network, started to displace stand-alone, analog systems.

Underwood estimated that about 70 percent of installed surveillance systems are still analog. So in recent years, he steered his product developers to come up with a hybrid server. On a table in the company's conference room is just such a hybrid server box, with digital and analog input jacks.

Many customers can't justify replacing their entire analog system en masse, especially during this economy. So Exacq's hybrid allows them to replace analog cameras with IP-based cameras here and there, over time.

For an upstart company to come in and win customers in this segment is no easy feat, said Skip Sampson, vice president of Indianapolis-based Koorsen Security Technology.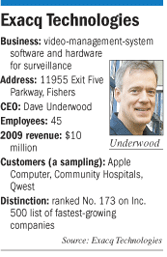 Security types tend to be conservative and hard to penetrate with a new brand, he said, explaining that a video surveillance system can last for decades.

"You're normally married to [a brand] for a long time," he added.

What's helped Exacq penetrate the market quickly has been that its top executives have worked for other security firms, Sampson said.

Underwood, for example, had co-founded Integral Technologies, another video surveillance company, in 1994. Exacq executives Daniel Rittman and Jeffrey Walters also worked at Integral, which was sold to an out-of-state firm. Integral's Indianapolis operations were shuttered last year.

Some of Exacq's crew also at one time worked at Truevision, another Indianapolis video company, which also was eventually sold off. So for some at Exacq, it's the second or third time they've worked together.

It also didn't hurt that Exacq entered the market with a flexible product lineup. A customer can buy an entire system, with server and cameras, or just software. Exacq's system can support four cameras or 400.

A big advantage of the IP-based technology is that now not only security equipment vendors are selling Exacq's product—so are IT integrators.

Rivals gather at gate

But Exacq will face growing competition in the years ahead.

According to IMS Research, the market is moving toward "converged" security management. For example, Montreal-based Genetec recently launched a platform that not only includes video but also can unlock doors and provide license plate recognition.

Video management software firms also will face more competition from digital video recorder and camera companies moving forward with complete packages that include a software management system, noted IMS Research.

Roger Shuman, an Exacq marketing manager, counters that many dealers and end-users prefer specific brands of cameras and other components rather than an off-the-shelf version offered by a Genetec or other firm. Exacq's operating platform works with various brands.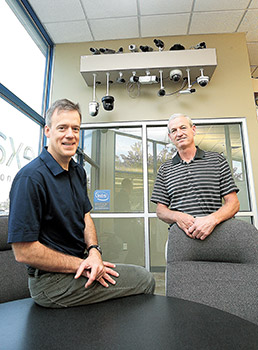 President David Underwood, left, says most surveillance systems still are analog. Exacq's use of technology has helped Director of Sales and Marketing Tom Buckley win clients. (IBJ Photo/ Perry Reichanadter)
Further intensifying the pressure is that some of the biggest players are getting price-sensitive. Copenhagen, Denmark-based Milestone, among the largest players worldwide in VMS software, announced earlier this year it was slashing the price of its entry-level package as competitors at the lower price point proliferate.

"VMS vendors will have to focus on advanced functionality in order to remain competitive," said IMS.

Exacq has turned to partners to meet some of that challenge. Last summer, it announced its video management software would be integrated with a physical security management system made by Framingham, Mass.-based S2 Security Corp.

S2's devices do things like monitor alarms, open doors and measure temperatures, and are accessible through a Web browser-based system.

Exacq also aims to expand internationally. It wants to set up a sales beachhead in the United Kingdom.

Prisoners and pet food

So far, it's built a diverse customer base, from North Carolina's prison system to a pet food company that uses Exacq's system to monitor quality control as well as security.

Smaller customers include race car drivers who seek to monitor their homes remotely. There's also a jewelry store in New Jersey that generated national attention after Exacq's system picked up on a heist.

Underwood plays back the image, which shows a customer being presented a platter of rings to examine. When the jewelry store employee turns her back, he palms one of the rings, then pretends to put the ring back in its case. Before leaving the store, he briefly takes off his baseball cap. His face can be seen clearly after zooming on his image.

"You could never do that with an analog camera," said Underwood, unless the analog camera itself were zoomed while taping.

The heist was played on TV and the cops caught the man the next day—after he'd given the ring to his girlfriend.

Exacq is married to growth, planning to add 49 new jobs—more than doubling its work force—by 2013. It's already knocked out walls at its Fishers facility. The Indiana Economic Development Corp. offered up to $650,000 in performance-based tax credits for the expansion.•