Indianapolis Colts vending machines could be popping up around town in the coming months. And they'd be serving up more than soft drinks and candy bars.
Indianapolis-based MainGate Inc. is testing a sales technique for its seven National Football League clients—using vending machines to sell everything from jerseys to bobble heads.
The first test market is Minneapolis, where the vending machines are located in Mall of America.
"[Minnesota] Vikings President Mark Wilf has a big interest in this," said MainGate CEO Dave Moroknek. "If you're going to test something like this in a mall, what better place than the biggest, best mall in the U.S.?"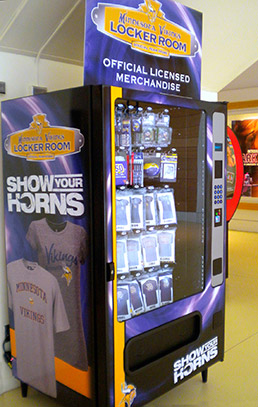 MainGate is testing vendings machines to sell its NFL clients' merchandise. (Photo courtesy MainGate Inc.)
The Colts were MainGate's first NFL client, and Moroknek thinks places like Indianapolis International Airport, Circle Centre mall and The Fashion Mall at Keystone could be ideal locations for the vending machines.
"We would certainly have an interest in placing them in malls and other locations where we don't have a Colts store right now," Moroknek said. "But if the mall is big enough, we could also place them in malls where we already have stores. We'd place them in different areas, and then they could be easily serviced by store personnel."
MainGate is no stranger to alternative retail sales operations. The local firm handles production and management of clients' licensed retail operations, including mall stores and kiosks, mobile units and online sales.
MainGate's clients include the Indiana Pacers, the New Jersey Nets, Harley-Davidson, the National Hot Rod Association, Danica Patrick and many other sports properties in addition to its NFL clients.
The use of vending machines has expanded in the last decade, and there are several companies worldwide that specialize in custom-made units for larger items. But Moroknek said the machine that was placed in Mall of America on Sept. 24 is the first to distribute sporting goods.
"We think this has a lot of potential and is an innovative, cost-effective way, and a new way to get product in front of a team's customers," Moroknek said.
The custom vending machine, Moroknek said, costs less than $5,000 and takes minimal manpower to stock and service.
Payment is made by credit card only, and it can be handled remotely on a daily basis.
"We're going to evaluate the Minneapolis test market through the holidays and probably through the rest of this season," Moroknek said. "We think it has a lot of potential and by early next year—and certainly by training camp in August—we think you could start seeing this in other markets."
Vikings Chief Marketing Officer Steve LaCroix thinks a growing self-service mind-set among American consumers—along with the overwhelming popularity of the NFL—makes this an ideal time to launch NFL-themed vending machines.
Once MainGate concludes its Mall of America test, Moroknek thinks the team-themed vending machines could become widespread.
"We've talked to all the teams we represent about this," Moroknek said. "We think if this is successful, they'll all want to be a part of it in the near future."
Please enable JavaScript to view this content.