Officials for the Crowne Plaza Hotel at Union Station in downtown Indianapolis expect a $400,000 glass-encased walkway linking the hotel to the Indiana Convention Center to be complete in February.
The 97-foot connector (see artist rendering below) will extend from the hotel over Capitol Avenue to the second story of the expanded Convention Center on the former site of the RCA Dome.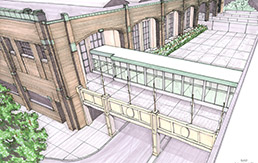 The Crowne Plaza's glass-encased connector to the Indiana Convention Center is expected to be complete in February. (Photo courtesy General Hotels.)
Construction on the walkway will begin next month. The project will use the same route as a previous connector between the hotel and the dome. The project will include an adjacent outdoor patio for hotel functions on top of the Capitol Avenue railroad bridge.
The opening of the new Crowne Plaza connector will coincide with the opening of the Convention Center expansion and the 1,005-room JW Marriott hotel complex.
 
The Indiana Convention Center's $275 million, 420,000-square-foot expansion puts Indianapolis in competition with much larger convention cities for bigger conventions. Including Lucas Oil Stadium, the city will have 747,000 square feet of convention space, almost double the 400,000 square feet it had with the Convention Center and RCA Dome.
Indianapolis Convention and Visitors Association CEO Don Welsh said the city's connectivity is key to drawing the conventions that create a big economic impact for downtown hotels, retailers and restaurants.
When the JW Marriott project is complete, Indianapolis will have more than 4,700 hotel rooms connected through a labyrinth of enclosed walkways, more than any other U.S. city.
"The fact that we have so many hotel rooms connected to our convention center is a huge selling point for the city," Welsh said. "That's something meeting and convention planners really take note of."
Please enable JavaScript to view this content.