It was the late 1980s, and power company AES Corp. was trying to get local approval for a coal-fired plant in Bucksport, Maine. Ann Murtlow was among about a half-dozen on the company's team who were facing a hostile crowd of locals at a public meeting one night.
The citizens leveled complaints against Virginia-based AES and the company's proposed project, which, residents worried, would further pollute the industrial town. They called Murtlow and her colleagues liars, accused them of being emissaries for a greedy corporation, and threw things at them.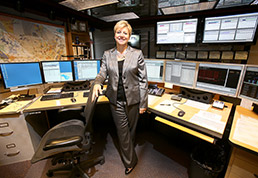 IPL chief Ann Murtlow in the high-security area of the company's headquarters, where power supply and demand are monitored. (IBJ Photo/ Perry Reichanadter)
Murtlow remained calm. She listened to their complaints and offered her own perspective to the angry crowd without launching attacks.
AES ultimately failed to get approval for the plant, but Murtlow walked away having gained the trust of municipal leaders.
It was a pressure test—one of many in her 23-year career with the company—that would groom her to face one of her biggest career challenges: proving herself as president and CEO of AES-owned Indianapolis Power and Light Co. and one of a handful of female CEOs of utilities in the country.
Murtlow, 49, began her first year as CEO in 2002 during a wave of tumult in the energy business and local consternation about IPL's performance. She overcame those obstacles by doing some of the same things that helped her prevail during the public meeting in Maine. (Murtlow discussed the transition to IPL in a recent edition of IBJ's video feature "Leading Questions"; see below.)
She listened. Then she formulated a long-term plan to improve the company's performance and made an effort to connect with employees to execute it.
Since she took over, Murtlow has improved IPL's safety and reliability benchmarks while earning respect among her employees and community leaders.
Those who know Murtlow attribute those strides to her ability to connect with people from IPL linemen to friends who participate in the monthly "girls' nights" she spearheaded.
"Ann always has been characterized by a real ability to communicate and relate to other people—both inside the company and outside," said J. Stuart Ryan, an investor in the energy sector who worked with Murtlow at AES for 15 years. "She's earnest and forthright. She doesn't think her job is to pull the wool over someone's eyes or talk down to somebody."
Powering up the ladder
Murtlow was drawn to the utility industry in large part because of her father, Paul Dragoumis, who led a Washington, D.C.-based utility.
A nuclear engineer by trade, the elder Murtlow spent hours with his daughter talking about his job and showing her how to repair cars. She became fascinated with the nuclear power industry, a heated topic while she was growing up during the Cold War era. She was so well-versed on the subject that she won a classroom debate on the topic in seventh grade as the lone student to take a favorable stance.
But the uncertainty of the field's future ultimately prompted Murtlow to pursue chemical engineering, and, after attending all-girls' schools much of her academic life, she entered a program at Pennsylvania's Lehigh University with a male to female ratio of 13:1. It would be her first exposure to what would become a long career of being in the gender minority, and Murtlow said it hasn't fazed her since.
"I haven't noticed any barriers because I didn't give them any attention," she said. "If you truly think you're in a situation where you can't advance, you need to leave."
Murtlow did advance. After college, she worked for San Francisco-based Bechtel Corp., a major power company contractor, before joining AES in 1987. At the time, it was a startup company, and Murtlow was one of about 80 employees.
She started with the job that led her to the public meeting in Maine—working on permitting for projects—and later expanded that role into developing plants and acquiring existing facilities in the United States and overseas.
The prospects of the projects she worked on shifted every day, depending on factors such as public sentiment and changing commodities prices. It's the kind of job that requires focusing on the long term and not getting bogged down in daily fluctuations, Ryan said.
That sense of discipline in many ways has shaped Murtlow's approach to her role leading IPL.
Among her first initiatives as CEO was
creating an operating philosophy dubbed "Be the best," which encouraged employees to think about who their stakeholders are. She also set tough benchmarks in areas such as safety, customer service and reliability. That helped improve the utility's safety ranking from the 50th percentile to the top quartile, Murtlow said.
"There's certainly a lot of rigor and accountability to the way she leads," said Ken Zagzebski, IPL's senior vice president of operations, who works closely with Murtlow. "But there's a personable side—one that values people and their opinions. She stressed to our leadership team to carry that down."
And it's the personable side, many say, that has distinguished Murtlow as a leader. When she visits IPL's power stations for quarterly safety walks, she strikes up conversations with the employees there.
She's also gone out in trucks with linemen such as Jim Daniel, who recalled Murtlow being interested in what he and fellow crew members were teaching an apprentice when she rode along with them four years ago.
"She was paying attention to what was going on and how we went about things," Daniel said. He also recalled that she remembered his name when she stopped by the Castleton power plant where he was working about a year later.
Murtlow said interacting with people is her favorite aspect of the job.
"It's important to take an interest in what people do," she said. "The success of any company is only possible by learning how people work across groups."
But some who work closely with utility companies perceive that her outreach seems limited to her employees and other influential members of the community. While some CEOs frequently interact with the public, some ratepayer advocates say they've seen other representatives from IPL—but not Murtlow—at regulatory hearings and other public forums.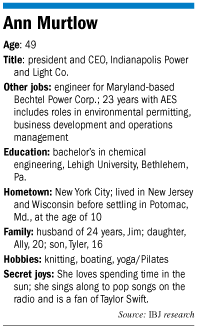 "She doesn't view her role in the public sphere so much as she does internally," said Kerwin Olson, program director for Indianapolis-based Citizens Action Coalition. "Ann seems to be a very private individual."
Finding balance
But Murtlow hasn't hesitated to get heavily involved with community efforts since arriving here eight years ago. She's a member of about a dozen boards, including the Women's Fund of Central Indiana, the Indianapolis Zoological Society and the Federal Reserve Bank of Chicago.
She also has established a close-knit group of about 20 girlfriends. Every month, they get together for dinner or other social things—a tradition Murtlow started.
"I've never seen anyone move to a community and get connected as easily as she did," said Jennifer Pope Baker, executive director of the Women's Fund. "She put herself out there. She didn't wait for people to do all the footwork for her.
Murtlow has made time for those things while keeping family her top priority. Her daughter, Ally, 20, said her mom always stressed the importance of sharing dinner as a family, and Murtlow makes a point to talk to her throughout the day.
Murtlow has been able to balance it all with the help of her husband, Jim, a longtime engineer who retired to stay home with Ally and their son, Tyler, 16, when the family moved to Indianapolis. Her assistant, Carolyn Roebuck, also has provided plenty of support.
Rituals keep Murtlow on track. She makes sure everything is on her calendar—including her regular pre-6 a.m. workouts. She's meticulously neat. And she's known to send e-mails at 11 p.m. before she goes to bed and at 5:30 a.m. after she wakes up, to avoid getting behind. (She discusses her search for balance and improved health in the "Leading Questions" video below.)
Patty Martin, who became friends with Murtlow several years ago, said Murtlow's ability to move seamlessly among the various aspects of her life also helps.
"She seems to be able to mix her philanthropy, her social life and her work in a way that doesn't distinguish between them," Martin said. "She goes from one to the other and doesn't put up a wall."
Murtlow said doing so many things has forced her to make tough choices sometimes, but she's learned to make peace with her decisions.
"If you can't relax and go with it," she said, "you're going to be extremely stressed out."
More challenges ahead
That sense of calm will come in handy as Murtlow prepares for perhaps her second-biggest career test: leading IPL through sweeping changes in the industry.
New federal regulations on the level of carbon emissions could require utilities to rely more on alternative energy sources and shift away from coal.
While specifics of those regulations remain vague, Murtlow is pushing the company to get more of its energy from wind, which she said is more cost-effective than other renewable resources.
IPL also is testing the use of "smart-grid" meters that help consumers conserve electricity.
The uncertainty can be daunting, but Murtlow said she's taking it one step at a time—by listening and understanding the laws and explaining what she knows to regulators and customers.
It's an approach she learned more than 20 years ago, at a town hall meeting in Maine.
Please enable JavaScript to view this content.