When it comes to attracting women to MBA programs, local schools are outpacing the nation.
Nationally, about a third of MBAs go to women. But women have made up 52 percent of MBA students at Anderson University in recent years. At Butler University, the percentage of women spiked from 30 percent to 38 percent this year. The figure is 36 percent at the University of Indianapolis, up from 28 percent five years ago.
UIndy attributes its high female enrollment in part to its Saturday-only option, which is especially popular for students with children, said Stephen A. Tokar, director of UIndy's graduate business programs.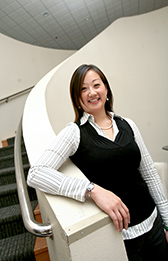 Telamon Vice President Sunny Lu said her MBA has helped her grow business. (IBJ Photo/ Perry Reichanadter)
Neither Anderson nor Butler reported special efforts to recruit women. But Indiana University's Kelley School of Business in Indianapolis has tried to attract women through flexibility, such as giving female students the option to take a semester off for maternity leave, said Mary Chappell, the school's director of external affairs.
IU credits its Women's MBA Advisory Board for increasing the proportion of women in its local program from 14 percent to 29 percent since 2002, Chappell said.
School leaders created the board because they thought having so few women in the program led to excessive competition and imbalanced discussions, she said.
The group aims to recruit more qualified women applicants; provide support, mentoring and networking opportunities for students and alumni; and increase the impact of female MBAs in Indianapolis.
The 37-member board includes business owners, not-for-profit leaders and executives at such companies as Eli Lilly and Co., WellPoint Inc. and OneAmerica Financial Partners, all based in Indianapolis. In the beginning, most of the board members were older alumni, but now a number are recent graduates.
Craving contacts
One of them is Sunny Lu, 28, vice president of business development at Telamon Corp., a Carmel-based telecommunications equipment supplier. She enjoys the camaraderie with other board members and students. The group's events give students an opportunity to learn how to "work a room," she said.
Lu herself decided to pursue an MBA because, as she climbed through the ranks at Telamon, she wanted a better grounding in finance. Now she can quickly gauge the health of a company by looking at a few financial statements.
Those technical skills were one of the primary benefits of earning her MBA, she said. Others were hearing lessons and anecdotes from business leaders who visited the classroom and the relationships she developed with classmates at IUPUI.

Those contacts have already paid off, she said. For example, when she was overseeing construction of a new warehouse, she asked one of her former classmates, a general contractor, for advice. Another classmate, a human resources director, has helped her with hiring and other personnel issues.
She cautions, however, that "an MBA is only worth as much as you are able to apply it." Women have a tendency to be too modest, and to wait for superiors to notice their talents, she said. "If you want to go for that leadership position, you have to ask for it. You have to take the initiative."
What's the point?
Women are likely to use an MBA to advance their careers, while men are more motivated by the desire to switch careers or to start their own businesses, according to research by the Virginia-based Graduate Management Admission Council.
Florrie Kichler is an exception. She had been working for a local book publisher and wanted to launch her own company, so she enrolled at the Kelley School In Indianapolis, and graduated in 1985.
"My MBA gave me the confidence to start my own business," said Kichler, who launched Patria Press, a publisher of children's historical fiction, in 1999.
She now enjoys helping younger women gain that confidence as a Kelley MBA Advisory Board's mentor.
Female applicants to MBA programs tend to have higher undergraduate grade point averages but lower Graduate Management Admission Test scores than men, the GMAC reports.
Perhaps because they want to complete their advanced degrees before they start a family, female MBA students tend to be younger than their male counterparts, are less likely to be married or have children, and have less work experience, lower incomes and higher student loan debt.
Dobbs
Polly Dobbs, 33, was one of the youngest members of her class when she began her MBA just two years after finishing her undergraduate work in history. Despite her youth, her writing skills soon proved valuable, "whereas male counterparts who had been working in finance for several years were great with numbers, but not so great with subject-verb agreement," she said.
Now an attorney with local law firm Bingham McHale LLP, Dobbs believes having an MBA in addition to a law degree set her apart from other job candidates.
Trailing medicine, law
Dobbs pursued the two degrees simultaneously at IUPUI, and saw a big difference in the representation of women in the two programs. Women were the majority in her law classes, but were a small minority in her business courses.
Nationally, women make up nearly half of law and medical school enrollment, but only a third of those earning MBAs. The imbalance is in spite of the fact that women represent more than half of the graduates of the nation's undergraduate business programs, according to the GMAC.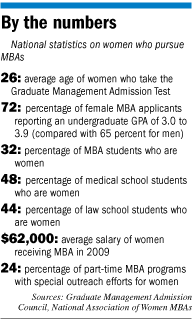 The California-based Executive MBA Council cites factors that may steer women away from an MBA: a lack of female role models, a lack of confidence in math skills, a lack of encouragement by employers, and an aggressive environment in business schools.
IU's Chappell has another theory:
"I don't think [MBA programs] have done a good job of telling how a business degree can help you change the world you live in. Law and medical [programs] do a better job of talking about how that happens."
The gap isn't surprising, said Tonya Olpin, executive director of the Houston-based National Association of Women MBAs. The group has 101 student chapters across the country, including groups at the Kelley School in Bloomington and Indianapolis. An MBA can cost $60,000 to $100,000 to complete and doesn't provide a career path as direct as a medical or law degree, she said.
"An MBA doesn't guarantee you [a job]," she said. "It gives you a toolbox."
Although the percentage of U.S. women earning MBAs has not increased much in recent years, Olpin sees a change coming. Many baby boomers have delayed retirement, hoping to see their investment portfolios recover from the recession, she said. Once that wave of predominantly male executives leaves the work force, it will open the doors for more women to ascend to the corporate suite.
And as they do, Olpin predicted, younger women will want to make sure they have what it takes to follow them.
Please enable JavaScript to view this content.