Indiana University has agreed to pay former university President Michael McRobbie an additional $582,000 for essentially clearing his calendar for six months after his June 30 retirement so he could be available to the school if needed, a university spokesman confirmed Thursday.
The additional pay—which trustees characterized in a letter as compensation for "consulting services"—became public this week in online posts by IU Maurer School of Law professor Steve Sanders. One of those posts included links to documents—which Sanders obtained from IU through a public records request—that lay out the circumstances leading to the payment.
Sanders said in an online post Wednesday on medium.com that he sought the documents to provide more transparency on the selection process for IU's new president, Pamela Whitten.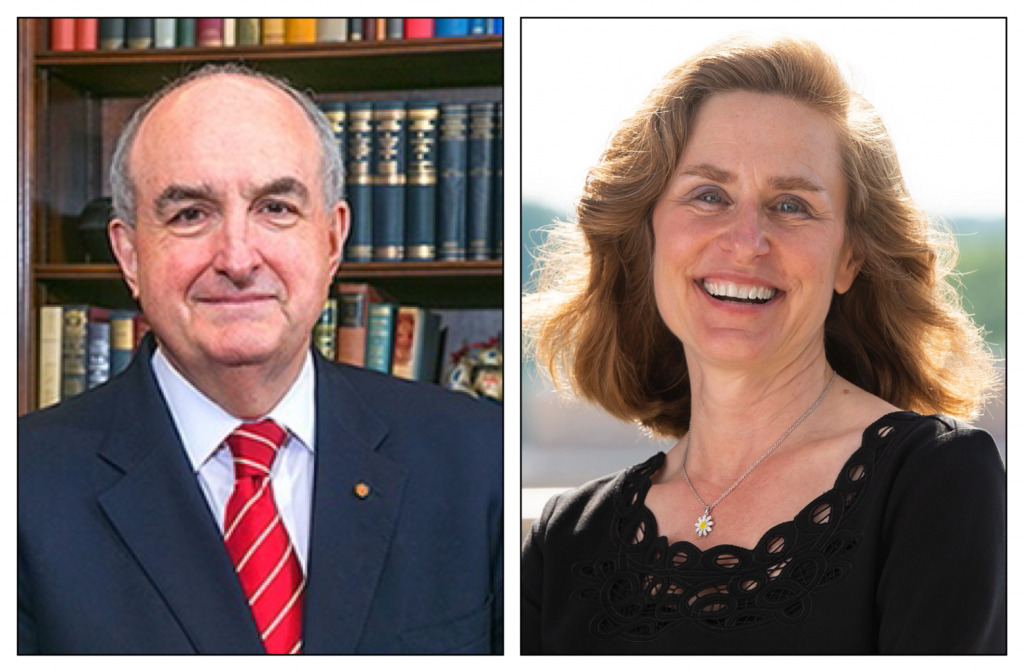 IU spokesman Chuck Carney confirmed the additional payments to McRobbie on Thursday afternoon after initially declining Tuesday to address the issue, saying in an email that the university couldn't comment on "personnel-related matters."
In the email Thursday, after additional questions from IBJ and the Indiana Lawyer, Carney said the trustees agreed to pay McRobbie $582,722 over six months, an amount that includes salary and deferred compensation.
Documents shared by Sanders show the trustees asked McRobbie to stay on for six months beyond his June 30 retirement in the event they couldn't find a replacement by then.
One document initially offered McRobbie additional pay to extend his contract for six months. That agreement was signed March 19 by McRobbie and then-board President Michael J. Mirro, according to documents obtained by Sanders.
But that agreement apparently was never executed, because on May 6, Jim Morris, chair of the compensation committee, wrote a memo to all trustees asking them to go ahead and make good on the offer even though Whitten was named McRobbie's successor on April 16, well before McRobbie's retirement date.
The memo notes that McRobbie had delayed sabbatical opportunities at two universities by a semester to continue to make himself available to IU through Dec. 31. Trustees authorized the additional six months of compensation "in light of other opportunities [McRobbie] forewent," Carney said in an email.
On May 13, Mirro and board Vice Chair Patrick Shoulders signed a letter to McRobbie, agreeing to pay him the same amount to provide consulting services to Whitten through the end of the year, the documents show.
Sanders contends that under the Indiana Open Door Law, the consulting agreement with McRobbie should have been publicly reviewed and acted on at the trustees' June meeting because it was set to take effect July 1.
Carney said in an email that the IU board approved the additional pay at its August meeting. He said that action is reflected in the board's minutes from that meeting, but he said those minutes wouldn't become official until today's board meeting in Indianapolis and so they are unavailable for viewing.
The additional pay for McRobbie isn't listed as a discussion item on the board's Aug. 13 agenda but Carney said that's common practice for "administrative actions" discussed in executive session.
"As is standard procedure, personnel decisions involving contracts are discussed in executive session, if they are discussed at all, and … voted in the administrative action section of the [public] meeting," Carney wrote in an email.
IBJ's review of a video recording of the Aug. 13 board meeting found that the trustees did vote in one fell swoop for a list of "action items" but those items were not discussed or vocally detailed.
Carney said in an email that information about the item dealing with McRobbie's additional pay was in a packet of materials provided to the board in advance of the meeting but that he didn't have immediate access to the material.
Sanders worked for months to obtain documents related to IU's presidential search. His public records requests were filed in May but he said he didn't obtain all the documents he sought until August—including the document related to McRobbie's contract extension.
On Tuesday, Indiana Public Access Counselor Luke Britt issued an advisory opinion on Sanders' public records requests, agreeing with the professor that the university "did not provide the materials in a reasonable time as required by the Access to Public Records Act."
Sanders used the documents and interviews with eight unnamed people involved in the presidential search as the basis for an online article criticizing the way the search was conducted. In the post, he said that Whitten didn't emerge as a candidate until the 11th hour.
Non-disclosure agreements signed by the search committee make it difficult to immediately check those characterizations. (IBJ Media CEO Nate Feltman, publisher of the Indianapolis Business Journal and the Indiana Lawyer, was among 23 members of the presidential search advisory committee, which did not interview or recommend candidates.)
In April, Sanders was immediately critical of the selection of Whitten, who had been president of Kennesaw State University in Georgia and previously served in high-ranking positions at the University of Georgia and the University of Kansas Medical Center.
"There's a time to go outside the university for president and time to stay inside, and I thought this time was a mistake for Indiana University to go outside," Sanders said at the time. He added, "In my mind, the time would have been right to be faithful to the direction President McRobbie has set and stay the course."
Sanders also is a friend of Lauren Robel, who recently stepped down from her position as IU Bloomington provost and returned to the Maurer School of Law, where she previously served as dean. Sanders said Robel appeared to be the leading internal candidate for the presidential post.
In a phone interview on Tuesday with the Indiana Lawyer, Sanders said his friendship and work with Robel for more than 20 years wasn't a factor in his decision to write his article about the presidential search.
About 48 hours before publishing that post, Sanders wrote another post that stated he believed IU could be trying to "intimidate him into keeping silent about things the university knows will be controversial."
Sanders wrote that a public records request from the Indianapolis law firm Hoover Hull Turner LLP has been filed seeking emails associated with his IU address, "specifically any emails about the search I may have sent or received with any members of the IU Board of Trustees, or the 17 members of the presidential search committee."
While Sanders said he doesn't know who is behind the request, he suspects it could be IU, as the school has been represented by the firm in the past, including in a current Title IX lawsuit against the IU School of Medicine.
Hoover Hull Turner did not return phone calls seeking comment. IU did not answer the question of whether it asked the firm to seek Sanders' emails.
Please enable JavaScript to view this content.