It seems so simple: Color-coding five interchanges along Interstate 70 on the city's west side so the scores of volunteers converging Thursday along the roadway know where to go.
But when you're trying to organize 8,500 people who will be planting roughly 1,600 trees and 72,000 shrubs and perennials as part of a massive beautification project, simple is good.
"We've been working on this for more than two years," said Mark Adler, director of special projects for Keep Indianapolis Beautiful Inc. "We've tried to come up with every scenario that possibly could go wrong and talk about it."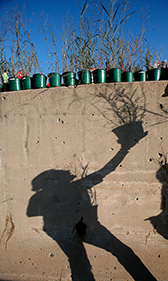 Deidre Woods hands a plant up to other volunteers working on beautifying a largely industrial stretch of I-70. (IBJ Photo/ Perry Reichanadter)
KIB is spearheading the effort, in which Eli Lilly and Co. will contribute the time of more than 8,200 employees, to spruce up the interchanges. The project has closed a six-mile stretch of the interstate, extending from Interstate 465 to the west to Interstate 65 to the east, from 6 a.m. to 6 p.m.
Volunteers began arriving at 5:30 a.m. A second shift will relieve them at about 1 p.m.
Those given yellow passes are directed to the Meridian Street interchange, for instance, and volunteers with orange passes will be working at Illinois and Capital streets. Red has been assigned to West Street, green to Harding Street and blue to the Sam Jones Expressway near Interstate 465.
Volunteers under the leadership of 400 or so team captains—each responsible for about 30 Lilly employees—have been instructed to carpool to their work stations. Each vehicle must contain at least four volunteers, to reduce the amount of necessary parking spaces.
"Since I-70 will be closed, that will become our parking lot," Adler said.
KIB is partnering with Lilly on what the pharmaceutical giant has dubbed its annual "Global Day of Service." It's the third and largest Day of Service project Lilly has has undertaken.
Sherrie Bossung, Lilly's director of community outreach, began coordinating this year's event by e-mailing the company's top 50 executives. They, in turn, identified someone in their department—marketing, finance etc.—to be a coordinator. They are the so-called captains who oversee their teams.
If something should go awry, Bossung said "it won't be because we didn't have every detail worked out ahead of time."
Bossung coordinated the weekly meetings in which leaders were kept apprised of project details. But it's Adler at KIB who is calling the shots on Thursday.
Like a high-ranking general directing troops, Adler isn't anywhere near the field of action, however. Instead, he's stationed at the Indiana Department of Transportation's traffic management center near 21st Street and Post Road, on the far-east side.
There, he'll be in contact by a radio that is programmed to have one channel dedicated to each intersection.
"The brain trust for the logistics for the day is going to be about seven or eight miles away," KIB President David Forsell said. "But Mark has the availability to talk to everyone and hear everything."
Volunteers finishing the early shift, and those relieving them in the afternoon are encouraged to eat lunch together with their teams. They are responsible for their own tools and food. The parking lots at Lucas Oil Stadium and the old Indianapolis International Airport terminal have been opened to serve as picnic areas.
Coordinating meals for the thousands of hungry volunteers would have been much too difficult and expensive, Adler conceded.
Workers on the morning shift are planting on the south side of I-70, or near the eastbound lanes, while those in the afternoon will be on the north side, or near the westbound lanes.
One lane of the interstate will remain unblocked the entire day, in case of emergency. The Red Cross and ambulances are stationed at each interchange.
Six area businesses have "adopted" interchanges and are responsible for maintaining the new plants: DEEM, a mechanical and electrical company; Duke Realty Co.; Elanco; Indianapolis Colts; MS Companies; and RJE Knoll Business Interiors.
The federal government provided a grant to match the $1 million Lilly contributed to the project.
Please enable JavaScript to view this content.