What makes a developer think he can win approval for one design and construct an entirely different building? How did no one at the city notice until the structure was almost complete? What happens now? Those are the big questions surrounding the Di Rimini apartment project at the southeast corner of Capitol Avenue and St. Clair Street.

As reported in last week's IBJ, the city's Department of Code Enforcement issued a stop-work order in September for the project at 733 N. Capitol Ave., and Senior City Planner Jeff York gave developer Di Rimini LLC a list of 35 points where the project built differs from the one approved.

Developer Jeff Sparks met with city planners Oct. 1 to offer proposed fixes, but York said the developer's offer was not adequate.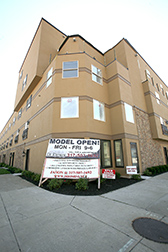 The Di Rimini project at 733 N. Capitol Ave. differs from the approved plan. (IBJ Photo/ Perry Reichanadter)
"The plans we received from Mr. Sparks were less than what we were expecting," York said. "We are continuing discussions internally to figure out next steps."

If the developer can't come to terms with city planners, the current approval could be voided and ultimately the fate of the project could wind up in court.

The fact the project is almost complete could play in the developer's favor. So why didn't the city notice sooner? Because "the property owner is ultimately responsible for performing the work they say they will," said Kate Johnson, a spokeswoman for the Department of Code Enforcement.

In this case, the developer secured permits for a project that matched the approved plans but went ahead and built something else, Johnson said. The department doesn't inspect properties for plan compliance unless they receive a complaint.

"The fault is the developer's," York added. "We don't have the staff to double-check to see if every project is built as approved."