I've heard about some experienced diners who have a six-month rule when it comes to restaurants: Give new eateries time to work the kinks out before trying them. It's a fine idea, but I don't have that much patience—especially when it comes to a place that's literally in my own back yard.

Pearl Street Pizzeria & Pub (65 E. Pearl St., 638-3110) is in the Century Building, mere steps from IBJ's back door along what many think is an alley just south of Washington Street. Pizza and beer within a pen's throw of a newspaper? Talk about built-in clientele.

Indeed, some of my colleagues gave the pub component a post-work test as soon as the doors opened. I restrained myself for almost a week before going with a small group for lunch.

The experience was uneven—as you might expect from a restaurant that had been open only a week—but I came away hopeful about the possibilities.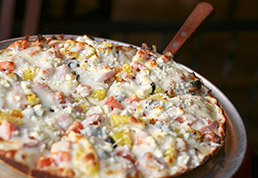 The Mad Greek Pizza at Pearl Street features sun-dried tomatoes, feta cheese and Kalamata olives. (IBJ Photo/ Perry Reichanadter)
Wanting to sample several menu items, we ordered three small pizzas and a large salad. While we waited for the main course, the two "veterans" in our group suggested we start with the Bread Sticks ($4.95), a moniker that doesn't do justice to the cheese-smothered dough. Served with two of three possible dipping sauces (marinara, jalapeno cheese or ranch dressing), it was a very good start.

The Pearl Street Salad ($6.95) is different from the other three salad choices in a couple of ways: It's the only one not available for $1.99 with a pizza, and it's the only one served with the restaurant's "special house dressing"—a ranch-like concoction made with sauteed green peppers and onions. Toss some of that in a bowl with fresh lettuce, chicken chunks and crispy bacon and what's not to like?

Unfortunately, the pizzas weren't quite so successful. Oh, we ate everything, but I'm not sure I'd order any of them again. We tried a hand-tossed Sausage ($7.25), a hand-tossed Hawaiian ($9.25) and a deep-dish Chicken Alfredo ($11.25), just to be different.

The hand-tossed crusts were pretty standard—or, as one of my companions put it, "typical bar pizza." The only constructive criticism I heard was that the pineapple chunks were too big on the Hawaiian (which also featured ham, bacon and mozzarella atop a red sauce). I think pineapple on pizza is a crime against nature, so I'll stay out of that debate.

Our group was similarly lukewarm about the somewhat bland Chicken Alfredo, with one exception: the buttery deep-dish crust. It was crispy and chewy in all the right places—rich without being decadent. So worth the extra couple of bucks. I wanted more.

I managed to wait three days before calling in a pickup order for a deep-dish Mad Greek ($11.25). I could just imagine the feta cheese, sun-dried tomatoes, kalamata olives and banana peppers boldly perched on top of that flaky shell. Alas, carryout confusion left me with a thin-crust version of my dream pie. I wanted to be angry, even after the manager picked up my tab, but I have to admit it still was darn tasty. Besides, there's no way I can wait six months to try it again.•

__________

Second in a month-long series of "street" restaurant reviews.