No, I haven't yet seen all of the 101 features and shorts being screened at this year's Heartland Film Festival. But I've seen enough that—with the help of some colleagues at IBJ Media—I can offer some strong, positive recommendations to get you started in sorting through the offerings (look here for more reviews and scroll down for scene from these films).
Let me first praise "Thunder Soul," a feature documentary about the Kashmere Stage Band, a Texas high school group from the 1970s that achieved international recognition for its powerhouse funk sound. While the archival material is great (gotta love the fashion and afros), the weight of the film comes from the contemporary efforts of the former band members—some of whom haven't picked up an instrument in 30 years—to pull together a concert for their beloved teacher, now in his 90s. Outstanding.
"The Parking Lot Movie" sounds like a joke. Do you really want to watch an hour and 20 minutes of overeducated parking attendants discussing their lot in life … and chasing patrons who don't pay? The answer should be "yes" because, without being pretentious, the film itself says something about our choices, aspirations and inertia. Plus, it's very funny.
One of the problems I have with many documentaries is that they say everything they need to say in the first 10 minutes. You wonder why they are feature-length instead of segments on "CBS Sunday Morning." "The Desert of Forbidden Art" is an exception. It focuses on the remarkable collection of primarily Soviet "degenerate" art amassed in creative ways by Igor Savitsky, whose goal was to keep the art safe in a museum he founded in Uzbekistan. Anyone with an interest in art, Russian history or man-beats-the-system stories should give a look.
"Freedom Riders" takes viewers into the hearts and minds of those who made the trek south in the early '60s to oppose Jim Crow laws, serving as a reminder that the Camelot era was a complicated one where injustice was still a given. And where a handful of brave, very human men and women put themselves at great risk to change this country.
No film fest would be complete without at least one film that takes a journey into an unusual subculture. Enter "Dumbstruck," which chronicles the lives of six ventriloquists and, in the process of telling engaging stories, also manages to deliver a subtle message about the difference between skill and talent.
While the documentary films—at least those I've screened—offered more must-sees, there are also strong fiction films in the mix.
Shot largely in southern Indiana, "Paradise Recovered" concerns a young woman who, after being kicked out of a fundamentalist religious group, tries to maintain her faith in the outside world. The film never pushes too hard, features appealing performances, and allows its characters to have honest discussions about religion and faith. The music of Cara Jean Wahlers and Grover Parido adds just the right aural accent to this world premiere.
Many strong actors appear in "Main Street," director John Doyle's film of Horton Foote's last screenplay. But while Colin Firth, Orlando Bloom, Patricia Clarkson and Andrew McCarthy are all fine, the standout performance comes from Ellen Burstyn. The award-deserving actress plays a woman fallen on financial tough times who has to consider renting a building as a place to store hazardous waste. Foote, who also penned "Trip to Bountiful," "Tender Mercies" and the screenplay for "To Kill a Mockingbird," is in good form here, although the film would have been more satisfying if the ending weren't so rushed.
Another Academy-Award-nominated actress, Melissa Leo ("Frozen River"), gives a rock-solid performance as an unstable flight attendant saddled with caring for a Muslim boy stranded on 9/11 in "The Space Between." This well-made film—with a strong ending—would have benefited from the child's being less perfect, but that's a small complaint. And an unknown cast and an unsparing script helps elevate "Ways to Live Forever," about a young boy with leukemia staring directly into the face of his mortality.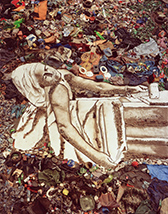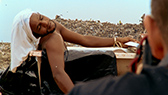 Art is created from the world's largest garbage dump in "Waste Land," screening at the Heartland Film Festival. Filmmaker Lucy Walker followed artist Vik Muniz for nearly three years for the documentary.
As for those films screened by my fellow IBJ Media colleagues, IBJ Style columnist Gabrielle Poshadlo was enamored with the documentary "Waste Land": "We've all seen lawn ornaments made from rusty coffee cans and railroad spikes at art shows (yawn)," she said. "But Brazilian-born artist Vik Muniz takes that concept to a different level—one where a group of landfill workers in Rio de Janeiro rethink their life path after making garbage art with Muniz. The film depicts a true example of art's direct contribution to the betterment of society, which really makes you want to Google everything Muniz has ever done—with a box of tissue very close by."
Indiana Lawyer scribe Rebecca Berfanger got a kick out of "Beyond the Pole," a mockumentary about two woefully unprepared adventurers trying to make an organic, carbon-neutral, vegetarian trek to the North Pole. "There are obvious similarities to 'Into the Wild,'" she said. "But the film skillfully uses the fake documentary style of 'The Office' and you can't help but root for the North Pole seekers as they fight frostbite, deal with a downed camera man, encounter a polar bear, and suffer dwindling supplies. The film was shot in Greenland, which gives the film a majestic beauty."
IBJ Media shooter Perry Reichanadter had good things to say about "Hand Held," which explored the fall of communism in Romania and the children it affected, through the eyes of a photographer. "The photographer becomes a missionary of sorts, helping the people of Romania over the next 20 years. Inspiring, the film is occasionally confusing—it introduces its interview subjects once, then expects us to remember them—and there are brief graphic images, but I'd still recommend this depressing but hopeful film."
IBJ intern Joe Jasinski called "Pelada," "a fitting title meaning both 'soccer' and 'naked' in Brazil. The film chronicles the travels of two former college soccer players as they scour the globe to find the game's blood lines, found on the parks of Israel, a prison in Bolivia, the slums of Kenya, the skyscraper roofs of Japan, and everywhere in between. The couple's interactions are genuine, occasionally awkward, but nonetheless symbolize discovery and establishing commonality. The film documents the human condition orbiting a soccer ball, and makes an impressive attempt at quantifying the realm of the world's game."
And IBJ copy editor (and published poet) Bonnie Maurer was taken with "For Once in My Life," an upbeat documentary about the Spirit of Goodwill Band, made up of members with diverse disabilities. Said Maurer: "It's the kind of story that comes to life in your heart."•
__________
This column appears weekly. Send information on upcoming arts and entertainment events to lharry@ibj.com. Twitter: IBJArts and follow Lou Harry's A&E blog here.
Please enable JavaScript to view this content.