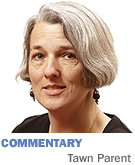 Hi. My name is Tawn and I send my son to Indianapolis Public Schools.
Middle-class IPS parents may feel as though they are making an embarrassing confession when they tell people where their children attend school. This admission might be met by a quizzical look, a slight frown, or worse. Based on some people's reactions, it would seem that sending a child to IPS is the kiss of doom.
Many people know little about the district beyond the headlines bemoaning low graduation rates or no-shows on the first day of school.
Many people don't know that IPS is not just for poor people. Parents with children in IPS include executives at Eli Lilly and Co., leaders of arts organizations, and a former lieutenant governor.
Many people don't know that IPS' Sidener Academy boasted the state's highest average scores on the Indiana Statewide Testing for Educational Progress for the last two years. Or that IPS boasts other innovative, high-achieving schools.
I feel lucky to have access to the quality choices in IPS. But the district is also lucky to have me, and the many other parents who pour time, energy and money into some of our city's most disadvantaged schools. Funds raised by parents build school playgrounds and provide team uniforms and even basic supplies for classrooms.
In some IPS schools, parents arrive every day to assist teachers, chaperone field trips or tutor students.
The district is expanding popular programs to appeal to families, yet administrators often treat parents as adversaries.
When Superintendent Eugene White proposed moving the start time of elementary schools to 9:30 a.m., he publicly chastised parents for daring to protest that such a late start time would pose safety concerns for their children and difficulties for working parents.
"Your children need to come first," he scolded.
A woman I know just moved her daughter to an IPS school. Excited about the change, she volunteered to head up the PTA. Then, a few days into the school year, an administrator abruptly ordered her out of the building for the small sin of talking to a teacher after the morning bell.
Fellow parents frequently tell stories of being ignored, patronized or insulted by IPS administrators. Granted, there are a number of deadbeat parents in the district. And granted, many teachers and some principals do appreciate parental involvement. But overall, the administration too often falls short. IPS needs a top-down, system-wide mandate to treat parents as valuable partners.
IPS represents 32,000 future workers or, alternately, welfare recipients or jail inmates. Therefore, IPS matters to the entire community. Recognizing this, The Indianapolis Star is pulling out all the stops to galvanize support for IPS. Its reporters are documenting the needs of the district's children in an attempt to raise test scores, lower the dropout rate, and line up 10,000 volunteers to help disadvantaged youth. It's a noble effort for a noble cause.
How ironic that the Star is trying to attract community members with no connection to IPS, while the district itself is driving away parents with a strong vested interest in the schools' success. Parents who participate actively in their children's education are those most likely to exercise their prerogative to enroll their children elsewhere.
Those are students—and parents—IPS cannot afford to lose. The district recently announced that its enrollment has dropped by 950 students since last year. That's enough to fill three elementary schools. If this trend continues, next year Fort Wayne's district will surpass IPS as the state's largest.
Fort Wayne lost just 20 students this year. To what does that district credit its high retention rate? Its strong relationships with parents.
"We think that has prevented our schools from losing students to the charter schools at the same rate that they have in Indianapolis," spokeswoman Krista Stockman told The Associated Press. "Part of that is that people see our schools as viable places to be."
A friend of mine has been a staunch advocate of IPS since her children started in the system 12 years ago. But in August, after a high school dean made false accusations and ridiculed this mom and her daughter, she felt compelled to switch to a charter school.
"It's disheartening to see administrators who have no respect for these kids or their families," she said.
A district that is hemorrhaging students needs all the friends it can get, and involved parents are the best friends schools can ask for. But even public-education champions have their limits. Local parents have 20 charter schools and numerous private options to choose from.
With so much competition, IPS alienates parents at its peril. The district's loss is ultimately a loss for us all.•
__________
Parent is associate editor of IBJ. To comment on this column, send e-mail to tparent@ibj.com.
Please enable JavaScript to view this content.