Everything seemed normal when Taki Sawi closed the doors to his Santorini Greek Kitchen in Fountain Square Monday at about 11:30 p.m.

But about an hour later, his years of hard work would go up in flames, as fire destroyed the near-southeast-side restaurant. Damage is estimated at between $800,000 and $900,000, Sawi, 44, said early Tuesday morning after a sleepless night.

Typically the last one to leave the restaurant, Sawi said he always conducts a round of checks to ensure nothing is amiss. He said he noticed nothing unusual Monday night.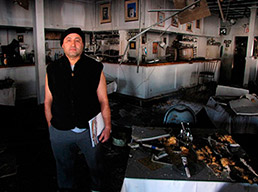 Taki Sawi, owner of Santorini Greek Kitchen, surveys the wreckage on Tuesday after an early-morning fire caused some $800,000 in damage. (IBJ Photo/ Mason King)
A neighbor who lives behind the restaurant called 911 to report the fire, Sawi said. Indianapolis Fire Department officials suspect the blaze started in the building's electrical wiring.

Sawi, however, remains upbeat.

"We're going to rebuild," he said, "and we're going to open as soon as we can."

The building on Prospect Street that Sawi purchased in 2003 was fully insured, he said. He relocated to the larger building that year after outgrowing his original space on Shelby Street, where he opened Santorini in 2001. (The restaurant was the subject of an IBJ "Inside Dish" video profile this summer; in the video below, Sawi recounts the eatery's origins and what at the time were his goals for the future.)



Sawi arrived in Indianapolis in 1995 after meeting his American wife, Jeanette, while waiting on her table at a restaurant in Greece.

A native of Egypt, Sawi left the country following the death of his parents to help support his extended family in Jordan. He worked seasonal restaurant jobs in several countries, developing cooking experience and leadership skills.

The National Restaurant Association recognized his determination in April by honoring him with an American Dream Award. It is given to individuals from diverse backgrounds who, through hard work, have realized their American dream.

Sawi told IBJ then that he had dreamed of opening his own restaurant since he was 14 years old.

His efforts now will be focused on rebuilding instead of serving the scores of patrons who typically flock to the restaurant from all over Indianapolis.

Tuesday morning, a weary Sawi had just one request for his loyal clientele: "Please be patient."