It is impossible to extricate the artist from the art when it comes to Andy Warhol. And it's impossible to extricate Andy Warhol and his art from the world of commerce, because the artist himself was so influenced by—and generated so much—money.
That's a main point in the Indianapolis Museum of Art's latest high-profile show, "Andy Warhol Enterprises."
Running through Jan. 2—and co-curated by the IMA's Sarahy Urist Green and New York-based art historian Allison Unruh—it's a show best appreciated by those who look to art for questions rather than for answers.
Embracing mass media and unashamedly courting notoriety, Andy Warhol managed to build a fame that extended well beyond the 15 minutes he predicted everyone would eventually be known for. Creating a character (yes, that's a wig) and prone to provocative statements ("Business art is the step that comes after art"), Warhol made a name for himself by literally putting his money where his art was.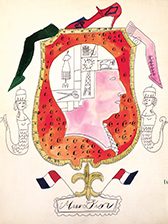 Early Andy Warhol commercial work, including the 1957 ink and watercolor "Miss Dior," is included in the IMA's exhibition. (Photo Courtesy Indianapolis Museum of Art)
Money and dollar signs welcome visitors. I can imagine a creative teacher leading a field trip inviting her students to add up the value of the currency and coins.
This is no exhibition gimmick, though. The exhibit does a strong job of establishing the roots and branches of Warhol's interest in the commercial world, showcasing not just his "art as art" pieces. Yes, there are Campbell Soup cans and Marilyn Monroe canvases, but there are also illustrations-for-hire that Warhol created in the 1950s for publications such as Harper's Bazaar and advertisements he appeared in during the 1980s for Drexel Burnham, Sony and others.
Collectively, they offer a compelling through-line narrating an interesting arts life. But questions still hover. Was there a point when the commercialism overcame and dominated the artistic instinct? Is Warhol in part to blame for the "success" of a contemporary artist now being gauged by the sale value of his or her work? Is embracing pop culture less valid artistically than rejecting it?
Will we be going to see the Warhol show because of the evocative power of the aesthetics of the work or because of our fascination with the artist?
And does that matter?
____________
The Indiana Repertory Theatre opened this season with an adaptation of "Holes," one of the most popular and award-winning young adult novels of the past few years.
Louis Sachar, the author of the book and the screenplay of the entertaining film version, also adapted the play for the stage. That kind of control keeps things close to the source material, which is fine if you are being tested on the book and don't want to actually read it. It's less satisfying if you are looking for a unique theater experience.
The IRT production, running through Nov. 6, brings to the table effective design, unflagging pacing and more-than-acceptable performances from the cast—at least on the grown-up side. What it doesn't do—and maybe it's just not possible—is make a compelling case that there's a good reason, other than economics, to stage "Holes" at all.
It's a problem that faces many literary and quasi-literary adaptations. They may be fine for school field trips. But without inspired rethinking (think of last IRT season's delightful "Around the World in 80 Days"), page-to-stage translations can easily feel like ViewMaster versions of the original. The scenes and characters were clear, but I still felt twice-removed.
After seeing Dance Kaleidoscope's season opener "Mad for Musicals," I received a note from DK's head honcho David Hochoy inviting me to come back and see it again. Apparently one of his dancers was out with an injury on the evening I saw the show. Alas, schedules didn't allow me to go back.
It might be—or, at least, seem—unfair to comment on a presentation that was incomplete. And I sympathize with any specialized performers who have to make last-minute adjustments to their delicate work. So I'll limit my comments to work that didn't involve the ensemble.
In the first half, choreographed by Hochoy to show tunes from Rodgers and Hammerstein, Stephen Sondheim and Leonard Bernstein, Mariel Greenlee effectively danced and acted an escalating emotional breakdown in a solo take on "Losing My Mind" (from Sondheim's "Follies"), and Jillian Godwin shined brightly and athletically in both "Bloody Mary" and "Something's Coming."
On the other hand, the over-familiar "Send in the Clowns," with company vets Liberty Harris and Kenoth Shane Patton, felt distant rather than connective. And the climactic "Being Alive" was overly busy and unfocused, with Patton seeming to crash the party and take over mid-dance, leaving it a muddle.
The second half, with Nicholas Owens designing the dances, focused on more rocking Broadway material, but didn't look too deeply.
Where was "Spring Awakening" or "Next to Normal" or any other less-predictable material? Instead, we got the expected-but-fun "Hair" opener (I'd love to see Owens have a choreographic go at a full production), the expected "Rent" numbers (one of which ended with a gag-inducing pose that I thought went out with '90s show choirs), "I Don't Know How to Love Him" from "Jesus Christ Superstar" featuring the underused Brittany Edwards, and an emotionally empty solo dance to the "Elaborate Lives" duet from "Aida."
And while two songs from "The Wiz" may seem like overkill in a seven-number set, "Home" proved a surprising pleasure as a succession of female dancers defined their worlds with movement. It was a balance between material, performer and dancers that more of the program could have used.•
__________
This column appears weekly. Send information on upcoming arts and entertainment events to lharry@ibj.com. Twitter: IBJArts and follow Lou Harry's A&E blog at www.ibj.com/arts.
Please enable JavaScript to view this content.