The Indiana Association of Cities and Towns this month named Indianapolis its "Green Community of the Year."
The association created its green program in 2008 to encourage cities and towns to identify potential cost savings and improve quality of life.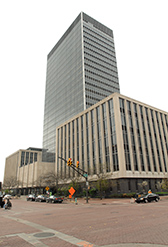 The city in April announced $8 million in efficiency upgrades to the City-County Building, including geothermal and hot water solar panels. (IBJ File Photo)
Mayor Greg Ballard's administration has unveiled a number of green initiatives ranging from widespread use of hybrid vehicles for city departments to a plan to make the City-County Building more energy-efficient.
"All of the actions we have taken since creating the Office of Sustainability two years ago are proof that city government is leading by example in order to make Indianapolis one of the most sustainable cities in the Midwest," said Karen Haley, Ballard's sustainability director.
IACT has created a database of projects around the state as an educational resource for municipalities.
Please enable JavaScript to view this content.