Zionsville gallery owners are stepping up their collective marketing efforts as Carmel's Arts and Design District gains momentum.
"We already have a naturally occurring, organic gallery scene here. Let's take advantage of that," said James Burnes, a marketing professional recently hired by a group of gallery owners.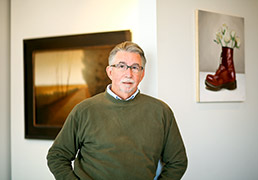 Jerry Points is owner of Eye on Art Gallery in Carmel. The Arts and Design district has landed a number of galleries in the past five months. (IBJ Photo/ Perry Reichanadter)
The Zionsville group keeps close watch on downtown Carmel, where the Arts and Design District has landed a new wave of artists and gallery owners over the past five months.
Burnes said the informal Zionsville group, which includes 10 galleries and the Sullivan Munce Cultural Center, hopes to roll out the first stage of its plan by the end of October. That will likely focus on ways the galleries can cross-promote themselves with other merchants.
Then the group hopes to work out a two- to four-year strategy with existing organizations, such as the merchants' association, chamber of commerce and Zionsville Arts Initiative.
"We want to benefit the entire marketplace," Burnes said.
The Boone County town rivals Carmel in affluence, but it has shunned the sort of growth that put Carmel on the map.
"They're very different entities," said Sue Wickliff, a longtime Carmel-based auctioneer who recently closed a Zionsville gallery she'd run for three years.
Zionsville is known for its quaint, brick-paved streets and cluster of antique shops and art galleries. It's also home to The Sanctuary, a historic church that nationally known artist Nancy Noel converted into a gallery and cafe. (The Sanctuary is not part of the informal marketing group.)
"Zionsville has that village destination that evolved naturally. It wasn't created by throwing money at something," Wickliff said.
The closing of Wickliff Fine Art prompted rumors she would reopen the gallery in Carmel. Wickliff said she simply plans to sell the gallery building and continue working in the auction business, which she plans to sell to a key employee.
Although several of the artists who've recently landed in Carmel came from Indianapolis, the trend prompted Zionsville gallery owners to wonder whether their competitor might be doing something right.
"Zionsville as a community will be smart to take notice of Carmel's efforts," said Burnes, who is acting as a spokesman for the gallery group, which includes Watts Fine Art, Salem Gallery, Corner Vise and Kellar Mahaney, among others.
Whatever Zionsville's response, it won't be on the scale of Carmel's 13-year drive to create an urban center.
Those plans are taking shape in a way that's proving irresistible to artists like Susan Mauck. She left the Stutz Business Center in Indianapolis, which houses about 80 artist's studios, to open French Bleu on Main Street in Carmel. The gallery features her own portraiture, as well as the work of other artists.
"I've been here one month and sold one piece and seven portrait commissions," she said. "The big difference is the exposure."
Mauck, who lives in Westfield, said she considered several locations for her first storefront. Zionsville didn't have as many retail spaces available, she said, and added, "I don't think it's promoted as much as an arts community."
Mauck has her gallery at 111 Main St., next door to Eye on Art Gallery, owned by former Stutz-based landscape painter Jerry Points.
At 27 E. Main St., Elizabeth Garvey, a New York art dealer who is an Indianapolis native, opened Garvey Simon Art Access with her sister, Catherine Simon.
On the west side of the Monon Trail, another Stutz-based artist, Kathleen Stevens, opened Renaissance Fine Art and Design. The building at 246 W. Main St. is next door to Soori Gallery.
Two other well-known artists, Walter Knabe and Contance Scopelitis, opened studio-galleries in Carmel's Indiana Design Center, a $25 million building at 200 S. Rangeline Road that's geared toward interior-design professionals and suppliers. The building, a joint project of the city and Pedcor Cos., opened over the summer.
Scopelitis, a portraitist, maintains her studio at the Stutz, but said, "I'm actually functioning more out of the Carmel space because there's so darn much business up here."
Carmel's aggressive campaign to become an arts hub began with the construction of a concert hall that's slated to open in January. The Palladium is the centerpiece of a $118 million performing arts complex.
To bolster the visual arts, Mayor Jim Brainard and the Carmel Redevelopment Commission recruited gallerist Evan Lurie from California by financing the construction of a four-story building at 30 W. Main St. The gallery occupies two floors, while the top two stories are high-end condominiums.
Carmel also has retained Lurie as a consultant at $100 an hour to recruit other galleries. As The Indianapolis Star reported in 2007, his contract called for him to solicit peers from other states.
Lurie said his focus these days is recruiting galleries—along with businesses such as international restaurants and coffee shops—from the Indianapolis region.
He said artists and business owners are finally starting to see how the dense cluster of retail and residences in downtown Carmel will work.
"It isn't just about the once-a-month art walks," he said. "It's about the day-to-day activity."
Carmel is backing its recruitment and marketing with at least a small financial incentive. The Carmel City Center Community Development Corp., known as 4CDC, this summer created an $85,000 grant program for leasehold improvements in the Arts and Design District. Richard Taylor, president of the organization, said the grants are available to existing businesses and those looking to move to Carmel.•
Please enable JavaScript to view this content.