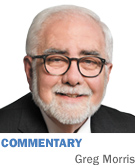 I mentioned in a previous column that I was going to work to find positive news to communicate as we moved through the year. This was my mindset as I recently listened to John Augustine, chief investment strategist for Fifth Third Bank, give his presentation at IBJ's 2011 Economic Forecast breakfast. I always look forward to Augustine's forecasts because he has a unique way of sifting through very complicated and conflicting data and presenting it in a way you can actually understand.

Driving into downtown that morning, I did what I do many days in the car—listen to the financial news from CNBC and Bloomberg. All I heard was one negative story after another. One conflicting viewpoint followed another. At a time I was trying to get in a positive frame of mind for our breakfast, I found myself getting semi-depressed. Is there no good news out there?

By the time I arrived at the breakfast I had pulled myself out of the gloom. I mentioned my morning drive experience to Augustine when I arrived, and he suggested I avoid listening to all that chatter. (I've been trying to reduce my exposure to financial information overload, but it's tough.) He relayed my story from the podium and said that if we listen too much to the financial channels, it will make us want to bury our money in a hole in the yard and get a Rottweiler to guard it.

Augustine offered a more optimistic view. If you missed it, never fear. IBJ reporter Scott Olson attended the presentation and conducted an interview afterward. You can find that story here with a video of the interview. You also can find a video ofthe entire presentation here. The opening statement in Scott's article is, "Indicators show the economy is beginning to pick up its pace, but not at the rapid rate the public would prefer." I think that captures the essence of what was said.

I've felt it in our business. The pace picked up nicely in the third quarter, but we'd like more. Using a driving analogy, Augustine says we are finally able to look out the front window rather than staring into the rear-view mirror all the time. He says we're stuck in traffic going 20 mph when we are used to going 65. Looking at the glass half-full, that's better than standing still or having to backtrack to get off the road. That's where we've been.

Some specific highlights I picked up for 2011 are:

• Odds are good we will not experience a double-dip recession here in the United States.

• There will be growth, but it will be slow. If you don't have a global strategy, think in the 2-percent range.

• Much higher growth potential exists when you target global and emerging markets. But you will need patience (a two- to three-year time horizon) and the ability to accept high volatility and risk.

• Interest rates should stay lower, longer with a 10-year yield range of 2 percent to 4 percent.

• The Standard & Poor's 500 should close 2011 around the 1200 mark, but volatility remains.

• If you are looking for a more traditional investment return, you will need to consider the higher-risk strategy of preferred stocks, select common stocks and high-yield bonds.

• The bond market may be too overheated with all the cash flowing into bond funds. We need to watch this.

• The United States needs time to cope with the following: demand growing into capacity; perceived anti-business sentiment in Washington (mid-term elections are just around the corner); management of debt, deficits and future liabilities in government; and continued deleveraging by consumers.

I hope you will take the time to review our complete coverage at ibj.com. I would like to thank John Augustine and Fifth Third Bank for partnering with IBJ for this annual economic forecast. While we all wish the recovery were a little more robust, at least we are moving forward. We're looking out the front window in anticipation of a better 2011.•

__________

Morris is publisher of IBJ. His column appears every other week. To comment on this column, send e-mail to gmorris@ibj.com.