Some of the first big signs of momentum have begun to emerge at the Indianapolis City Market after years of struggle to get the venue on solid financial footing.
Next month, six new vendors will move into the historic downtown building, and a bar featuring Indiana craft beers will open.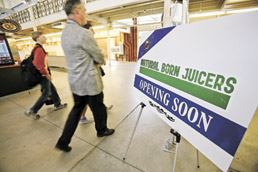 Patrons at the historic City Market are awaiting the arrival of new vendors such as Natural Born Juicers and Circle City Soups. (IBJ Photo/ Perry Reichanadter)
It's the beginning, market leaders say, of a push to expand a lunchtime spot to an after-work destination for downtown dwellers picking up fresh, unique offerings.
But the positive signs are accompanied by a snag that some fear could slow the apparent rebound at the city-subsidized facility. A $2.7 million renovation, announced in June and expected to start earlier this fall, has been slowed by a difficult bidding process.
This week, city leaders said bids for the project came in above projections. To stay within its budget, the city plans to rebid the renovations, which will push the start of work on them beyond the already delayed Nov. 1 date.
The project includes things such as new rest rooms, a bicycle hub in the east wing, and demolition of the building's west wing. Even with delays getting off the ground, the project is expected to be complete by spring, when it was initially anticipated, said John Cochran, special counsel to Mayor Greg Ballard, who has been involved in the project on behalf of the city. Scrapping a plan for building an elevator in the market's main hall could save time and money.
Still, market leaders worry the lack of movement on the renovations could make it harder to continue attracting tenants. In addition to the new mix, the market needs another six vendors to be fully occupied.
"When it's five months past your [renovations] announcement date and still nothing is getting done, it gives people cause for concern," said Jim Reilly, the market's executive director. "No activity scares people. You can only sell a dream and a vision so much."
Reilly said momentum from the announcement about the renovations helped drive interest from the six tenants moving in next month. They will include fresh-item vendors such as a florist and produce shop, in addition to more healthful prepared foods such as juice, crepes and freshly prepared soup.
The Chef's Academy also will open a research-and-development kitchen where culinary students will learn how to operate a restaurant.
A bar, dubbed the Tomlinson Tap Room, will open on the second floor and offer 16 taps of craft beers from breweries across the state. Hours will be extended into the evening to accommodate the after-work crowd.
The idea, market leaders say, is to turn the place from a food court into a true public market.
"You'll be able to grab a beer and—mere steps away—purchase a prepared dinner or everything you need to prepare a fresh dinner," said Vicki Higuera, the market's director of retail planning. She was brought on in April to help lead the new initiatives. "I'd love to say by next spring you'd be able to buy your entire dinner here."
Doing that will require drawing more new vendors to sell items such as meat, eggs, cheese and dry goods. Higuera said it's important that those items be easily accessible —and different from what can be purchased at the nearby Marsh.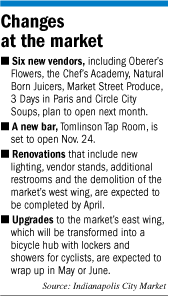 The market also is looking for ways to make it easy for people to get the goods, by arranging a service such as pedi-cab delivery for downtown residents or launching an order and pick-up service.
Reilly and others are confident the changes will be transformative. He's hopeful the delay is just a minor setback and that people notice the changes taking place more than the lack of serious construction.
That was the impression of T.R. Fox, a lawyer who lives and works downtown and stopped by the market for coffee one afternoon last week.
"Seeing the stands come in is what makes me think there's change," said Fox, 38. "It makes me think, 'OK, they're going to be here for a minute.'"
But Fox was less convinced that the market's new approach to lure residents like him in the evening hours for a beer or fresh goods would pan out. He said it will take effort to change people's impression of the place as a stop for breakfast and lunch.
Steve Delaney, a principal with local real estate firm Sitehawk who specializes in restaurants, said he thinks it's doable.
The market's location away from the core concentration of downtown activity makes it tougher to bring in more people. But creating draws, such as the new vendors and beer, he said, will be "a move in the right direction."
"At some point, they'll have the critical mass to make it a long-term success," Delaney said. "I don't know when that will be."•
Please enable JavaScript to view this content.