The parent company of Carmel-based Delta Faucet continues to bump along the rocky bottom of the nation's depressed housing market.

Masco Corp., based in Taylor, Mich., reported on Oct. 25 a third-quarter loss of 2 cents per share, compared with a year-ago profit of 14 cents per share. Sales declined 6 percent to $2 billion.

Plumbing was the company's only product segment to see any growth, however modest. The segment posted sales of $686 million for the third quarter ended Sept. 30. That was a 1-percent gain over the year-ago quarter.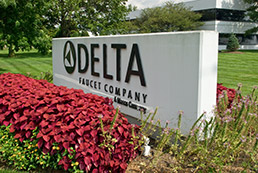 Delta Faucet's parent company, Masco Corp., is struggling with the depressed housing market. (IBJ File Photo)
Sales declined in the other four product segments, especially cabinets and installation, which saw respective drops of 18 percent and 12 percent. Masco said the growth in plumbing is largely from overseas sales of its high-end Hansgrohe brand.

The company relies on housing starts, which hit a historic low in 2009. Although some housing markets have been slower than expected this year, CEO Tim Wadhams said he still expects total starts of 575,000 to 625,000 in 2010.