It's so easy, when writing about arts and entertainment, to get completely caught up in what's new.
But while temporary exhibitions, visiting artists and limited-time-only offerings are a big part of what makes a vibrant cultural scene, focusing entirely there ignores a lot that's of lasting value here.
So this week, rather than review something new, I thought I'd highlight some of the long-term residents of Indy-area museums and attractions from the Indianapolis Museum of Art to the Indianapolis Zoo.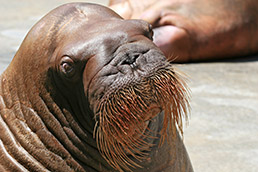 Aurora the Walrus is a must-see at the Indianapolis Zoo. (Photo courtesy Indianapolis Zoo)
Indianapolis Zoo
While the polar bears seemed to relish the attention more and the Guinea baboons were certainly livelier, I always made it a point to visit Nereus and Aurora, a pair of Alaskan walruses, every time I visited the Indianapolis Zoo.
Little did I realize that my most recent stop would be the last time I'd see Nereus, the male of the duo, who died Oct. 21.
I'll miss the lumpy guy, one of the few walruses in captivity in North America. But I'll still stop by and hang out with Aurora, who now has four seals to keep her company.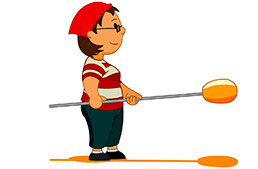 Sarah charmingly teaches kids the art of glassblowing at the Children's Museum. (Image courtesy The Children's Museum of Indianapolis)
The Children's Museum of Indianapolis
There's always a lot going on at Indy's big-draw kid attraction. But while the Dinosphere is impressive, The Power of Children is moving and inspiring, and ScienceWorks is great for hands-on experimentation, my favorite corner of the Children's Museum is an unassuming interactive area in the basement.
There, on a computer screen, the animated Sarah (voiced by local actress Claire Wilcher) takes kids through the process of blowing glass. The combination of the right voice, the right visuals, easy-to-use controls and minimal extraneous information make this interactive rise above most others of its ilk, which often serve as barely disguised TVs or video games. Sarah the glassblower, though, is educational, fun and relevant to the exhibition that surrounds it. And, trust me, I've spent a lot of time standing behind my children as they've spent quality time with her.
Indianapolis Museum of Art
Whenever I have guests in town, I make it a point to get them over to the IMA. Regardless of what's in the temporary galleries (right now, that's "Andy Warhol Enterprises"), I can always count on a strong reaction to James Turrell's "Acton" and Do-Ho Suh's "Floor."
The former is, at first look, more optical illusion than work of art. Housed in its own room, the timeless 1976 work looks like a dark, monochrome canvas on the wall of its own gallery. Close in on it, though—and dare to reach your hand into it—and you'll "see" that there is nothing there. The rectangle is actually cut into the gallery wall. The art happens in our eyes and the takeaway is a change in perspective toward the things we see—and the things we think we see.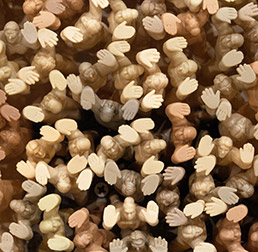 Look down at the Indianapolis Museum of Art's "Floor" and you'll see hundreds of tiny figures holding you up. The remarkable piece is by artist Do-Ho-Suh. (Photo courtesy Indianapolis Museum of Art)
A more recent addition to the IMA's contemporary art collection, "Floor" includes a platform that visitors are welcome to stand on—sometimes stepping up before realizing that hundreds of tiny figurines are "holding up" the floor. You can see the palms of their hands and the tops of their heads when you look down.
At the extremes, you can interpret this with "It takes a village" positivity ("Just look at all the support the world gives each individual). Or you can feel the oppression of these anonymous people, toiling to keep everything—including you—in balance. No matter what your reaction, this is a dynamic work that I take more from with every IMA stop.
Eiteljorg Museum of American Indians and Western Art
Every year, the Eiteljorg purchases one of the pieces from its "Quest for the West" art show, a move that not only demonstrates the value of the work being shown, but also helps build the museum's permanent collection. The acquisition for 2007 was H. David Wright's "Uninvited Visitor," a dramatic winter scene fraught with the anticipation of a violent encounter. Like many of the Eiteljorg highlights, the piece is not only narratively interesting, but also seems to have a time and temperature of its own.
Indiana State Museum
While there's always a lot going on inside the Indiana State Museum, it's the outside that I make sure I show visitors. That's where Indiana's 92 counties are each represented by artwork attached to the building's limestone exterior. (Henry County's spot, for instance, features both a Wright Bros. plane and a basketball court.)
Sure, you can buy "The Art of the 92 County Walk" book at the Museum store, but first it's more fun to discover them in their natural habitats.
Conner Prairie
Two words: hatchet throwing.
Do you have favorites of your own from these or other permanent collections? Visit this story online at www.ibj.com/arts and add yours to my list.•
__________
This column appears weekly. Send information on upcoming arts and entertainment events to lharry@ibj.com. Twitter: IBJArts and follow Lou Harry's A&E blog at www.ibj.com/arts.
Please enable JavaScript to view this content.