Eli Lilly and Co. executives have said repeatedly that the company's bulging pipeline will produce two new drugs per year, beginning in 2013.

To do that, the Indianapolis-based drugmaker will have to conquer not only science, but also history.

Over the past 60 years, even the most productive pharmaceutical companies—of which Lilly is one—have produced fewer than one new drug per year, on average. And only three times in the past six decades has Lilly launched two or more new drugs in back-to-back years.
Munos
Those are conclusions of a study conducted inside Lilly itself, by Bernard Munos, who was a corporate strategy adviser before he retired from the company in July. Munos published his analysis of all 1,222 new drugs launched since 1950 in the journal Nature in December.

Munos' research—and his corresponding call for radical change to the way the pharmaceutical industry conducts research—undermines Lilly's prediction that its pipeline is so chock full of new drugs that it's bound to start producing new sales.

"It can only happen if you change the laws of statistics," Munos told IBJ. "And that's unlikely to happen."

Lilly officials, naturally, disagree and are preparing their own statistical analysis to prove that two new drugs a year is not only a prediction but a probability.

Lilly shareholders—and the entire central Indiana economy—are depending more than ever on Lilly's prediction to be right. The company, which is the region's largest private employer, has shed a few thousand local jobs in recent years in an effort to trim costs before a big drop-off in revenue and profits in 2014 as a result of U.S. patent expirations.

Lilly's problem is that it has no late-stage experimental drugs clearly poised to produce enough new sales to offset the billions that will be lost to generic competitors.

Just this month, U.S. regulators unexpectedly delayed the market launch of Lilly's latest diabetes drug, Bydureon, until the second half of 2012. That won't give Bydureon enough time to ramp up before Lilly's second-best-selling drug, Cymbalta, begins to lose sales to generic competitors in summer 2013. Lilly's best-selling drug, Zyprexa, will lose sales to generics in November 2011.

"There's increasing pressure on the future. The focus is increasing on what happens in 2013-2014," said Tony Butler, a pharmaceutical analyst at Barclays Capital in New York.

Butler and several other Wall Street analysts give Lilly more of a chance than Munos does of launching a raft of new drugs in 2013 and beyond. In an Oct. 21 report to investors, Butler outlined 14 Lilly drugs that have a shot at launching from 2013 through 2015.

Morgan Stanley analyst David Risinger predicts 13 Lilly drugs could launch by 2015, producing nearly $1.5 billion in new sales.

But that volume wouldn't come close to the more than $8 billion in sales Lilly stands to lose to generic competitors between now and 2013. And that's what concerns most analysts covering Lilly.

Dr. Tim Anderson at BernsteinResearch, referring to Lilly by its stock ticker, wrote on Oct. 21: "We have at least some concerns—either from a regulatory or commercial perspective—about several pipeline drugs in the latest stages of development at LLY and feel the pipeline is likely to be incapable of replacing scheduled generic losses."

Anderson and many other analysts think Lilly will have to pump up its revenue by acquiring other companies whose products have longer-lasting patents.

That's not Lilly's plan. Company executives are instead telling investors to expect a hit to revenue, especially in the "trough" year of 2014, but then rising sales as those two new medicines per year hit the market.

Lilly, like many other pharmaceutical companies, has built up its pipeline to unprecedented levels. Whereas five years ago, it had fewer than 25 experimental drugs being tested in humans, it now has 68.

That massive pool of candidates, in addition to new efforts to prove in early-stage tests that an experimental drug is effective against its intended target, gives Lilly the confidence that its pipeline can outperform the company's history.
Lundberg
"We are cognizant that launching on average two potential medicines per year represents an increase from our historical output," Jan Lundberg, president of Lilly Research Laboratories, wrote in an e-mail. "However, since the period analyzed by Mr. Munos, we've made research investments that have led to more than doubling the number of unique, potential medicines entering our pipeline each year and, just since 2004, have tripled the size of our portfolio. Additionally, by running our proof of concept studies earlier than ever before, we are increasing the likelihood of our Phase II molecules launching."

Lundberg declined to say for how long Lilly expects to sustain its pace of two new drugs per year.

Bursts of innovation

Lilly has lived on bursts of new drug launches before. The most recent came from 2001 to 2004, when Lilly launched six new drugs, including the antidepressant Cymbalta and the lung cancer medicine Alimta, which have driven much of Lilly's sales growth in recent years.

Before that, Lilly had launched bursts of seven drugs from 1987 to 1989—including the iconic blockbuster Prozac—and from 1963 to 1965, according to the data Munos compiled from the U.S. Food and Drug Administration.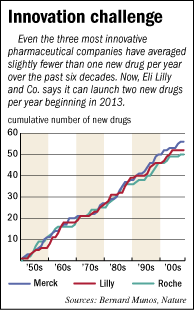 Lilly has also suffered dry spells as bad as the one it's currently in—only one new drug in five years. The same thing happened from 1990 to 1994. But then Lilly launched six drugs in the next four years, including its best-seller Zyprexa.

From 1950 to 2008, Lilly has been second only to New Jersey-based Merck & Co. Inc. in bringing new drugs to market. Merck has introduced 56 medicines, compared with Lilly's 51, in that span.

In spite of these bursts, Munos found, the rate of new drug production for each drug company has remained more or less constant over the entire 59-year period he studied. When plotted on a graph, each company's number of new drugs slopes upward in nearly a straight line.

So unless drug companies radically change how they conduct their research and development, Munos predicts they will not see a radical increase in new drugs coming to market.

The problem as perceived by Munos during his 30-year career at Lilly is that, since the mid-1990s, pharmaceutical companies have tried to run their R&D arms with the regimentation of assembly lines.

Pharmaceutical companies, including Lilly, tried to use forecasts of the market potential of experimental drugs to make choices about which ones to move ahead through clinical trials. So, for instance, Lilly and just about every other company is investing hundreds of millions of dollars in Alzheimer's—a potentially huge market—even though scientists have yet to even figure out what causes the disease.

One of Lilly's Alzheimer's medicines failed this summer in a large Phase 3 trial, with results showing the drug actually worsened patients' conditions.

A different approach

Munos thinks pharmaceutical companies would be better served to follow the model set by Switzerland-based Novartis AG. After its 1996 creation by the merger of Sandoz and Ciba, Novartis instituted a breakthrough approach to R&D, by which it advanced experimental drugs that showed fantastic clinical results even if the potential market appeared small.

The classic case was Gleevec, launched in 2001 to treat patients with rare cancer chronic mylogenous leukemia, which affects only about 5,000 Americans each year. Such a market seemed laughably small.

But the drug proved so effective in putting this form of cancer into remission that patients and insurance companies were willing to pay a huge price for Gleevec. The cost for a year's treatment ranges from $30,000 to $100,000.

Gleevec, which has since been approved to treat two other forms of cancer, currently enjoys annual sales of $4 billion.

Last year, Novartis launched another drug, Ilaris, which treats the small population of patients with Muckle-Wells syndrome. It's unclear if it will join Gleevec as a blockbuster.

"You want the mad scientist, basically," Munos said of pharmaceutical companies. He added, "They need to allow scientists the freedom to follow breakthroughs in science, irrespective of where they might lead."

Butler, the Wall Street analyst, thinks the pharmaceutical industry has learned key lessons from the past decade, when drug companies across the board failed to produce new drugs to replace their aging blockbusters.

He says the companies now are poised for a deluge of breakthroughs just over the horizon.

"The industry as a whole, there is a tremendous late-stage pipeline, better than I've seen in decades," he said. In fact, he estimates the drug industry is sitting on late-stage pipeline drugs that will produce $30 billion in annual sales.

Munos praised many of the industry's efforts—including some pioneered by Lilly. Those include InnoCentive, a Lilly spin-off that convenes a Web-based community to tackle drug development problems; Chorus, a group inside Lilly that has developed ways to speed up the "proof-of-concept" of experimental drugs; and FIPNet, a strategy by which Lilly taps the constellation of small firms to help it discover and develop new drugs.

Munos also applauded Lilly's decision to eschew large mergers, since Munos' data shows the combined companies do not see any increase in new drug launches.

But to avoid an "implosion" of the pharmaceutical industry, which he thinks is already under way, Munos said a drastic change in culture is needed.

"You basically need to roll back the legacy of the last 15 years," he said, "and so far they have not been prepared to do that."•