It took J.C. Hart Co. more than a year to secure a $5 million bank loan to expand its downtown apartment community, The Waverley, despite an occupancy rate above 90 percent and a prime location a few blocks from corporate giants Eli Lilly and Co. and WellPoint Inc.

Fellow apartment developer Buckingham Cos. took a different approach in lining up financing for its project in the neighborhood: It teamed with Lilly to persuade Mayor Greg Ballard to offer the city's priciest package of taxpayer support for a private development project since Circle Centre mall.

The city in October offered to provide an $86 million loan and build $9 million in infrastructure to get the $150 million North of South project off the ground. Plans call for a boutique hotel, retail space, a YMCA branch, and 320 upscale apartments that would go head-to-head with the privately financed J.C. Hart development.

Carmel-based Hart—which finalized its financing deal with Warsaw-based Lake City Bank and State Bank of Lizton the same month the mayor announced the Buckingham deal—plans to add 48 one-bedroom apartments to its 164-unit project at 151 S. East St. The first phase of Waverley, launched in 2007, cost about $18 million.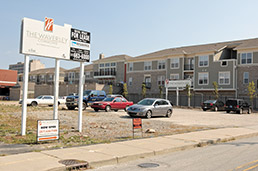 J.C. Hart Co. plans to start construction soon on a 48-unit expansion of The Waverly. (IBJ File Photo)
North of South, which still requires City-County Council approval, would be built a few blocks away on a Lilly-owned parking lot between Delaware Street, South Street and Virginia Avenue.

The larger project should stimulate interest in other nearby developments, helping make that portion of downtown a more popular place to live, said John C. Hart Jr., president of J.C. Hart Co.

He applauded Buckingham's creativity in landing the support of Lilly and the city and structuring a "financing vehicle" so the project could move forward quickly. But he'd also like to know more about the economics that justify so much taxpayer support where private lenders balked.

"It's frustrating to the extent it's taken us months and months to get our project lending commitment, frustrating to know the city was willing to offer something that might free up capital and make it easier to start a project," Hart said.

"As a developer who has built a project downtown without any assistance and another 48 units without any government assistance, it would be a bit frustrating to be competing with a project that is getting government assistance."

The city rarely offers incentive packages for multifamily developments. A recent exception was the Cosmopolitan on the Canal project by Flaherty & Collins Properties. The developers in that case won tax abatements in 2007 worth $2.7 million in exchange for providing public parking and rest rooms along the canal and street-level retail space.

North of South will go far beyond a standard multifamily development, providing an amenity with intangible benefits private lenders simply don't consider, said Deron Kintner, executive director of the Indianapolis Public Improvement Bond Bank.

Intangible No. 1: providing an amenity that might stem job cuts by Lilly, the city's largest employer, which is vacating its 465,000-square-foot Faris Campus and moving workers to the Lilly Corporate Center.

Kintner said the city will not take an equity interest in North of South and will not charge the developer a spread above the municipal borrowing rate, both moves designed to increase the likelihood the project is successful. For at least 10 years, all property taxes on the development would go toward paying down the project debt.

"If Lilly had come to us and told us The Waverley was important to their future, we would have listened just the same," Kintner said. "This is a unique project to the city. It's not just another multifamily project or a hotel. I don't want people to think this type of funding will be the norm now. Every project is unique in its own way."

Hart understands some projects will need government help, particularly for infrastructure needs such as parking. He also can relate to hoteliers' bristling at the city's support for North of South's new boutique hotel, wondering whether another hotel will spread the market's existing room-nights too thin.

But if Hart had to do it over again, he still would invest in The Waverley.

"We believe very strongly in our location and that side of town and aren't surprised others would be interested in adding to the inventory," Hart said. "Activity has a way of breeding other activity. We welcome the competition, and we look forward to building our addition."•