When Jerry Martin took over as general manager of WXIN-TV Channel 59 in 2004, the Fox affiliate was airing a three-hour local news and entertainment show on weekday mornings and a half-hour news show at 10 every night.
Eighteen and a half hours of news a week.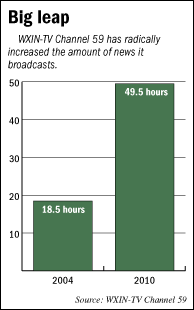 This January, after Channel 59 expands its weekend morning news shows by an hour, the station will be airing 54-1/2 hours of live local news each week. And if everything goes as planned, by the end of 2012 it will add a 6-7 p.m. newscast weekdays, bringing the total to an astonishing 59-1/2 hours. That means more than a third of its airtime will be devoted to local news—about twice as much as its three competitors and maybe more than any other network affiliate in the country.
"We're really trying to change the way people look at Fox59," Martin said. "We want them to think of us primarily as a news station with Fox prime-time programming. I think that will happen because of the number of hours we produce. And as the marketplace changes, we believe that the one with the most resources devoted to news, the one that's on the most, is going to be seen as the premier news place in the market."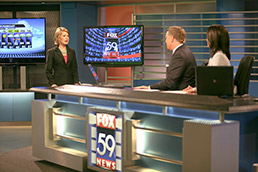 Lauren Jones, left, who forecasts the weather, talks with anchors Bob Donaldson and Fanchon Stinger on the 4 p.m. Fox newscast. (IBJ Photo/ Perry Reichanadter)
If nothing else, it's certainly generating gasps in the industry.
"Wow—59 [hours]," marveled Mark Kraham, chairman of the Radio Television Digital News Association and news director of a station in Hagerstown, Md., that does 29 hours of local news each week. "That's an incredible amount."
As Martin sees it, Channel 59 is doing what it has to do to be able to control its own destiny. For decades, stations like his typically existed on a heavy diet of syndicated programming—daytime talk, court shows, game shows and sitcom reruns. But now there's less of that programming available, what is available can be costly and, because of cable, little of it is available exclusively.
News, on the other hand, is local, exclusive content that can also be used to feed the station's website and shared through mobile devices like smartphones and iPads.
"Really, it's local television going back to its local roots, more so than just running whatever Hollywood produces," he said.
And it appears to make sense in other areas. Martin said the more news Channel 59 does, the higher its web numbers have been. In the past year, he said, website traffic has quadrupled, and the site is making money for the station.
"Not the kind of money you make running a TV station, but it's starting to become a significant part of our business plan," he said.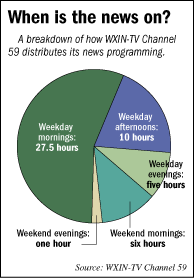 Local news also serves as a profit center for affiliates. Not as much as prime time—where programming historically has been free and the profit margin from the local advertising time sold during prime time is nearly 100 percent—but as much or more than syndicated programming.
"If you negotiate a good price [for syndicated shows], you're going to be looking at fairly good margins—nearly as good as you would have in news," Martin said. He wouldn't specify a dollar value for either.
Savvy strategy?
Despite all this, opinions differ about whether this strategy will work in the long run.
John Cardenas, general manager of WTHR-TV Channel 13, Indianapolis' highest-rated local news station, acknowledged that if "you want to grow your news image, it's probably not a bad strategy on their part."
But Cardenas remained skeptical that Channel 59 could provide enough fresh content to retain viewers. Or that viewers would gravitate to Martin's station.
WXIN, which in September 2009 launched the only local news show from 4-5 p.m. weekdays, initially had lower ratings in that hour than when it aired the syndicated talk show "Maury." The newscast now fares better, running in third place.
So far, Channel 59's launch of a 5 p.m. newscast this September hasn't yet translated into a ratings surge. It's in fifth place—even behind reruns of "Everybody Loves Raymond" on sister station WTTV-TV Channel 4, Cardenas said.
"If you look around the country, a lot of stations have been expanding their newscasts in part to meet the changing lifestyles of viewers, but I think a lot of times it's strictly to get advertiser revenue the station isn't getting," Cardenas said. "My sense is that's probably the case here, given all the different times periods they continue to expand their newscasts in."
Martin counters that he expects the 5 p.m. newscast to finish October with a 1.9 rating/4.3-percent share of the audience, a 25-percent improvement over a year ago when "Are You Smarter Than a 5th Grader?" aired in that time slot. And since WXIN sells advertisers on its demos—the demographic breakdown of its audience—not total number of household viewers, he's happy with what he's seen so far.
"I would say it is doing exactly what we thought it would do at this early stage … and it will probably be No. 3 in time period in demos by February," he said.
Since Martin launched his strategy, the station's news ratings overall have improved, too, especially in the mornings, though it generally trails Channel 13 and WISH-TV Channel 8 during time periods when the stations compete head to head.
And Martin points out that the idea isn't to get people to sit down and watch full three- or four-hour blocks of news each day but to give them a place to stop for 15 minutes to catch up on what's happening in the city and state.
If they know Channel 59 is likely to be airing news, they'll be more likely to turn to the station and, Martin hopes, bookmark fox59.com and follow the station on Facebook and Twitter.
'Local, local, local'
RTDNA chairman Kraham said the organization doesn't track the number of news hours stations air, but adding more local news is definitely a nationwide trend.
His station just added a 7 p.m. newscast as a way to reach commuters getting home later.
"And the thing that I keep hearing from everyone is that, to remain relevant, to compete with all of the other voices and things that are out there calling for attention—everything from social media to online products—you must do local," he said. "Make sure you remain local, local, local, providing a unique product that is unavailable anywhere else."
Things used to be different. Mike Ahern got his start in Indianapolis TV in 1967, when local news consisted of a half hour a night. In 2004, when he retired from WISH as the market's gold-standard anchor, the station had been calling itself "24-hour News 8" for more than a decade and was airing around 30 hours of news a week.
Ahern hadn't heard of Channel 59's plans to expand, but "my first thought is, that sounds like an awful lot of makeup," he said, laughing.
Then he got serious. "I've always thought if anything survives this multi-channel, multi-informational age we're in, it would be local news."
Is there that much news to cover in Indianapolis? Ahern doesn't think so. "If you hang in there for the full hour and a half or two hours of news, it becomes terribly repetitious. I think they're counting on, in a very mobile society with lots of choices out there for news sources, people just grabbing their news on the run. In that case, it's probably not a bad idea."•
Please enable JavaScript to view this content.