Defined-contribution plans have largely displaced defined-benefit plans in the world of retirement benefits.
Could a similar move happen in health benefits?
It's a question worth asking as state officials continue to study how they might set up a health insurance exchange, mandated by the federal government's health care reform law.
One option they're taking a look at is the Utah Health Exchange, which includes a defined-contribution marketplace.
Crosson
What that means in Utah is that employers can give each of their workers a specific amount of money to apply toward health insurance. The worker can then use that money to choose from the 66 plans in the health insurance exchange.
The worker can even combine his employer's defined contribution with a defined contribution from his spouse's employer.
Yet the Utah setup still allows the employer's premium contributions to escape federal income taxes, and the prices quoted by health insurers in the marketplace are based on employer group rates, not on the higher rates of the existing individual market.
The potential benefit for an employer is that it can control from year to year how much it spends on health benefits. That's far different from right now, when most employers buy a certain package of health benefits—then pay hefty increases each year to maintain that same level of benefit.
"There are really two models out there" for health insurance exchanges, said Robyn Crosson, chief deputy commissioner of the Indiana Department of Insurance. "One is the Massachusetts model and the other is the Utah model."
The Massachusetts Health Connector, which served as the model for the federal health care reform passed this year, focuses more on individuals, whereas the Utah exchange focuses more on business—although both exchanges serve both groups.
Crosson informally asked the Indiana Chamber of Commerce to study the Utah model and give its feedback on the defined-contribution marketplace.
Indiana officials are also trying to explore other options. They staged three stakeholder forums in September and have hired New York-based Deloitte Consulting to examine other exchange possibilities.
Indiana officials have yet to decide whether to launch their own exchange or ask the federal government to do it for them, Crosson said.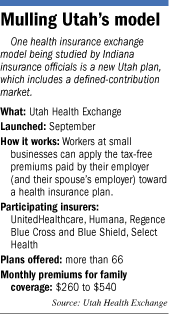 Utah health exchange officials tout their system because it allows workers to buy the amount of benefits they actually need, rather than the one-size-fits-all package offered by most employers.
Critics, however, say this extra choice is just a cover for what defined-contribution really does: shift the risk of rising health care costs onto workers.
"Reducing premiums generally also reduces the benefit package, making the actual care unaffordable," wrote Utah family physician Joe Jarvis, in a blog post about the Utah exchange in August 2009.
The defined-contribution idea is getting a heavy push from conservative think tanks. The Heritage Foundation wrote a six-page policy brief in July praising the Utah model.
Rod Reasen, a benefits broker in Indiana, likes the concept but has doubts about its practicability. He noted that Indianapolis-based Anthem and Minneapolis-based UnitedHealthcare each tried to offer a defined-contribution product to their Indiana customers in the past five years. Both have faded in popularity, in part because having employees on lots of different plans becomes an administrative nightmare for employers, especially when their workers have questions.
"I like the idea in theory," said Reasen, president of Mavum Consulting in Indianapolis, "but the product didn't work."•
Please enable JavaScript to view this content.