At the Phoenix Theatre, a young man named Asher Lev introduced himself to me—and to my fellow audience members.

"My name is Asher Lev," he said, and proceeded to tell about the conflict his controversial artwork sparked with his parents and his Hasidic Jewish faith.

A few days later, in a production staged by Carmel Repertory Theatre, an even younger man, Evan Goldman, also introduced himself to me—and to my fellow audience members. "I'm Evan Goldman," he said, then proceeded to tell about how his parents' divorce and his subsequent move with his mother from New York to Indiana threw him into bar mitzvah chaos.

Throughout theater history, characters have made those of us out in the seats privy to private information. Hamlet wouldn't be Hamlet, after all, if he didn't let us in on his "To be or not to be" thoughts.

But some think addressing the audience directly—what should be a used-when-necessary device—has become a theatrical crutch.

In a recent New York Times theater blog, Christopher Isherwood, who sees many more premieres than

I do, opined: "At far too many new plays in recent seasons, the characters seem to spend more time chatting to the audience than they do talking to each other. Instead of interacting with their fellow characters, they keep turning away from the action to give us commentary on what just happened, or explain what we've missed."

When you buy a ticket to a one-person show, of course, you should expect a monologue. And one could argue that any time a character in a musical spills his or her inner feelings out in song, a form of direct address is being practiced. But I agree with Isherwood (and I'm speaking not just as a critic but as a playwright who has used the device). What Isherwood notes is essential to such works as "Our Town" and "The Glass Menagerie" (and, I'd add, "Love! Valour! Compassion!," "Equus" and many others) also can be an easy out for a stuck writer.

"If you can't figure out how to naturally impart information," said Isherwood, "well, just have somebody step forward and fill us in."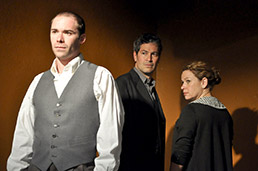 The artistic impulses of Asher Lev (John Michael Goodson, left) cause conflict with his parents (Bill Simmons and Wendy Farber), but much of the dialogue is addressed directly to the audience. (Photo Courtesy Phoenix Theatre)
The essence of theater, after all, is conflict. Forces opposing each other. Obstacles in the way of goals. In Aaron Posner's adaptation of Chaim Potok's novel "My Name is Asher Lev" (at the Phoenix through Nov. 21), for instance, those conflicts come when a Hasidic Jewish painter finds his artistic impulses clashing with the expectations of his religion, as personified by his parents and his rabbi.

True to much of contemporary theater, the play is written for as few actors as possible. In this case, that's three: one plays Asher, a second plays his mother (and all other female characters), and a third plays his father (and all other male characters). That compactness—and the limited performance space in the Phoenix basement—seem to push Asher to talk directly to the audience for what seems like half the play. And while I loved being read to as a child—and I like the rare occasion when that happens now—this material cries out for greater interaction. I wanted to know not just what Asher was thinking and remembering, but also what was going on between the rabbi and the father and Asher's artistic mentor. I wanted to experience the conflicts, not just hear about them.

Meanwhile, Carmel Repertory Theatre wrapped up a two-week run of "13," the local premiere of Jason Robert Brown's musical that had a short run on Broadway two years ago. Putting aside the amateur cast and production, it's clear why the show didn't make it. While Brown's songs are often terrific at capturing the challenging early teen years ("The Lamest Place in the World" and "If That's What It Is" are particularly winning), the book by Dan Elish and Robert Horn is an embarrassing wreck, filled with impossible plot developments and dubious motivations.

The plot: Thirteen-year-old Evan has to move from New York to Indiana when his parents divorce. More important than his family strife, though, is his planned bar mitzvah. The play tries to make middle school comedy and drama out of his efforts to recruit his new schoolmates to come to his party. How does this lead to Evan's setting up two guys on a movie date with the same girl? And if the town is little more than a Dairy Queen and a Wal-Mart, why wouldn't the kids jump at the chance to go to a big party? And do we really need the misinterpreted friendly kiss sitcom cliché? Or the myopic outsider who thinks a girl "wants him"?

The fact that Evan introduces himself directly to the audience just makes it all the more embarrassing.

But if he can talk to me, maybe I can talk to him.

Evan, buddy, you seem like a nice kid. You—and Jason Robert Brown—deserve better than this.•

__________

This column appears weekly. Send information on upcoming arts and entertainment events to lharry@ibj.com. Twitter: IBJArts and follow Lou Harry's A&E blog at www.ibj.com/arts.