Businessman J.B. Carlson is in debt for $5.9 million, and he may have been the last person to see alive a 74-year-old woman whose $15 million life-insurance policy named him as the beneficiary.

For two years, Carlson has been fighting an insurance company for the right to collect on the policy, taken out in 2006. He said he's also prepared to refute allegations by the woman's daughter—the wife of Conseco Inc. founder Steve Hilbert—that paint him as an opportunist who duped her mother.

"A lot of what has been said is pure conjecture," said Carlson, a 36-year-old entrepreneur. "It is total fantasyland. I've got the actual documents that prove otherwise on key points."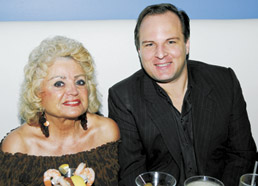 This photo of Suzy Tomlinson and J.B. Carlson was taken at a party at the Blu Martini the evening before her death. Her family found her dead in her bathtub, fully clothed. (Photo/ Doug Pritchard)
Carlson has been under scrutiny since Sept. 29, 2008, when the family of Germaine "Suzy" Tomlinson found her dead in her bathtub, fully clothed.

The drowning death, which came after a night of heavy drinking, was ruled accidental, but Tomlinson's daughter Tomisue Hilbert remains suspicious.

In a filing in U.S. District Court in Indianapolis, Hilbert alleges that Carlson was the last person to see her mother alive. She also notes that Tomlinson's death came as Carlson stared down the deadline on a $1.27 million payment related to financing on the life-insurance policy's huge premiums.

Tomisue Hilbert's allegations are part of a far-reaching claim against insurance giant AIG, whose subsidiary American General issued the policy. Hilbert alleges American General, its agent Geoffrey Vanderpal, Carlson and the lenders who financed the policy premiums engaged in a scheme that resulted in "tragedy for Mrs. Tomlinson's children and grandchildren."

Hilbert is seeking $45 million in damages from AIG, according to a filing she submitted in federal court in July. But her attorneys say in filings that the suit is not "just about the money." The family wants "truthful information about Mrs. Tomlinson's death and the complicated events leading up to her demise. They also want to ensure that the counter-defendants who wagered on their mother's life do not benefit from her death."

According to filings by Hilbert's attorneys, Carlson previously told her that when he left Tomlinson at her home late Sept. 27 or early Sept. 28, she was alive but highly intoxicated and under the influence of Vicodin.

Hilbert alleges Carlson told her that, when he left, "a 'black man' who was angry with her was in her front yard."

Carlson, as trustee of the Germaine Tomlinson Insurance Trust, filed an answer Oct. 26 that denies Tomisue Hilbert's allegations, including that he told her a "bizarre story" about the night's events. His personal attorney, Jeffrey Meunier of Carmel, is preparing to file an additional response to Hilbert's allegations.

Controversial insurance

Hilbert's claim for $45 million is the latest twist in a suit that American General initiated in 2008.

At the center of the case is a controversial form of coverage known as stranger-originated life insurance, or STOLI, that effectively allows outside investors to wager on when an insured person will die.

In a typical transaction, an investor entices someone, usually a senior citizen, to take out a multimillion-dollar life insurance policy. Investors pay the premiums and purchase the policy, making them the beneficiaries. In return, the insured person receives an upfront cut of the eventual death payout.

Under the arrangement, the sooner the insured person dies, the better the return for investors.

Such policies were banned in Indiana in 2008. Though American General issued the Tomlinson coverage two years before the prohibition, the insurer argues the policy is invalid because Carlson and others committed fraud in the application by making it appear as though it was solely for the benefit of Tomlinson and her family.

Carlson denies fraud and says the policy was a legitimate form of "key man" life insurance coverage for Tomlinson, who served on the board of his company, Carlson Media Group, from 2002 through 2007.

Carlson's court filings describe Tomlinson as a "rainmaker" for Carlson Media Group, which was trying to launch an electronic coupon product called "Qbate." One of the meetings she arranged was with her son-in-law.

Tomlinson did not have extensive experience as a businesswoman, according to the obituary that appeared in The Indianapolis Star. It said she was born in France and came to the United States in 1960 after marrying an American soldier.

She ran antique and furniture shops in the 1970s and 1980s, the obituary said. Then in 1994, one of her six children, Tomisue, married Steve Hilbert, who at the time was Conseco's CEO.

In 1996, Tomlinson pleaded guilty to felony welfare fraud after investigators charged she took food stamps when she had $86,000 in the bank, Hamilton County court records show. She was sentenced to one year of home detention. In 2007, Tomlinson pleaded guilty to operating a vehicle while intoxicated and endangering a person in the process. She spent 20 days in jail on that conviction.

'Sham' business?

The counterclaim Tomisue Hilbert filed this summer piggybacks on American General's earlier filings, which raise questions about inconsistencies in the policy application. Tomlinson, for example, said she wanted the policy for estate-planning purposes. The person who prepared her statement of assets, purported to be more than $40 million, was an associate of Carlson's.

Hilbert goes further, stating that American General turned a "blind eye" to what should have been red flags in the underwriting process.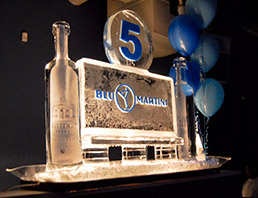 Suzy Tomlinson and J.B. Carlson attended the Blu Martini's fifth-anniversary party the evening before she died. He might have been the last person to see her alive. (Photo/ Doug Pritchard)
Hilbert's attorneys also attempt to dig into Carlson and his business. They call Carlson Media Group a "sham" that hasn't operated since 2004. They note that his former accountant lived in a motel and committed suicide in June 2008.

After Qbate fizzled, they claim, Carlson set out with his old friend Vanderpal to recruit STOLI participants.

"It's fiction, largely, or they take facts and twist them into their own narrative," Carlson told IBJ.

Carlson declined to go into further detail about his business activities over the phone.

Carlson Media Group incorporated in 2001 but has been inactive since March 2008, according to records filed with the Indiana Secretary of State's Office.

Carlson lists his business address as 101 W. Ohio St. The directory lists JB Carlson Corp., an entity he created in 1994, as a 20th-floor tenant. But the space is within the offices of Amerimar Business Centers, which provides meeting sites and mail services to firms that lack their own offices.

Hilbert's attorneys also cast suspicion over Carlson's decision to change his name from Jason C. Bolf in 2007.

According to her attorneys, when he pitched Hilbert on Qbate, he went by Jason Bolf. Several years later, when Tomlinson brought him to a family event, Carlson "did not acknowledge that he had met Mr. Hilbert earlier when he was Jason Bolf," the attorneys allege.

Carlson said he's frustrated by the Hilberts' insinuation he had something to hide. He said that in one e-mail exchange with Steve Hilbert, he signed his name as J.B. Carlson, but added that Hilbert may remember Tomlinson introducing him as Jason.

"Steve called me J.B. People most of my life have called me J.B. He knew I went by both."

Carlson said that e-mails and other correspondence with the Hilberts will show he wasn't concealing anything. Asked about the reason for his name change, Carlson replied, "Here we go with that again."

After Qbate failed, Tomisue Hilbert alleges, Vanderpal and Carlson worked together to make a quick buck through the STOLI policy—an accusation Carlson denies. According to her complaint, Vanderpal and Carlson met in their high school years at an "entrepreneurship camp" in Wichita, Kan.

Vanderpal, a financial planner, became an investor in CMG, but also owed "substantial" sums to Carlson and CMG for loans that financed his unsuccessful runs for public office, according to the complaint.

In Vanderpal's 2006 run for Nevada treasurer, his opponent made hay of the fact that he'd filed for personal bankruptcy in 2003, listing more than $237,000 in liabilities, according to an article in Las Vegas Review-Journal.

U.S. District Court Judge Sarah Evans Barker ruled Sept. 30 that Hilbert could move forward with her claims against AIG and the allegations that Vanderpal and Carlson were in cahoots.

"My guess is, we're going to learn a lot more as we proceed," Hilbert's attorney, Linda Pence, said.

The Hilberts were not available for comment.

Case closed

Police said in May that they were taking a second look at the case, based on new evidence, but they haven't changed their view that Tomlinson's death was accidental. Indianapolis Metropolitan Police Department spokesman Sgt. Paul Thompson said the case remains closed.

Carlson's relationship with Tomlinson was the subject of a front-page article in The Wall Street Journal in April. The story detailed Tomlinson's night out on Sept. 27, 2008, with Carlson at an anniversary party for their favorite bar, Blu Martini. Carlson told the reporter he drove Tomlinson home and left her on her sofa.

According to Hilbert's court filing, Carlson told her a slightly different story, saying Tomlinson was intoxicated and under the influence of Vicodin and that an angry man was in her front yard.

While Carlson still hopes to one day collect on the insurance policy, for now he's in a deep financial hole. As trustee of the Germaine Tomlinson Insurance Trust, he scrambled to keep lenders from foreclosing on the policy. In October 2008, he, Vanderpal and another businessman brokered a bridge loan for $1.27 million to keep the policy in effect.

Carlson now owes that amount, plus $4.6 million—money due to the bridge lender that in July 2009 won a default judgment against him and other entities involved in the transaction.

In his answer to Hilbert's suit, Carlson notes that he, not Tomlinson's heirs, worked to keep the policy out of foreclosure. If they recover any money through their lawsuit, he says, they should have to repay him.•