Angie Manuel has a few minutes before a Friday morning appointment, so she pops into her office, in most ways a typical, anonymous work space—except for the taxidermied wildlife. A stuffed fox with its tongue hanging out sits on top of her bookshelf, and a red-headed vulture peers down at her desk.

Her 9 a.m. approaching, she quickly snatches a few supplies: a messenger bag, a fleece vest and a broad-rimmed hat called a campaign cover.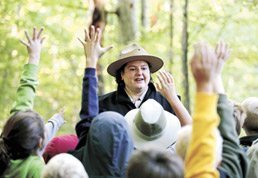 Interpretive naturalist Angie Manuel prefers not to be called a park ranger. Here she quizzes students from Knightstown Elementary School during their recent trip to Mounds State Park in Anderson. (IBJ Photo/ Perry Reichanadter)
Manuel isn't fond of the hat, but it's a part of the legacy of her profession—an association that started in 1944 when Smokey Bear first appeared in an ad wearing one while warning against forest fires. Manuel is an interpretive naturalist at Mounds State Park in Anderson. Many make the mistake of calling her a park ranger, but she is quick to correct them.

"We used to be called just naturalists, but too many people associated that to being tree-hugging hippies," said Manuel, 39, who has worked for the Indiana Department of Natural Resources for seven years. "We now use the term interpreter because just as an interpreter translates one language into another, we translate the happenings in nature for the average park-goer."

Mounds State Park is tucked away in the southeast corner of Anderson, next to the Darlington Field airport. The mounds that give the park its name were built by the ancient Adena-Hopewell Indians, who settled in the area because of its rich natural resources. The park is 300 acres of dense forest and includes White River running shallowly along the perimeter, fed by hillside waterfalls.

On this day, Manuel is leading a group of fourth-graders from Knightstown Elementary School on a hike. She guides about 100 organized groups per year.

Teacher Mindy Conklin taps on the door of the park's nature center to let Manuel know they have arrived. Manuel follows her outside on a bright, crisp October morning. The buses are full of eager children popping their heads out of the windows and jumping on the seats. Manuel waves as they unload and run up to her.

She begins by warmly welcoming them to the park, but immediately lays down some rules and regulations. School groups often can be unruly, which isn't fun for Manuel because she has to spend more time disciplining than teaching. Today, however, she has plenty of help from teachers and parents.

Manuel leads the group into the nature center, where she will break them into two groups of about 20 students—her preference for a more intimate hike. It's also easier to keep an eye on everyone that way.

The first group leaves with Zach Worsham, an interpreter on loan from the Young Hoosier Conservation Corps, a program that employs college-age individuals to work for parks around the state. Manuel is a fan of the initiative because the employees are paid through the state and not the parks themselves. At the moment, Mounds has only seven full-time employees—a tiny staff considering the park's size—but they manage thanks to YHCC and the park's many volunteers. Manuel is the only full-time interpreter.

"I don't know what we would do without our volunteers. They do everything from leading tours to picking up trash," she said.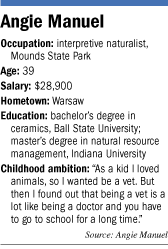 While she waits for Worsham to get a head start with his group, Manuel has the kids do a scavenger hunt inside the nature center. A bright-eyed boy gazes at the deer skull in his hands, while another student tries to get a good look at a snake that has hidden itself under a piece of bark in an aquarium. For Manuel, it is important to make the students' experience at Mounds as interactive as possible.

"Unfortunately, today, nature and hands-on experiences are very foreign to kids. They are not allowed to roam and explore," she said. "My hope is that we can teach them in a way that gets them excited about this property."

Looking back, Manuel believes she was lucky to have grown up in an age when kids could explore the outdoors on their own. Her love for nature—and more specifically for animals—started at a young age. After receiving a degree in ceramics from Ball State University and working as a cake decorator, Manuel asked herself, "What did I want to be as a kid?"

It was that question that led her to spend two years earning a master's degree in natural resource management at Indiana University.

After stints at Potato Creek State Park in South Bend and Indiana Dunes State Park in Chesterton, Manuel started working at Mounds in 2005. What sets Mounds apart from the other parks where she has worked is the blend of nature and culture. Manuel said that often a park will have one or the other, but not both.

"I feel blessed every day to work here," Manuel said. "I get the best of both worlds. We have a strong culture with the Adena, and we have a strong nature."

Finally, it is time for the group to start its hike. Manuel takes the group to a dugout canoe propped on wooden stilts just outside the nature center. She explains that the American Indians would make such canoes by hollowing out tulip trees with mussel shells. The tulip tree was ideal because it is long and narrow, and limbless at its base.

"A lot of visitors go to the mounds and come right back out," Manuel explains to the group. "They miss that there was an entire woodland that's important to the natives."

Throughout the hike, Manuel identifies the various species of fauna and flora, and relates how the ancient people would have used them for survival. After descending a long wooden staircase, Manuel leads the group to a riverbank where she plucks a small poisonous twig called a stinging nettle with a napkin and holds it out in the middle of a circle of students. She explains that while poisonous, the stinging nettle could be used to make twine, a valuable resource for fishing and clothing.

Conklin, the fourth-grade teacher, said she's been bringing her class to Mounds every year since 1993.

"Oh, she's great," Conklin said of Manuel. "She really knows her stuff."

To get to the mounds themselves, the group must ascend about 70 yards up a steep hill—which the children do with ease, leaving Manuel and the other adults in their dust. A proud youngster wearing a Dwayne Wade jersey boasts to Manuel, "I ran up the hill." Manuel, slightly out of breath, responds, "You've got 30 years on me, kid."

Standing on the rim of the largest mound of the park—also known as the Great Mound, which is 394 feet in diameter—Manuel delves into the significance of the mounds from the Adena's perspective.

"The Adena treated the mounds like a church; they were regarded as sacred grounds," she explains, providing relevant information while simultaneously cautioning the children to behave.

After a short walk back to the nature center, the 90-minute hike is officially over and Manuel turns the students back over to their teachers.

"It's only a mile-and-a-half trail, but the kids are usually pooped by the time we get back to the nature center," she said.

The rest of the day Manuel will spend inside her office sending out e-mails, doing reports and writing grants. Manuel said she is in the office a lot more than she thought she'd ever be when she took the job.

"There is a lot of paperwork; you're not just tree hugging anymore."•