Retail sales at shops and restaurants in the Indianapolis International Airport midfield terminal have edged up since the terminal opened in November 2008.

Revenue between January and September this year hit $6 million, up 1.6 percent from the same stretch in 2009.

Not much, but better than the 1-percent increase in the number of enplaned passengers.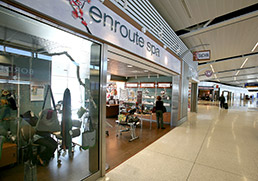 Airport retailers are promoting a holiday spirit to boost sales. Enroute Spa owner Erin Humphreys organized a handicraft fair for local artisans. (IBJ Photo/ Perry Reichanadter)
Last year was rough, said Jeremiah Wise, director of retail services. "However," Wise added, "overall, our sales figures were in keeping with similar-sized airports around the country."
Airport officials planned the $1 billion terminal to rely more on retail sales in order to make the airport less dependent on the whims of passenger traffic.

Not everything is going according to plan. Retail activity varies considerably between the two concourses.

Sales were so slow for Face Time, a sunglasses shop in Concourse A, that the airport authority allowed the parent, RDG Concessions, to operate a kiosk in Concourse B, where foot traffic is significantly higher. The other shop operated by RDG, Pacific Outfitters, is in Concourse B and faring better as a result of the greater exposure to shoppers.

TGI Friday's is the only location to close since the terminal opened. Wise said the company left at the end of 2009 because it wasn't meeting initial expectations. However, the franchise is expected to return next year with a new name and theme.

Though full 2010 figures are not yet final, airport retailers say sales are improving. Bertha Smith, a sales associate for jeweler Sterling Works, said the shop has met its quota the past few months.

However, even considering the setbacks contributing to the underwhelming 2009, Wise is hopeful about 2010 and beyond.

The Indianapolis Airport Authority projects sales will continue to rise faster than enplaned passengers, said Susan Sullivan, director of marketing and communications. In 2009, the airport ranked ninth nationally, or $9.90, in sales per enplaned passenger.

Part of the airport's strategy for increasing the rate is creating a more relaxed atmosphere. Seating has been added to Civic Plaza—the public area at the center of the terminal—in the hope that enplaned passengers will linger and patronize airport retailers. The concept is a new one for Indianapolis travelers compared to the more utilitarian old terminal.

"Anything that makes passengers feel comfortable," said Wise, who recently received a tweet from a passenger grateful for the extra seating. Wise said the old terminal, having been built before the security overhaul following 9/11, didn't provide accommodations to make enplaned passengers feel at ease.

Another improvement the airport wanted to make was a more diverse experience. Airport officials brought in locally owned businesses, such as Shapiro's and Just Pop In, to provide Hoosier flavor.

The airport is also trying to attract non-travelers with an initiative called Operation Destination. For the upcoming holiday season, the airport has three family-themed events open to the public: Santa Claus on Nov. 27, Hendricks County Holiday on Dec. 11, and Dora the Explorer on Dec. 18.

Renee Haller, manager for Patachou On The Fly, a breakfast café in Civic Plaza, sees a market for non-travelers.

"I think people would come to the airport just to eat at Patachou's, because we are a local brand," said Haller. She said she knows of customers who come to the airport just to eat, but acknowledges that airport parking at $2 per half-hour is a major dissuasion.

The Operation Destination events are also aimed at creating a holiday spirit that will put passengers in the mood to spend money. Erin Humphreys, owner of Enroute Spa in Concourse B, used the holiday festivities last year to host a handicraft fair in Civic Plaza. Humphreys got the idea from the Rocky Ripple Fair, and believed a similar concept, in which local handcraft artists are given a venue to sell their goods, would work at the airport.

"I sent Jerry [Wise] my idea in a text at 10 p.m. on a Saturday night, and he replied, 'Yeah, let's talk about it tomorrow.'"

Humphreys said communication between retailers and the airport has been "fantastic." When Yaba Harris, manager of Superior Shine, brought up a concern during a monthly retail meeting about the location of his shoeshine station, the airport moved him to a preferable location near the end of Concourse B.•