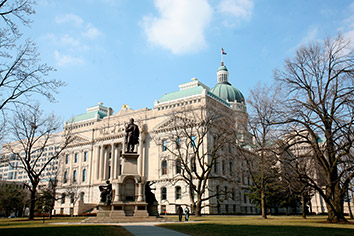 A federal audit recommends that Indiana's human services agency refund the federal government nearly $39 million it overpaid to Medicaid providers during a nine-year period.
The Indiana Family and Social Services Administration is preparing a response and doesn't anticipate having refund any money, spokesman Marcus Barlow said Wednesday.
"We are concurrently constructing our response to the audit and gathering substantive documentation to validate the state's position," he said.
The audit was performed by the U.S. Department of Health and Human Services inspector general. Spokesman Donald White said what typically happens in such cases is representatives with the federal Centers for Medicare and Medicaid Services meet with state officials to negotiate a settlement.
"They meet to determine exactly how much money, if any money, should be repaid to the federal government and how that repayment will be made," he said.
CMMS spokeswoman Elizabeth Surgener said the agency has begun working with Indiana, but said she could not provide any additional information.
According to the audit, which is dated Oct. 26, Indiana failed to report Medicaid overpayments totaling $61.6 million from fiscal years 2000-2008 as required. The federal share of that money is $38.9 million.
The report says 20 of the overpayments were for more than $1 million. In response in July to a draft report of the audit, Patricia Casanova, the state director of Medicaid, wrote that the overpayments of more than $1 million were had "either been repaid, reported or resolved" and asked for the opportunity to work on a resolution on the remaining items included in the audit.
The audit also says the state failed to report $62,000 in interest earned on the overpayments, as required by federal law, and claims the federal share of that interest is $39,000.
"The state agency did not properly report these overpayments because it had not implemented internal controls to ensure that overpayments were reported," the audit says.
Barlow said the state has improved its internal system controls to ensure the proper recording and reporting of overpayments.
The audit comes as Indiana faces tough economic times. State Budget Director Adam Horst said earlier this month that Indiana general fund revenues trail the latest forecast by $15.7 million through the first four months of fiscal 2011. Gov. Mitch Daniels ordered 15 percent cuts in state agency spending for the fiscal year that began in July, and the state is spending its reserves to help make up for revenue shortfalls.
Please enable JavaScript to view this content.