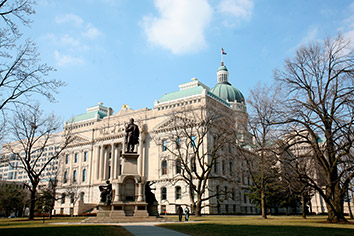 Election night victories for Indiana Republicans have paved the way for a major education overhaul that could affect thousands of students, teachers and parents and fundamentally change the way schools work in Indiana.
More students could attend a growing number of charter schools. Parents might be able to use public money for private school tuition. Teachers could see tenure rules changed and could earn bigger paychecks if their work in the classroom pays off with student achievement. Lawmakers could shift school funding from shrinking urban and rural districts to growing suburban areas.
It's a vision that state Superintendent Tony Bennett wants his fellow Republicans to turn into reality during the 2011 legislative session, which begins in January.
"If we walk away from this session and we cannot say that Indiana put together and passed the most comprehensive education reform legislation in the United States that put the focus on children, I would be disappointed," Bennett said.
Indiana Democrats and other opponents of the agenda supported by Bennett and Gov. Mitch Daniels say such proposals erode support for public education and push the state toward more privatized schools.
But critics will have no power to stop any legislative policies that earn support from Statehouse Republicans, who will control the state House, Senate, governor's office and all other statewide offices in January.
"They don't have to listen to anyone," said Indiana State Teachers Association president Nate Schnellenberger.
The education issues expected to be debated during the upcoming session include:
— Charter schools: Supporters would like to see policies to help new charter schools spring up, such as allowing charters to get upfront school funding instead of waiting several months and allowing new entities to authorize the schools. Russ Simnick, president of the Indiana Public Charter Schools Association, notes that enrollment has doubled to 23,000 students since 2007, but some schools still have hundreds of students on wait lists. "We would like to see an overall growth in the movement," Simnick said.
Opponents point out that some charter schools are run by for-profit companies, and argue that giving them cash amounts to putting taxpayer dollars in company coffers. Simnick said only 8 out of 60 Indiana charters are run by for-profit groups, and said policies to encourage more charters could spur more nonprofit organizations to jump in.
— Merit pay: Daniels and Bennett say teachers should be rewarded not for length of service but for the results they get. They haven't said how merit pay would work, and there are questions about where the money would come from and how specialized educators, such as art and gym teachers, would be measured.
While many Republicans support the idea of merit pay, opponents say it will do little to help students succeed. Schnellenberger compared merit pay to offering a doctor about to perform surgery a little extra cash if he does a really good job.
"Merit pay is like a slap in the face to most teachers," Schnellenberger said. "It's an insinuation that teachers are not working as hard as they can. That 'Give them a little more money and they'll do better' — that's ridiculous."
— Vouchers: Vouchers that allow parents to use public money to send their children to private schools are perhaps the most explosive education topic that could arise during the session. Daniels says he's open to the idea, which has met resistance in the past.
"When that comes up, get ready for a fight," said Chuck Little, executive director of the Indiana Urban Schools Association. "It sweeps well beyond strictly educational issues. It's a shift in the use of public money."
Supporters say vouchers are just another way to allow more families to have choices about the schools they attend.
"Some of us have choices — we have money for private tuition or can move," said Derek Redelman, vice president for education at the Indiana Chamber of Commerce, a longtime advocate for vouchers. "A lot of kids don't have those options. We believe that nobody knows more about what their kids need in an educational environment than those kids' parents."
Lawmakers' top priority this session is creating a new two-year state budget. Public school funding, which makes up half of state spending, will be at issue — as will the way the money is divvied up. Daniels, Bennett and other Republicans say money should go to growing suburban schools, while Democrats say shrinking urban and rural schools also need money to continue operating.
With Republicans in control, Bennett hopes to break through opposition that has kept controversial proposals from moving before.
"There's been a long-standing culture of inertia in this state," Bennett said. "We have just been very reluctant to embrace change, especially change that is truly focused on not perpetuating the status quo but focusing on the needs of children."
Schnellenberger said it's offensive that Bennett and Daniels try to portray opponents to their proposals as obstructionists who care more about teachers than students.
"All they need to do is get out of those offices and get into the classrooms — they'd see teachers every day who put their children first," he said. "This country's based on people having different opinions and being able to express those opinions. If they'll sit and listen, we can work together."
Please enable JavaScript to view this content.