Two Indianapolis-area Chrysler dealerships have been awarded Fiat franchises, marking the return of an Italian automaker that abandoned this market three decades ago.

Champion Chrysler owner Fernando Falcon will operate Fiat of Carmel, while Tom Miller, brother-in-law of local Chrysler dealer Tom O'Brien Jr., will operate Fiat of Greenwood.

O'Brien said the first Fiat cars could roll off the lot of the Greenwood franchise in February. The Greenwood franchise will have a separate location from his Chrysler store, although O'Brien said the location is still under consideration.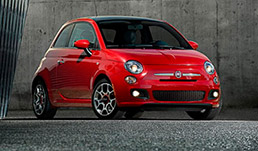 The Fiat 500 will be sold in Indianapolis next year. (Photo courtesy Fiat)
Fiat hasn't sold cars in the United States since 1983, when it halted sales after quality problems.

The new Fiat franchises will be unconventional. "The closest comparison would be Mini Cooper. They don't have a 'showroom.' They have a styling salon," said O'Brien.

Falcon couldn't be reached for comment Wednesday morning. He operates a Chrysler, Jeep and Dodge dealership at 4504 W. 96th St.

O'Brien operates two Chrysler Jeep Dodge franchises, one in Greenwood and another along East 96th Street in Indianapolis.

The first Fiat model to be sold in the United States will be the Toluca, Mexico-assembled Fiat 500, a small car with a 1.4 liter engine. Chrysler makes the engine in Michigan.

The car is a hit in Europe for its fuel economy and styling. The latest version is being shown Wednesday at the Los Angeles International Auto Show. It will likely be sold for less than $20,000 in the U.S. and targeted to fans of sporty small cars.

O'Brien said the model will fill a small car gap in the Chrysler lineup. Fiat acquired a controlling stake as part of Chrysler's restructuring.

Chrysler awarded Fiat franchises to 130 of its U.S. dealerships.

The other Fiat franchise in Indiana will be Fiat of Gary.