Dow AgroSciences has finished moving into an 80,000-square-foot laboratory and research facility on its Zionsville Road campus that houses about 100 researchers.
The Indianapolis-based division of Dow Chemical has a 15-year lease with Indianapolis-based developer Browning Investments on the two-story building near West 96th Street. Ground breaking was in August 2009.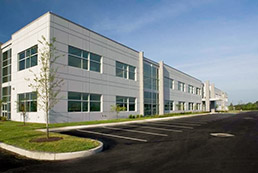 About 100 researchers will occupy Dow AgroSciences' new lab. (Photo Courtesy Dow AgroSciences)
It's separate from a more ambitious, five-year expansion Dow Agro announced in March to add a 175,000-square-foot research center and 14,000-square-foot greenhouse. The five-year expansion calls for 550 additional jobs at Dow Agro.
The most recently occupied building will support DowAgro's expanding seeds and oils business.
 
Please enable JavaScript to view this content.