Since he opened his west-side grocery six years ago, John Sung has lured immigrants craving the foods they made back home with products ranging from chorizo sausage to spring roll wrappers.

But he's yet to draw—in large numbers—another type of customer: the native Hoosier stopping by to try out a new culinary option.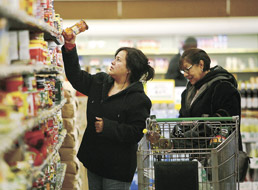 Ingrid Pena looks over the yellow chile peppers at Saraga International Grocery. The store attracts immigrants craving a taste of home. (IBJ Photo/ Perry Reichanadter)
Sung's challenge in drawing them to Saraga International Grocery largely reflects that of other businesses in the area near 38th Street and Lafayette Road. The district has become a hotbed for ethnic eateries, entertainment and service venues. But despite a push to promote its diversity by community stakeholders, it has yet to become a mainstream attraction in the same way as cultural districts such as Broad Ripple or Mass Ave.

That could be changing.

Over the last few months, a wave of events has given momentum to grass-roots efforts to revive the West 38th Street corridor and its broader neighborhood, which includes Lafayette Square Mall.

Last month, the city solicited firms to design physical enhancements such as monuments, murals, landscaping, and bike and pedestrian infrastructure in the district.

It is among the first major steps in implementing an 84-page revitalization plan approved by community leaders this year.

But leaders and residents have more than a plan: They have $2.25 million in sales-tax collections that have been captured since the area became a redevelopment district in 2004. The district is expected to continue generating about $750,000 a year through 2024.

And they have the attention of major community players, such as Central Indiana Community Foundation President Brian Payne and David Forsell, president of Keep Indianapolis Beautiful. Both helped spearhead discussions this fall among national and local design groups about how to capitalize on the neighborhood's international diversity.

"It's on lots of people's radar screens," Forsell said of the area. "The conversations have lifted it up in the minds of those who can be helpful. If we can leverage each other's talents and abilities and dollars, we can help that community get over some humps."

There are still plenty of humps. The area is bounded by major roadways, such as Interstate 65 and the newly upgraded West 38th Street, both of which pose a challenge to pedestrian accessibility.

Driving down 38th Street, it's also hard to distinguish unique ethnic eateries such as Ginza Japanese Steakhouse & Sushi Bar and Machu Picchu from chain restaurants Red Lobster, Hooters and O'Charley's.

"You've got that backdrop—the canvas that's behind you is strip malls," said Brad Beaubien, director of Ball State University's College of Architecture and Planning Indianapolis Center. "That's not pretty—it's placeless."

Community leaders hope physical enhancements, including the addition of bike lanes and pedestrian paths, can start to add some beauty and a sense of place to the area.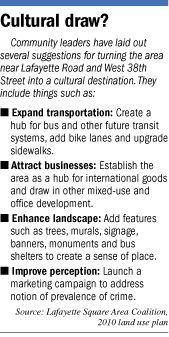 The plan developed earlier this year outlines goals, such as creating a pedestrian-friendly environment and multimodal transportation network, as well as drawing in more retailers and light industrial and office development to enhance the tax base.

Stakeholders in the area also want to brand it as the International Market Place, capitalizing on the dozens of ethnic grocery stores, clothing stores, bakeries and groceries.

Other ideas that came out of this fall's design seminars include building a public park and gateway to represent the more than 70 languages spoken in the district.

In a separate effort, Ball State is working on a plan to connect the retail district along 38th Street to the neighborhoods to the south, expanding the International Market Place into an International Village.

Mary Clark, president of the Lafayette Square Area Coalition, said she envisions a cultural education and community center as the heart of the district, with aesthetic features, such as Asian-style lanterns, that highlight the various ethnic influences of the district.

She said the physical enhancements are an important first step in the transformation, which she hopes will take shape over the next few years.

"When you look over this area, you see a cloud of gray concrete," Clark said. "The first thing we need to do is make it pleasing to the eye."

Community leaders have recommended hiring a full-time staff member to implement the changes and identify ways to leverage public funds through grants or other sources.

The group also has been in conversations with organizations such as the Indianapolis Museum of Art and Marian University to offer their resources in the effort.

Even with that momentum, though, experts say giving the area a cultural-district feel will take lots of investment. Because the area was built as an early suburban development, it's a much tougher task than rehabbing a dense urban area such as the near-east side.

"It's designed to be a regional attraction where people drive in on big roads—people don't do that there anymore," Beaubien said. He said the area needs a transformation in building types and building orientation—a capital-intensive proposition.

Clark is hoping to capitalize on the existing landscape by promoting the area's proximity to major roads, for instance, as a convenience factor.

But another challenge that goes beyond infrastructure could be the biggest the area faces: the perception that it's crime-ridden. Leaders are banking on a positive marketing campaign—and the visible changes taking place—to counter that impression.

As of Nov. 17, violent crime in the police district that includes the area was down about 25 percent over last year, but property crimes were up about 3 percent.

Sung, a South Korea native who now lives in Camby, said he has struggled from the beginning to fight the idea that the area is dangerous.

He sees the recent effort as progress, but he's also realistic about what's needed to transform the area—and draw more customers to his store.

"There's a long way to go," Sung said. "It's not going to happen in one day or without a lot of effort."•