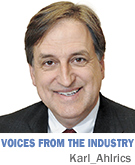 As a business pragmatist, I pay more attention to answers than to problems. We have plenty of problems and precious few answers.
Fact: The Patient Protection and Affordable Care Act (PPACA or Obamacare) is a poorly written attempt to resolve systemic issues with the delivery and availability of health insurance.
However, it is the law of the land and most likely will be implemented in some form over the next few years. We can debate the political "what nexts," but the reality remains that it is the law.
The PPACA is like building a three-legged stool while you are sitting on it. Some parts of the stool were just implemented, more go into effect next year, and we will continue to build the stool through 2015. Until then, it will be difficult to see how it all fits together.
Let's turn this uncertainty with health insurance into an advantage for Indiana.
Business development pits states against states, and Indiana is playing the game well. Our governor just got back from an extended sales call to Asia, and most metrics have been looking good. If we approach it correctly, we can turn this national uncertainty with health insurance reform into a local advantage. All the states we compete with are having fits with the implementation mandates.
First, fund and properly staff our Indiana Department of Family & Social Service Administration and Department of Insurance and let us be the first state in the Midwest to properly implement the insurance exchanges that are mandated in the PPACA. With those exchanges in place, there will be a significant increase in the entrepreneurial effort in Indiana.
Here is how it would help: Inside most organizations are the "top performing" employees, the ones with real entrepreneurial drive that are stifled by a larger organizational structure. They have the cash to fund a business startup and pay for their health coverage, but are uninsurable because of a pre-existing condition somewhere in their family.
Enter the exchanges. With the availability of health coverage with no pre-existing conditions through the new resources, I predict significant numbers of these mid-career "top talent" employees will launch or develop new businesses in our state because of the availability of health insurance.
Great for our economy and our tax base, and a great way to build an "ownership" mentality. Indiana already has the best and most advanced health information exchange, so I'm confident we have the technology to pull this off.
Second, we can be the first Midwestern state to focus on the true answer to health care issues, and do it inside the "wellness" framework mandated by the PPACA. Simply put, the answer to health care claim costs is wellness, and the answer to wellness is motivating behavior change in our work force. If we live healthier, we are more productive and spend less on health care.
What makes this tough is motivating behavioral change. It is clear that there must be a direct link between lifestyle choices and health benefits, working in a community framework.
Indiana needs to get this answer right, and fast. If we succeed, we can brand our work force as productive and healthy, and our health claims will drop. With that, our state can have a significant competitive advantage. If we fail, we get more absenteeism, diabetes, obesity and smoking.
Want a picture of the future if we do nothing? Sit on a bench at the state fair and pay attention to the physique and lifestyle of your fellow citizens. "The claims trend line is increasing at the rate our waists expand.
If we get it fixed first, the payoff will be huge. Employers today continue to compete in the worldwide economy, and cost-containment strategies will be increasingly significant. Controlling the rising cost of employee ill health is becoming a priority for corporate leaders. The emerging corporate culture in America is one that has an employee population centered in health, safety and wellness.
What will happen? I hope Congress will decide to fix what's broken in the PPACA and add some reforms to the package. The "just say no" political strategy recently played by Republicans carries some heavy risk. The public may punish the GOP if it fails to deliver results, just as voters punished the Democrats in the recent election.
Fixing health insurance reform would demonstrate that Republicans understand their responsibility to move beyond gridlock. Some changes will be easy, others much harder. But a vibrant debate—and some political compromises—could also enable Republicans to achieve long-held goals like medical malpractice reform and improve the cost-containment provisions of the new law.•
__________
Ahlrichs is an adviser at Gregory & Appel Insurance in Indianapolis. Views expressed here are the writer's.
Please enable JavaScript to view this content.