If it weren't true, it wouldn't be a cliche: When it comes to real estate, the three most important factors to consider are location, location and location.

Apparently, no one shared that axiom with the owners of Teddy's Burger Joint (2222 W. Southport Road, Suite B; 893-2791). Tucked away behind an Anytime Fitness center—and blocked from passing motorists' view by a Steak n Shake—it's easy to miss this home-grown addition to the upscale burger market. But Teddy's is worth finding.

The eatery has a homogenized grittiness, striking us as a place where a family of four can dine comfortably beside a Carhartt-clad trucker. A separate beer line allows patrons to wet their whistles without having to wait for food orderers, and a stage set up in one corner hints at occasional evening entertainment. There are lots of windows, but no view—unless you've got kids playing outside in the sandbox adjacent to the patio. (This time of year, the indoor play room is likely to get more use, anyway.)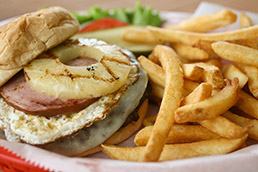 Piled with fries, the Hawaiian Burger at Teddy's Burger Joint includes a slab of eggs amid the beef, ham and pineapple. (IBJ Photo/ Perry Reichanadter)
We visited for lunch, so we focused on the food. At $7.99 to $9.49, the burgers seemed a bit pricey—until our food arrived and we realized the price included a mound of fries in addition to the half-pound patty. For $1 more, diners can substitute cheese fries, onion rings, potato salad or a garden salad.

Still not knowing just how much grub was headed our way, we started with the Combo Basket appetizer ($7.49), sampling the onion rings, chicken fingers and breaded mushrooms. It was a veritable cornucopia of fried goodness—and a generous enough portion that we suspected we might not have room for the Strawberry Pound Cake ($5.99) or Flourless Chocolate Cupcake ($4.99) we'd scoped out for dessert.

We had slowed down by the time our sandwiches arrived a short time later, but that didn't temper our enthusiasm for the main attractions. Our choices: the Hawaiian Burger ($9.49), a Teddy's Burger with Cheese ($8.49), and a Black Bean Burger ($8.99) for our token vegetarian, who was pleasantly surprised to have a couple of non-meat options. In addition to veggie, black bean and the standard Angus burgers, Teddy's offers bison and turkey. Diners also can choose between white or wheat buns.

Topped with grilled pineapple, smoked ham, provolone cheese, tomato and a hard-fried egg, the Hawaiian was surprisingly tasty. The meat was juicy and delicious, the bun both soft and substantial—which was necessary to contain the bevy of extras including the egg, which my companion wanted to 86 but was talked into trying. He didn't regret it. The potato salad was less successful, with little to distinguish it besides quantity. It didn't make it into our to-go container.

I opted for the simpler cheeseburger, which I fancified just a little by adding blue cheese crumbles to the cheddar. If I'd known it was just 50 cents for each additional topping, I might have thrown on some crispy bacon and avocado, too. As it was, I loved my burger and the fries, which managed to be both crispy and chewy. The side of cilantro-infused mayonnaise I used as a dipping sauce only added to my bliss.

Obviously handmade and served with avocado and salsa in addition to the ubiquitous lettuce, tomato and onion on top, the Black Bean Burger nevertheless fell flat. Our herbivore complained about a lack of seasoning—an omission that might be overlooked in a good piece of meat, but is much harder to hide in a vegetarian dish.

As we feared, there was no room for dessert by the time we were done so we put that off until next time, which will be easier since we now know where to find it.•

—Andrea Muirragui Davis

__________

Last in our month-long series of double-letter restaurant reviews.