National chain retailers are giving local consumers more power to influence the product mix at their neighborhood stores.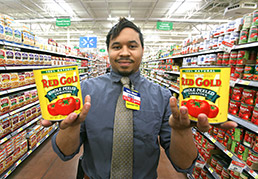 Walmart Assistant Manager Chris Buckner shows off Red Gold tomatoes, a hot-selling product that the chain's local stores are emphasizing. (IBJ Photo/ Perry Reichanadter)
Retailing giants from Macy's to Walmart, Best Buy to Lowe's—brands built on national scale and buying in bulk to lower costs and muscle out competitors—are offering a new proposition to customers: Help us become more local.
A program dubbed My Macy's has transformed a chain of department stores that once looked about the same inside whether you were in Boise, Boston or Baton Rouge.
Home improvement chain Lowe's has made a more locally tailored assortment a top priority in its quest to grow market share. Best Buy now tracks customer feedback in real time, allowing employees to respond to store-level suggestions in a matter of days.
Even Walmart, a company known for centralizing purchasing and distribution to keep prices low, now is giving local and regional managers the authority to customize up to 20 percent of a store's inventory.
The big chains already are seeing bottom-line results from paying more attention to customer demands at the local level; Macy's has credited the My Macy's program with comparable-store sales gains and a return to profitability in its third quarter.
Another benefit: Managers and stores develop stronger connections to the markets they serve.
"It's difficult when you become a large retailer running so many stores," said Mara Devitt, a partner at Chicago-based McMillanDoolittle LLP who consults on retail marketing and merchandising. "There's a tendency to look at the business like a big math problem, missing nuances at the store level."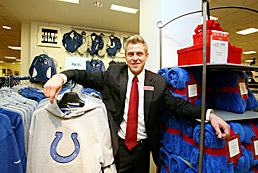 Justin Groscop, sales manager at Macy's at Castleton Square, with Colts gear. The store beefed up its selection of higher-quality Colts wear after customers requested it for Blue Fridays at the office. (IBJ Photo/ Perry Reichanadter)
My Macy's
A pioneer among chains trying to re-establish a local identity and product assortment is the former Federated Department Stores—which, ironically enough, rebranded all its regional department stores, including L.S. Ayres, as Macy's in 2006.
The Cincinnati-based company used to buy for its more than 800 stores out of a central office in New York City. Now, about 20 percent of the mix is formulated at a regional level in 69 districts, each with merchants who make plans based on market demands.
The arrangement means buyers take direction from local communities. Stores keep a customer request list at each cash register, and they order sizes based on historical sales at each store.
Macy's stores in Indianapolis now carry more contemporary merchandise that flies off the racks on the West Coast but that buyers in New York figured wouldn't play as well in the Midwest, said Karen Kohl, a Macy's district vice president who leads nine Indiana stores.
The store at Glendale carries more suit separates and other career offerings customers wanted. The Greenwood Park Mall location started carrying more high-end fashion brands after customers showed stronger interest than demographic surveys suggested they would.
Other merchandise offerings specific to local stores: Customers asked for and received higher-quality Colts gear to wear on Blue Fridays at the office. The Castleton store holds special Indianapolis 500 events in partnership with IRL series sponsor Izod, and stocks an extensive assortment of black and white formal dresses for the 500 Festival Snakepit Ball.
"What My Macy's does is bring reality to the central buyers—instead of cookie-cutter across the country, we have districts that can roll out what their market can sell," Kohl said. "The 'aha' moment is listening to your customer and reacting."
Rollbacks to local
Walmart now gives regional and local buyers control of 10 percent to 20 percent of a store's inventory, including products featured in newly restored "Action Alley" aisle displays.
The change, unveiled earlier this year, is a return of sorts to a sensibility spread by Walmart founder Sam Walton, who liked to say that everybody who worked for the company was a merchant.
Indianapolis-area stores tend to stock more Oliver wines, Red Gold tomato products, Prairie Farms milk and Ball Corp. Mason jars, in response to local demand, said Bill Wertz, a regional spokesman for the Bentonville, Ark.-based chain.
In season, local stores carry watermelons, pumpkins and cantaloupe from Frey Farms of Poseyville. The superstores also now stock T-shirts and sweatshirts with the logos of local high schools, along with the standard Indianapolis Colts and Indiana Pacers apparel.
"We've always tried to make the stores reflect the community," Wertz said. "The last couple of years, [we] tried to de-clutter the stores and dropped quite a few items, and customers let us know they were not happy to see it."
Setting aside shelf space for locally selected merchandise lets Walmart continue to benefit from its scale on most items it sells while improving "customer satisfaction and efficiency," Walmart's U.S. CEO, William S. Simon, said in September at the Goldman Sachs Retail Conference in New York, according to a transcript.
Familiar strategy
Going local is a strategy that's familiar territory for most grocery chains. For instance, Austin, Texas-based Whole Foods Market sells products from local bakeries, produce growers and wineries in many of its stores, said Devitt, the Chicago consultant.
Indianapolis-area leaders Marsh and Kroger also stock products local buyers demand, including praline fudge brownies and pecan tea cookies from the old Roselyn Bakery recipes. Both also sell Colts gear and fresh produce from local growers.
Local products other than food are not yet appearing in many chain stores, but they could soon as consumers show more interest in where the products they buy came from.
"Retailers are realizing they need to get closer to consumers to figure out what they want and how to differentiate themselves," Devitt said. "It's always been a challenge of retail and even more a challenge as retailers have grown."
Even the largest chains are trying to do a better job staying in touch.
The electronics giant Best Buy in November launched a research tool called Voices of Consumers Through Employees. Employees log customer feedback on products, merchandising and policies into an intranet system in real time, so regional managers can make improvements in days instead of months.
The home improvement chain Lowe's has identified four areas of focus in its effort to grow market share. Atop the list: Go local.
That means tailoring the product assortment to each market using a formula based on regional factors, demographics and customer shopping preferences, said Charles W. Carter, executive vice president of merchandising for the Mooresville, N.C.-based chain, in an earnings conference call Nov. 15.
One example: Customers in some markets are asking for top-loading washing machines again since manufacturers have found ways to improve efficiency and capacity.
Truly local
Customizing the merchandise mix to suit local tastes is easier for some retailers than others.
Take Half Price Books, a privately held Dallas-based chain with four Indianapolis-area stores. Each store buys about 75 percent of its inventory from customers.
The rest is merchandised with local markets in mind, said Tony Warmus, the chain's Indiana district manager.
Examples include books on the Indianapolis 500 and Bloomington's Little 500, Hoosier-themed calendars, and works from Indiana authors including Kurt Vonnegut and James Whitcomb Riley. Each of the chain's 110 stores features regional-interest sections.
IndySwank on Virginia Avenue in Fountain Square tailors its mix of art, home décor items and other products almost entirely based on customer demand without any input from national buyers.
Efforts by national retailers to "go local" frustrate owner Jennifer Von Deylen. Her store's best-sellers include local jewelry priced from $15 to $20 and snowflake ornaments made of RCA Dome roof material that go for $7.50.
Von Deylen is quick to stock pretty much any request from her customers—many of whom say they prefer to buy local products from local merchants. She understands why the big chains are trying to show more local sensibilities but would prefer big and small retailers stick to what they do best.
"Give the little guys a chance," she said.•
Please enable JavaScript to view this content.