TERRE HAUTE—From up in the press box, Crossroads Raceway owner Randy Peters looks down at the cars lined up at the gate. The line stretches all the way back to U.S. 41: trailers, diesel trucks, roadsters.

"I think it's going to be a pretty good day," Peters says with a hopeful gleam in his eye as he heads for the stairs.

Nearby, Shane Carr rushes over to his video camera. "Could I get you to say that one more time? That was perfect." Peters steps back into the room and tries to re-create the moment.

Carr films Peters—same words, same posture, but something is missing this time. It's rehearsed, unnatural. It's reality television.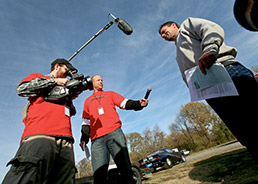 Brad Hauter, center, owner of MMY Productions, interviews driver Mike Pfaff, right, of Grassroots Drag Racing, while cameraman Tom Johnson gets it on tape for the TV series "Life at the Crossroads." (IBJ Photo/ Perry Reichanadter)
Carr is part of a film crew that is shooting the pilot episode of a reality TV series set at Crossroads Raceway in Terre Haute, aptly named "Life at the Crossroads." Peters is one of the show's stars.

Driving the project is Indiana-based MMY Productions, an independent production company that specializes in reality TV.

"Junk'd," one of its most successful syndicated shows, follows

MMY President Brad Hauter, 45, and colleague Bret Skipper, 52, as they "junk" the lawn and garden of an unsuspecting homeowner, then attempt to improve it. While MMY films the makeover show across the country, post-production work takes place at Skipper's home in Westfield.

"Life at the Crossroads" is intended to be a more narrative-driven program, featuring the track owners and drag racers who compete there each week. Hauter and Skipper became familiar with the sport by producing several episodes of Speed Network's "Pinks All Out" vehicle competition, but Hauter says the new show is different.

"One thing we don't get with 'Pinks' are all these compelling stories," he says in between interviewing drivers with his production crew. Hauter points to a young drag racer pouring oil into his car's engine. "Here's a student from Rose-Hulman, over there is a guy who's been racing for 13 years, [there's] another guy who just lost his son, another who won't be able to continue racing unless he wins today."

Production on an additional 12 episodes of "Life at the Crossroads" will resume early next year, once drag racing season resumes. In the meantime, Hauter and his crew will work on editing the episode shot last month so they can shop it around to various stations.

MMY Productions formed in 2003 on the heels of "Yard Man's Mow Across America," in which Hauter covered 5,600 miles on a Yard Man riding lawn mower to create awareness for not-for-profit Keep America Beautiful. Hauter got the gig after beating out hundreds of applicants to be the agency's spokesperson.

Lorne Michaels' Broadway Video production company took notice of Hauter and contacted him about producing a home-improvement reality show. Hauter said they were in discussions for six months, but ultimately he refused the offer because it required him to move his family from Greencastle to New York.

"If I move to New York and the show fails, I'm an out-of-work soccer coach," said Hauter, a former professional soccer player who at the time was coaching both men's and women's soccer teams at Rose-Hulman Institute of Technology. He now coaches soccer at DePauw University.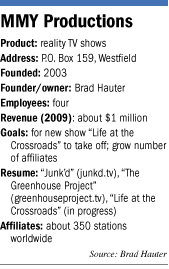 Instead of uprooting his family—or closing the door on the career shift—he decided to make the same type of show in Indiana. Hauter began by calling sponsors of Mow Across America, pitching the "Junk'd" idea and seeking support. Their response was optimistic, but they wanted to know if Hauter could produce the show himself.

Immediately, he was faced with two challenges: First, he had only a novice's background in landscaping; second, aside from acting in a few plays while a student at DePauw, he knew nothing about production.

To bring credibility to his proposed makeover show, Hauter brought on board Skipper, a former landscaping business owner whom he had worked for during summer breaks from Park Tudor School and DePauw. He also made some calls to local production companies, looking for experienced employees.

"The level of talent in Indy is surprising; there are guys out here who have worked in L.A., worked on feature films, and just decided that the quality of life they wanted was more Midwestern," said Hauter, who now relies on free-lancers instead of a full-time staff.

Steve Katzenberger, president of Indianapolis-based Creative Street Media Group, agrees that it can be difficult for a Midwestern production company to gain credibility.

"It's a tough industry," said Katzenberger, whose company won an Emmy in 2007 for a documentary on Vietnam War nurses. "You are judged quickly. It all depends on your ability to keep an audience's attention for half an hour."

Hauter quickly found that not only could he produce TV shows in Indiana, but he also could produce them cheaply. Since the Indiana Film Commission successfully persuaded lawmakers to create incentives for the entertainment industry in 2005, production companies like MMY are eligible to receive up to a 15-percent tax credit on production expenses.

"The tax incentive has allowed production companies to [improve] their bottom line, and has led to more and more projects being filmed in the state," said Film Indiana Director Erin Newell.

Newell says many states are losing their incentives due to budget cuts during the turbulent economic struggles, but she doesn't believe Indiana will be among them.

As Hauter started putting the project together, so-called industry experts suggested he put all his resources into producing a single pilot episode, which he could shop to networks. For Hauter, that didn't make a lot of sense.

"You shoot one episode, hope it's the best episode we can produce, hope it arrives at the director of programming's desk when he's in the right mood," he said.

Instead, Hauter and Skipper shot the whole first season, a decision that put them $500,000 in the red. However, the investment soon paid off.

"Junk'd" picked up three dozen affiliates after a trade show in Las Vegas, and within six months the syndicated show was on 100 stations. A large part of its initial success was the fact that MMY had a full season to sell, instead of a single episode.

"We exploded from that," Hauter said. "Station managers realized they could fill a half-hour time slot for the entire year, instead of, 'If we like this pilot, it will be ready in a year'."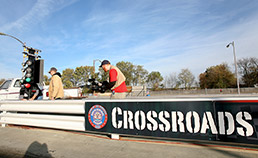 Cameraman Nate Savidge, right, films some of the Grassroots Drag Racing crew putting together the Christmas tree light that will start the day's races. (IBJ Photo/ Perry Reichanadter)
In addition to "Junk'd," MMY also produces a show about environmentally focused remodeling called "The Greenhouse Project."

The company gets most of its revenue from corporate sponsors who pay for their products to be used on the shows, a strategy that allows the company to give the shows to U.S. stations at no cost.

But Hauter learned the hard way that there is a fine line between subtle product integration and having the show turned into a glorified infomercial. He had to reshoot an entire episode of "The Greenhouse Project" after the sponsor complained the product placement was too obvious.

Affiliate stations sell advertising that runs during the shows, and that revenue is shared with MMY. The company brought in about $1 million last year, Hauter said.

Today, MMY Productions has about 350 affiliates around the globe, recently selling international rights to a station in Germany. The affiliates that carry MMY's shows are about as diverse as it gets, from WFYI public television in Indianapolis to Angel 2, a Christian satellite network.

The television business is risky, but Hauter said there are some major upsides to syndication. For one, MMY retains total control of its productions. And it is virtually impossible for any one show to get canceled. Hauter says it's a bad week if 10 percent of MMY's affiliates drop a show, but even losing 35 stations isn't going to kill a program—or the company—given the sheer number of affiliates.

The uncertainty of trying to survive year-to-year is something Hauter is more than familiar with. He played 10 seasons of professional soccer in various indoor soccer leagues, all on one-year contracts. Each year, the team's general manager would offer him a contract with the intention of replacing him with someone better the next season. He brings the same tenacity to MMY.

"I didn't have natural ability," Hauter said. "Every year I'd have to outwork everyone else."•